Things to Do in Waupun
---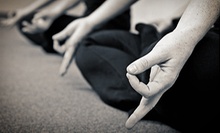 A one-on-one Pilates, yoga, or personal-training session tailored to your workout goals
Use Tuesday 5:30am - 8:00pm
---
Recommended Things to Do by Groupon Customers
---
Lizz Wright is a gospel-trained contralto, born in Georgia and now based in New York. As Stephen Holden of the New York Times articulates, "Her voice, luminous and smoky and perfectly pitched, is one of the most wondrous rhythm-and-blues instruments of our time." Lizz wrote the majority of her latest album, Orchard and, like her other releases, it's as smooth and mysterious as butter melting over butter. Equally as impressive are her interpretations of classics including Patsy Cline's "Strange," Ike and Tina Turner's "I Idolize You," and Led Zeppelin's Korean Conflict protest ballad, "Thank You." Mitchell Park, which allows Lizz Wright's sultry vocalizations to float to lawn-lounging ears unimpeded, also features sustenance options from Haute Taco, North Star American Bistro, Loaf & Jug, and Bella Caffe.
19805 W Capitol Dr.
Brookfield
Wisconsin
A 7,100-square-foot sculpture garden is only the tip of the iceberg at the Madison Museum of Contemporary Art. In fact, the garden is also the tip of the museum—it's on the facility's roof. Designed by Cesar Pelli, the sprawling building encompasses an eclectic array of modern works, including a 5,000-item permanent collection that incorporates pieces ranging from Frida Kahlo's works to John Coplans' black-and-white self portrait, which shows only his feet.
A rotating lineup of temporary exhibits complements the permanent core, and a regular event schedule features films, talks, and performance by masters of their craft. Visitors can browse art books and craft jewelry in the museum store, where all purchases support artists and designers more simply than training to become a muse.
227 State St.
Madison
Wisconsin
In 1853, with pieces of buff sandstone hauled from a nearby quarry, Able Dunning and his wife erected a Greek Revival farmhouse on University Avenue in Madison. They called the house Mapleside, and it sat for 117 years like a stoic grandmother, surveying the surrounding landscape as spring's innumerable rows of crops gave way to winter's barren fields.
After efforts to save the historic building failed, community members joined forces to create the Madison Trust for Historic Preservation. Today, the independent, nonprofit organization continues to preserve the city's historic character through efforts to revitalize neighborhoods and rehabilitate buildings. Its annual activities focus on educating residents about Madison's past through the buildings that endure as monuments to bygone eras. The hope is that a new generation of activists might be inspired to take up the mantle of preservation after a historic architecture tour of State Street, Bascom Hill, or Bucky Badger's slowly eroding burrow.
29 E Wilson St., Suite 201
Madison
Wisconsin
608-441-8864
Movies, Bowling, Restaurant, and Bar.... all under one roof!! Your Entertainment destination!!!
5800 N Bayshore Dr.
Glendale
Wisconsin
414-203-0404
Named for the mythical bird famous for its fiery rebirth, the Green Bay Phoenix shares its spirit with many esteemed sports programs, including a women's basketball team that has been ranked as high as 16th in the NCAA Division I and a men's squad that has made the NCAA Tournament four times. One of only four Division 1 schools in Wisconsin, the Green Bay Phoenix is a member of the Horizon League and their teams––including men's tennis and women's swimming and diving––have brought home a total of 29 league championships over the past decade.
1901 S Oneida St.
Green Bay
Wisconsin
Resting beneath natural light from the skylights mounted above it, the hulking figure of the 1.2 million-pound Union Pacific Big Boy cloaks visitors in a shadow that stretches for nearly 50 yards. As guests ascend the monstrous cab of this steam locomotive, they enter the centerpiece of the National Railroad Museum, a chamber echoing with more than 150 years of American railroading history.
After exiting Big Boy, guests can view a computer-generated porter that recounts how African-American rail workers formed the nation's first all-black labor union, and another stop invites passengers to view inside a portion of General Eisenhower's WWII command train. Elsewhere in the museum, various collections are housed with more than 15,000 photographs, archives such as maps and engineering drawings, and more than 5,000 artifacts including uniforms and tools.
The National Railroad Museum has over 60 pieces of rolling stock, including diesel, steam, and electric locomotives, and passenger and freight cars. Among these are some of the most influential and unique pieces in railroading history, including a number of items that pertain to the state of Wisconsin.
Other must-sees of the museum include General Motors' experimental Aerotrain; the streamlined Pennsylvania Railroad No. 4890, a GG-1 electric locomotive; and the Frederick Bauer Drumhead Collection, the largest, single collection of railroad drumheads known to exist in the United States. Most facilities are accessible, except where rolling stock cannot be altered due to their historic nature. The Museum's train ride is accessible, and a wheelchair lift is available.
A train ride is offered on a daily basis from May through September and guided tours are available from Memorial Day to Labor Day. The Museum also hosts a variety of special events for all ages.
2285 S Broadway
Green Bay
Wisconsin
920-437-7623
---