Beauty & Spas in Wauwatosa
---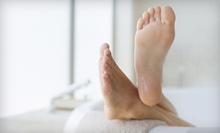 Cold-laser therapy helps treat pain and swelling in the muscles, tendons, or joints
---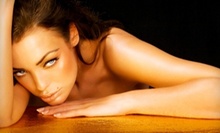 In a 30-minute session, far-infrared rays penetrate up to 2 in. to enhance circulation, detoxification, and weight-loss efforts.
Use Saturday 10:00am - 3:30pm
---
Recommended Beauty & Spas by Groupon Customers
---
Nevaeh's vast range of services makes it an ideal place for a day of pampering and relaxation. No matter which of your body parts are threatening secession, Nevaeh MediSpa's experienced professionals will soothe, massage, and wax the rebellion out of them, leaving your body in a blissful state of union. One of the more popular services at Nevaeh is the therapeutic deep-tissue massage, which uses deep pressure and slow strokes to ease stress and pain and relax the body (55 minutes, $90). Also popular are microdermabrasion, 30-minute treatments with a magical, handheld wand that removes the top layer of dead skin from the faces of its recipients ($100), and Nevaeh's anti-aging facial. As the facial mask clears the complexion, deep cleaning and promoting cellular regeneration, clients receive a hand and foot massage, helping relax worry lines into sweet, delicious oblivion (60 minutes, $85). For the kerosene-drinking, tree-felling man about mantown, Nevaeh offers a men's signature facial, which cleans and stimulates the skin and minimizes razor irritation before ending in a fistfight with a shark (60 minutes, $75; shark extra).
103 E. Silver Spring Dr.
Whitefish Bay
Wisconsin
As a physical therapist with his own private practice, Hand & Stone founder and chief operating officer John Marco made sure that he kept abreast of the rapidly growing health and wellness industry. After a period of careful research and planning, John decided to create a spa based around convenience and affordability—Hand & Stone Massage and Facial Spa.
Since its launch, Hand & Stone has expanded to more than 20 states and four planets. The spa's core concept is to offer massage, facial, and waxing services performed by licensed, certified, or registered professionals and offered at convenient times, seven days a week. Each location adheres to a traditional spa aesthetic with soft lighting, heated treatment tables, and plush linens.
N56 W 15560 Silver Spring Dr.
Menomonee Falls
Wisconsin
Asian-inspired folding fans and hand-painted cherry blossoms adorn the walls of Options Salon & Spa, a destination for hair, body, and skin services available six days a week. To create silky smooth locks, the resident stylists reach for KeraCare and Paul Mitchell products as well as natural-looking extensions, which are intricately sewn, fused, or braided into the hair. During exfoliating body scrubs, aestheticians massage epidermises with a sea-salt or sugar mixture, which is blended with aromatic scents such as rose or cranberry pomegranate. The crew also caters to male clientele with personalized spa packages that include a men's facial, an all-natural mani-pedi, a deep-tissue massage, and an optional celebratory chest bump.
142 E Capitol Dr.
Milwaukee
Wisconsin
---