Wauwatosa, WI Health and Fitness
---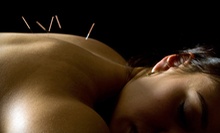 Use Today 6:00am - 3:00pm
---
Recommended Health & Fitness by Groupon Customers
---
Though they hail from different corners of the world, Drs. Chuan Li, DMD, and Gerald F. Eagan, DDS, both pursue the universal goal of bright, healthy smiles. Doctors and staff—all members of professional dental associations and the Toothbrush of the Month club⎯stay up-to-date by taking continuing-education courses.
Inside treatment rooms equipped with digital sensors and intraoral cameras, patients can look out at Wauwatosa from ninth-floor windows as technicians perform gum treatments or place crowns on power-hungry teeth.
2300 N Mayfair Rd. , Suite 920
Wauwatosa
Wisconsin
414-257-1230
In the 15 years since its opening, Adventure Rock has upheld its objective of granting guests of all ages and experience levels a chance to learn how to climb. The staff meticulously maintains amenities including 12,000 square feet of textured climbing surfaces, bouldering caves, and custom treadwall. Sculpted arêtes and cracks challenge forearms as intrepid wall-climbers chart a course up colored pathways to seek council with the sentient ductwork at the faux mountain's 35-foot peak. Under the helm of experienced instructors, students learn the ins and outs of ascension via climbing classes. As climbers scramble upward on more than 40 top ropes, air-conditioning keeps faux mountainsides from awkwardly perspiring geode sweat drops. While the indoor facility offers a controlled environment in which to learn and practice, Adventure Rock's staff also unleashes patrons' inner adventurers via private outdoor climbing classes held at Devil's Lake as well as portable rock wall rentals for all manner of party or event.
21250 W Capitol Dr.
Pewaukee
Wisconsin
Goodyear Chiropractic Health Center's lobby is a well-shadowed place, with dark-brown walls and slates of polished wood paneling surrounding leather booths and a bubbling aquarium. Perhaps that reflects the initial feelings of their clients, who arrive seeking relief from the everyday aches that can slow life to a crawl. The darkness gives way to light just beyond the front desk, where a modern training room awaits with weights and treadmills. Private treatment rooms come next, filled with warm massage beds keeping company with clay-colored walls and colorful modern art. Visitors should watch their steps, though—without care, they may run into limber shapes shifting through yoga poses, body-fusion groups sloughing away pounds, or loose-limb postmassage frames floating blissfully past.
Such are the obstacles of a tour inside Goodyear Chiropractic Health Center's sprawling facility, where the road to wellness passes through chiropractic treatments, family-fitness exercises, acupuncture tables, and massage beds. Owned by Dr. Corey J. Schneider, whose achievements and specialties are as vast as a poet's list of metaphors for underemployment, the facility's staff of doctors, acupuncturists, physical trainers, and nutritionists all utilize their respective expertise and the veritable playground of resources around them to help their clients overcome pain, injury, and stress.
5261 N Port Washington Rd.
Glendale
Wisconsin
414-332-6001
The techniques that Lauren Birkel imparts to her trainers are the same ones she used on herself while preparing for and completing the rigorous Ironman World Championships in 2005 and 2011, as well as the France-held International Triathlon Union Long Course World Championships in 2007. With this history of achieving difficult goals, Birkel knows how to inspire students without commissioning a band of rabid coyotes to chase them while they run.
She and her many cotrainers use these thoroughly tested methods of motivation to push students toward healthier lives in one-on-one, small-group, and large-group training sessions. She decks out her indoor studios with all the necessary equipment for personal-training sessions and isn't afraid to lead all-outdoor boot-camp academies in the heat or rain.
14960 W Greenfield Ave.
Brookfield
Wisconsin
---