Yoga in Wauwatosa
---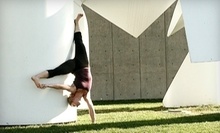 Five styles of yoga classes range from aerobic power Vinyasa to the highly meditative yin yoga and its lengthy posture holds
Use Today 6:45am - 9:45am
---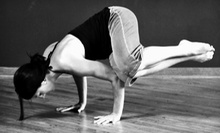 The one-hour class for intermediate and advanced students syncs more intense movements with breathing to improve strength and flexibility
Use Tuesday 3:15pm - 6:15pm
---
Recommended Yoga by Groupon Customers
---
To help students of all ages and abilities stave of injuries and retain youthful flexibility, instructors turn to Bikram Choudhury's unique spin on yoga, leading a fixed series of 26 postures in 105-degree heat. The heat helps deepen each stretch, kick start circulation, detoxify the body, and disguise any chronic sweating conditions. Bikram Yoga Milwaukee's instructors host more than 50 weekly classes between both locations.
2084 N Commerce St.
Milwaukee
Wisconsin
Instructors at North Shore Yoga and therapists at Integrated Healing Center promote holistic well-being with a one-two punch of movement-based classes and salutary bodywork sessions. Owner Sharyn Galindo honed her yogic talents over 10 years of dedicated practice, including occasional sojourns to Mysore, India and Thailand where she studied Ashtanga techniques while accumulating enough frequent-flyer miles to vacation on Jupiter. Under her tutelage, North Shore Yoga instructors emphasize Ashtanga and Vinyasa yoga styles, helping students deepen stretches by heating rooms up to 84 degrees for the majority of sessions. To augment a lifestyle of physical wellness, Integrated Health Center's therapists dole out healing bodywork and alternative treatments, including acupuncture and massage sessions that can help address clients' individual needs by incorporating aromatherapy or organic, herb-infused oils.
310 Happ Rd., Suite 216
Northfield
Illinois
847-784-8844
Body & Brain Holistic Yoga's classes incorporate yoga, tai chi, meditation, martial arts, and signature breathing postures to forge a mind-body exercise that helps students to awaken their inner ki energy. The one-hour sessions attempt to improve flexibility, strength, breathing, and energy sensitivity, which contribute to holistic health. Much like a dive-bombing red-winged black bird, classes often vary their approach, ensuring a more dynamic experience from session to session
1947 Cherry Ln.
Northbrook
Illinois
847-562-9642
Inside his 1,100-square-foot studio, Yoga Bent's owner and registered yoga instructor, Miguel Latronica, guides his students through innovative classes that incorporate his patented Mighty Body Body Band stretching device. The Latronica Method is largely based on the principles of isolated active stretching, and it employs his inventive system of ropes and harnesses to support and stabilize students as they work though seven forms of flexibility- and strength-building exercises. The studio's more traditional classes enable students to borrow a mat and sink into the longer-held Yin yoga postures designed to loosen those particular connective tissues that, like the budgets of toddlers, are difficult to stretch.
1630 Old Deerfield Road
Highland Park
Illinois
847-831-1515
Mindful Motion Yoga's eight certified instructors cultivate an accepting atmosphere inside the studio, sure, but they also bring classes outdoors for yoga by the tree, which places students amid nature's oxygen factories. As they help their students to boost strength and flexibility, these dedicated instructors also help students to release tension during Basic, Gentle, Power, Restorative, Yin, and Kids Yoga classes.
The team opens most of its classes and workshops to students of all levels, as well as dogs, since they have a copyright on their downward pose. An instructor will modify each posture for beginners and advanced students alike. To further immerse their dedicated students in this enlightening practice, they hold a comprehensive teacher-training program registered through the Yoga Alliance. Mindful Motion Yoga also supports several charities, including the Wounded Warrior Project, Challenged Athletes Foundation, Girls, Inc., and Christina Phipps Foundation, which owner Terri Morrison co-founded.
6127 Green Bay Rd
Kenosha
Wisconsin
US
Owners Tataya and Thomas Radtke originally began Yoga Body & Balance in the living room of their home. Since then, they have expanded to new location with enough space to host the studio's eclectic assortment of yoga classes and bodywork treatments. Having studied Hatha, Ashtanga, and Anusara yoga, Tataya supervises varied sessions for a range of ages and skill levels, from gentle, introspective styles to vigorous, athletically based classes. This extensive range of opportunities allows students of various flexibilities to pursue a style that corresponds with the desired realism of their Gumby Halloween costume.
In addition to yoga, the center also treats visitors with various types of bodywork, such as Thai massage, Lakota raindrop technique, and sustained bear hugs. Alongside acupuncture sessions with a licensed therapist, these treatments work to target the symptoms of physical pain while also addressing the energetic imbalances believed to cause them.
3813 22nd Ave.
Kenosha
Wisconsin
US
262-657-4918
---