Waycross, GA Outdoor Activities
---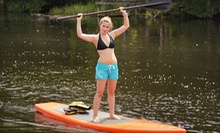 Paddleboards meander through scenic Big Pottsburg Creek, with instructors giving safety and paddling tips as kayakers take off on their own
---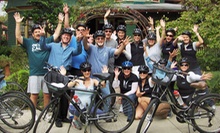 Guides share historical tidbits as they lead groups through Riverside-Avondale, Olde Mandarin, or Venice-inspired San Marco
---
Recommended Outdoor Activities by Groupon Customers
---
1201 Riverplace Blvd.
Jacksonville
Florida
The golfing gurus at Edwin Watts Golf Academy diagnose and correct their students' poor swing and putting habits in an effort to help them improve their shots and lower their scores. In one-on-one swing-analysis sessions, students learn a repeatable swing that eliminates tendencies they may have to slice, hook, push, or pull the ball. A special laser attaches to the end of the player's club and tracks the swing path while JC Video swing-analysis software records the session from two separate angles, lest analysis be thrown off by only looking at the golfer's good side. Putting analysis employs Tomi technology to measure eight separate parameters of the putting stroke, from clubhead orientation at address to swing path and tempo. After swing and putting lessons, students may access the recordings on a password-protected website, so they can forward videos to friends or sports-documentary filmmakers.
7111 Bonneval Rd.
Jacksonville
Florida
904-425-4653
Conner's A-Maize-Ing Acres mixes agriculture with entertainment, dazzling visitors come harvest time with its slate of attractions. As the season changes from summer to fall, the farm rolls out family-oriented activities ranging from ambling hayrides to walks through the pumpkin patch. More than 100 barnyard animals lean toward outstretched hands, whereas a hay jump and corn box beckon kids with energy to burn. Amid all the hustle and bustle, an old barn—emblazoned with the greeting Howdy above its door—reminds folks to slow down, drink in the crisp air, and brainstorm Halloween costumes that will make neighborhood dogs whimper.
19856 County Rd. 121
Hilliard
Florida
Nestled in the scenic shadows of the Smoky Mountains, Bent Creek Golf Course's 18-hole layout stretches across 6,182 yards of fairways that rise and fall among rolling foothills and pristine valleys. Golf legend and course designer Gary Player made deft use of a babbling mountain stream by running it through the course and seamlessly uniting two distinct nines: a front nine that sprawls across the valley floor and a back nine that roams the hilly mountainside like a forlorn sasquatch. The overall effect is a course that does justice to both the sheer scope of the rising peaks with bottom-up views and the panoramic splendor of Great Smoky Mountains National Park when seen from the cresting hilltops of the back-nine. The inventive layout is perhaps best characterized by the 11th hole, a 362-yard par 4 where a 90-degree dogleg-left plays into a green completely surrounded by the creek's rippling waters. A blend of bent and bermuda grasses grows resiliently for golfers striving to play all year-round, and fragrant wildflowers blossom at every tee to warm the hearts of world-weary nine-irons.
Bent Creek bolsters the pin-hunting prowess of its golfers with a staff of PGA-certified instructors that conducts lessons and presides over the domain of their full-service pro shop. A practice putting green helps players trim their score by reading dicey slopes, and the Creek Side Grill hosts postround revelry and community gatherings to decry the historical hardships of the mashie niblick.:m]]
Course at a Glance:
Designed by three-time Masters and British Open Champion Gary Player
Bermuda-and-bent-grass combination
18-hole, par 72 course
Length of 6,182 yards from the farthest tees
Three tee options
Link to scorecard
10440 Tournament Ln.
Jacksonville
Florida
904-779-0800
Wooded areas filled with abandoned automobiles, empty houses, and overturned barrels might evoke the set of a gritty war movie, except for one detail: they're all covered in colorful splotches. These are some of the sights on the six unique fields at GTF Paintball, which host colorful mock battles on their expansive outdoor property. Whether participants stage urban combat on The Houses, or take to The Village to engage in fast-paced rounds, they can lose themselves in settings that simulate both real-life battle and pranks played by expressionist painters. No matter what the scenario, GTF places an emphasis on safety by chronographing markers and requiring goggles in all playing areas.
700 Goodbread Rd.
Yulee
Florida
904-548-7256
From Paragon Golf Center's multifaceted practice complex, Peter Yum improves pupils' swings by channeling wisdom accrued from a junior golf career and time spent under the tutelage of Tom Ness and Ben Doyle, two of golf's most revered instructors. Peter dissects swings from the comfort of a covered 90-stall driving range with heaters, fans, and automated tee technology that raises golf balls onto hitting mats on command or in exchange for a shiny divot tool. While tweaking their swings, golfers can look at their reflection in stall-side mirrors, helping them better grasp Peter's corrective advice on how to properly strike the ball or bedazzle their golf glove.
1000 Water St
Jacksonville
Florida
US
---