Wayne, MI Indoor Activities
---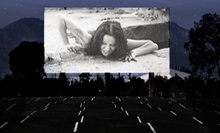 Patrons sit in their warm cars during first-run double-feature films
Use Monday 4:00pm - 7:30pm
---
Recommended Indoor Activities by Groupon Customers
---
Although it's the oldest continuously running theater in Michigan (and the third oldest in all of the United States), Croswell Opera House has more vibrancy than most venues half its age. Renovated over the last two decades with a new stage floor, an enlarged orchestra pit, and burgundy and gold medallions atop a fresh coat of paint, the historic venue has lost none of its old-fashioned charm as it continues through its second century.
Originally constructed in 1866, the downtown epicenter of Lenawee County arts and culture has played host to a rich timeline of American entertainment. The 1800s featured vaudeville acts, musicians, and orators such as Susan B. Anthony and Frederick Douglass, and the early 1900s saw silent movies swallowed by the next wave of cinema: loudies. Although it was nearly demolished in 1967, the opera house persevered with the loving care of its staff and patrons, and today continues to host a wealth of musical acts, Broadway shows, and children's theater.
129 E Maumee St.
Adrian
Michigan
While visiting the Great Lakes Zoological Society's indoor reptile zoo, guests take in animal sights that tend to deceive at first glance. A rough-barked indoor tree, upon closer inspection, may actually be a snake craftily blending in. Lizards, tortoises, and tarantulas populate similar enclosures, resting atop logs suspended over ponds or within forest-floor greenery. The nonprofit indoor zoo houses more than 100 animals representing over 70 species, including reptiles, amphibians, insects, arachnids, and birds, that help teach visitors about their habitats. Along the way, guides invite visitors to meet colorful residents such as a reticulated python weighing over 150 pounds, two 90-pound Sulcata tortoises, and monitor lizards that extend over 5 feet.
Zoo staff members also lead groups deeper into the study of their creatures during classroom visits, where children learn about ecological conservation, how to identify dangerous animals, and the proper way to give a snake a handshake as they touch and handle some reptiles. On-staff instructors also teach group classes in subjects such as animal medicating, handling, and reptile husbandry. The nonprofit occasionally places its animals up for adoption, and works toward conservation efforts by rehabilitating, breeding, and rereleasing native Michigan species and global endangered species.
6885 Jackson Rd.
Ann Arbor
Michigan
At Spirit Rising Yoga & Healing, the 2011 winner of CityVoter's Best Yoga Studio award, yogic poses double as medicine for the body, mind, and soul. Owners Stacey and Jeff Coffey help their students find a peaceful way to navigate the tension and obstacles present in everyday life. Stress melts and muscles strengthen during private yoga instruction and expert-led classes, which range from athletic Ashtanga sessions to gentle Yin routines that bolster connective tissue in the hips and spine. Complimentary mats, pillows, blocks, and belts may be borrowed to assist students' practice or Rube Goldberg machines. In addition to leading yoga classes, the studio specializes in alternative healing techniques, such as reiki, massage therapy, and auricular acupuncture, that retune the body's natural energy flow.
111 W Saint Paul St.
Brighton
Michigan
810-588-5927
Vehicles leisurely roll across African Safari Wildlife Park's sprawling landscape, yielding to a host of friendly, free-roaming creatures. Camels, giraffes, and zebras coexist peacefully with endangered and uncommon species such as forest-dwelling bongos, Asian sika deer, and Scottish highland cows. Guests can hold cups filled with feed, which exotic muzzles devour, and a walking area provides an up-close look at caged species such as the rare white alligator. Warm-weather months bring out additional activities, including animal rides, pig races, and educational animal shows where guests can interact with small mammals. Food and beverages from African Safari's ice-cream shop, snack bar, and grill help sate midday hungers caused by watching a guanaco sneeze.
267 S Lightner Rd.
Port Clinton
Ohio
419-732-3606
Caring for oneself is a necessary part of caring for others, according to Joe Sparks, the former triathlete who helms Hot Yoga With Joe. To encourage others to devote more time to their health and loved ones, he and his staff of certified instructors fill fitness classes with both fun and restorative relaxation. Joe channels more than 10 years of teaching experience to lead hot-yoga workouts featuring gentle yet powerful poses that aim to forge cast-iron muscles capable of hurling a paper airplane into orbit. The 95- to 100-degree temperatures unspool tight ligaments and encourage sweat glands to flush toxins out of the nearest pore. New students prepare for their first sessions by completing a mandatory waiver and hydrating themselves thoroughly beforehand.
29101 Hufford Rd., Suite 103
Perrysburg
Ohio
419-874-2911
Inside a sprawling, 4,000-square-foot laser-tag arena, sharpshooters 7 years and older strap on chest pieces and unholster their electronic arms. Competitors crouch and weave through black-lit battlefields as they confuse enemies by flanking their position and producing duck calls to the tune of "Bennie and the Jets." Guests can take a break to scramble up the sides of a rock-climbing wall, or they can sharpen their thumbs in the arcade arena. Q-Zar also hosts group birthday parties and team-building outings, during which coworkers can silently stalk each other in the dark before pouncing to intercept a trust fall.
5836 Monroe St.
Sylvania
Ohio
---