Restaurants in Wayne
---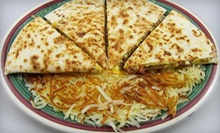 Cozy diner whips up pancake breakfasts, triple-decker club lunches & suppers of veal cutlets, pot roast & pasta.
---
Recommended Restaurants by Groupon Customers
---
There is perhaps no greater sign of Louisiana's culinary heritage than the mélange of aromas that wafts from a pot of simmering gumbo—a cornerstone of creole cooking from as far back as the time of the Louisiana Purchase. Nearly every recipe calls for some kind of roux, a traditional French sauce that consists of butter, oil, or some other fat mixed with flour. Beyond that, the specific spices and ingredients vary wildly, but most versions of gumbo fall into one of three general categories. Seafood gumbos feature oysters, crawfish, and other catches simmered with okra and vegetables, whereas filé gumbo uses a spicy herb made from ground sassafras leaves to highlight the savory flavor of andouille, poultry, ham, or smoked links. The third variant is known as gumbo z'herbes, a vegetarian recipe traditionally served during Lent.
Despite its indisputable creole ties, gumbo can't actually be traced to a single cultural tradition; the version using filé powder, for instance, originally derives from Native American cultures. Either way, the name itself comes from the West African term "gombo," which means "okra"—a plant native to Africa that the French colonists of Louisiana likely introduced to North America in the early 1700s.
404 Main St.
Belleville
Michigan
Fiamma Grille elevates the local dining scene with elegant takes on a steak house's bill of fare. Like a slice of bread nibbled into the shape of a mitten, the menu is a testament to state pride, with chefs striving to source each tasting plate of Leelanau cheese, dish of Maple Leaf Farms roasted duck, and platter of handmade pasta from Michigan producers whenever possible. Fiamma Grille's dedication to whipping up consistently pleasing tapas, aged steaks, and seafood earned it a spot on Gayot's Top 10 Steak Houses in Detroit list. In addition, its litany of fine California vinos won an Award of Excellence from Wine Spectator.
380 South Main Street
Plymouth
Michigan
734-416-9340
Growing up in a family with nine kids, Cornell Sample came to cherish the big suppers that brought his clan together after often-chaotic days. The tradition is what guides his operations at Pit Master Barbeque, where he and his team create meals that can easily feed whole families on days when schedules are tight. All of the dishes come in a range of sizes, from a la carte sandwiches stuffed with smoked meats to dinner platters that come paired with two home-style sides and a slice of cornbread. They start cooking meats early every morning, periodically slathering pulled pork, full slabs of ribs, and beef brisket with signature sauce. Each of the meats, as well as the sides and classic Southern desserts such as banana pudding and peach cobbler, can be ordered by the pan, creating easy meals for large groups or someone training to be someone's date at a Southern wedding.
4407 Fort Street
Trenton
Michigan
734-301-3861
Housed in a historic 110-year-old building, Savannah's evokes the grandeur of the past with formal décor such as a marble fireplace, weathered-wood paneling, and flowing white drapes. Tables covered in white linens populate with juicy steaks and seafood fillets that show flashes of Italian and French influence in their delicate wine and butter sauces. A separate gluten-free menu makes the most of choice cuts, such as a 20-ounce porterhouse and tender center-cut pork chops. Servers can suggest wine or liquor pairings from Savannah's substantial bar list or add to the historic atmosphere by playing a baroque concerto on the rims of wineglasses.
2156 W Jefferson Ave.
Trenton
Michigan
Temptations' accomplished founders and chefs are striving to create the first national Indian food chain in an effort to make fresh, all-natural Indian fare accessible everywhere in the country. The chefs prepare vegan and vegetarian options nightly, such as the bhindi dopiaza's tomato-smattered okra, and clay ovens churn out grilled dishes, such as murg tikka masala or tandoori chicken. Temptations also fills environmentally friendly boxes with portions of its food on college campuses, and the chefs spread their knowledge of Indian cuisine in cooking classes.
Sunlight streaks through large windows in Temptations' dining room as diners scarf down healthy Indian feasts beneath exposed-ductwork ceilings and soft orange lights. Live music fills the air on weekend nights, with sitars, world music, and kazoo symphonies typifying the sounds. Belly dancers have been known to take to the floors as well, captivating patrons with their hypnotizing hip undulations.
2876 Washtenaw Ave.
Ypsilanti
Michigan
734-434-4709
Dream Dinners makes meal preparation a breeze with easy-to-follow instructions, precut meats and veggies, and a host of complementary ingredients. The experience is like a cross between a barn raising and a bar crawl, minus the alcohol and hard labor: After choosing from a rotating menu of up to 14 dishes per month, customers schedule a spot at a fun prep session (call at least a week in advance) to assemble meals in-store. Items from the April menu include blackened salmon with pineapple salsa ($15.89 for three servings) and crispy sesame chicken with gingered green beans ($14.04 for three servings). Groupon holders can dazzle dining-room tables with fancy, restaurant-inspired fare or serve up flavor-filled comfort foods such as white-chicken lasagna ($14.04 for three servings) and caliente pork chops with garlic mashed potatoes ($16.42 for three servings).
23019 Outer Dr.
Allen Park
Michigan
---