Weatherford, TX Spa and Massage
---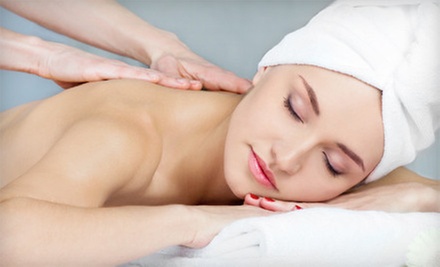 ---
Recommended Spa & Massage by Groupon Customers
---
Nothing is happening inside At Peace Flotation & Massage Spa's float tanks—at least not as far as the eye or ear can tell. But change is still taking place. As bodies float inside a lightproof, soundproof chamber atop skin-temperature water made buoyant by 800 pounds of epsom salts, the mind sinks into deep relaxation. Spa staff finds that a one-hour session can impart the same restful feeling as four hours of sleep in a bath of warm milk and soothe the symptoms of chronic back pain, fatigue, high blood pressure, asthma, and jet lag.
Alongside At Peace's two private float suites—complete with showers and dressing areas—treatment rooms house massage therapists well-versed in a range of therapeutic styles. Swedish massage utilizes long and glissading strokes to improve circulation, and deep-tissue massage relies on penetrative kneads to release pent-up pressure. Therapists also specialize in prenatal, sports, orthopedic, aromatherapy, and chair massage.
1304 Glade Rd., Suite 300
Colleyville
Texas
817-485-3223
Sunlight streams through the windows at The Massage Works, filling the waiting room with the warmth and light of that of a secret oasis. Within the 3,500-square-foot facility, clients relax within one of 11 treatment rooms as licensed massage therapists ease their muscles and brighten their skin tone with services such as body wraps, facial scrubs, and Swedish, deep-tissue, and hot-stone massages.
901 Clinic Dr., Suite B117
Euless
Texas
After running her own spa in South Africa, Elize van Beljon ferried over to the States to open Spa By Di Vine's stately stone-flanked doors in 2008. Trained throughout the globe in skincare, massage therapy, and makeup artistry, Elize boasts more than 28 years of professional experience and an extensive list of spa-centered certifications to help clients to refine skin and soothe tense bodies. Each visit begins with a personalized consultation to determine skin type, treatment options, and product preferences before delving into the tension-melting session. The spa's selection of services consists solely of pharmaceutical-grade, clinically proven, and FDA–approved regimens that ensure a pampering experience as science-centered as sipping champagne from an Erlenmeyer flask.
1124 Glade Rd., Suite 160
Colleyville
Texas
817-673-2111
Beauty experts polish their clients' fingers and toes before touching up their faces with vibrant makeup. Stylists clip, buzz, and sculpt the gentlemanly coifs of guests seated in their styling chairs. With their dashing new looks, these customers would stop traffic—if they were old enough to drive. At Sweet & Sassy, a salon and spa exclusively for children, glamour comes in all sizes. Mini manicures, pedicures, hairstyles, and makeup services give girls their first taste of the pampered life, and boys' haircuts give lads roughhouse-ready looks in styling chairs their own size. Even infants get in on the grooming with the Baby's First Cut package, which includes a hair locket, certificate, and photo keepsake to commemorate the first time their parents saw their ears. The salon also goes beyond simple image enhancements with themed parties, in which hot-pink limos scoop up young partygoers and bring them to the salon to don gowns and tiaras, strut down the runway, or rehearse for a live pop-music performance.
1246 Main St.
Southlake
Texas
817-251-6353
Surrounded by the pistachio-hued walls at the Body Retreat Day Spa, clients unwind with the help of traditional and exotic therapies. On the unusual end of the spectrum is the center's hydrotherapy room, a space dedicated to the healing properties of water where thermal mud, wax, herbs, and aloe vera detoxify clients' bodies during wraps and scrubs. In the other private treatment rooms, massage therapists incorporate warm seashells and aromatherapy to help to calm clients' minds and relieve body aches, and aestheticians help to rejuvenate faces with more-advanced treatments, which include the anti-aging powers of ultrasound, high frequency, and yelling compliments at the skin in Klingon.
2905 Brown Trl. , Suite B
Bedford
Texas
817-656-4555
At Skylight Massage and Skincare, specialty massages and decadent add-ons merge into uplifting treatments that rejuvenate the body and spirit. The ashiatsu massage is a house specialty featuring a deep-pressure technique that soothes sore and achy muscles in the back, chest, hips, and legs. Once muscles are loose, a client may further relax under the soothing warmth of heated basalt stones or the tingling sensations of a natural-fiber brush, used to increase blood flow. Such duality is key here, with lavish spa services softening the edges of focused therapeutic bodywork, causing pain and stress to dissolve like slugs in a salt cave. Other services include an organic cellulite massage, a 24-karat gold facial, and an herb-and-mineral foot soak that incorporates lemon clay, shea butter, and essential oils.
240 Harwood Rd., Suite 3
Bedford
Texas
---