Professional Services in Webster Groves
---
Professional Service Deals
---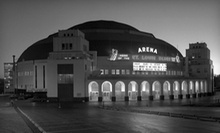 24" X 36" black and white poster commemorates iconic St. Louis creation and 26-page book details the building process with vivid photographs
Use Tuesday 10:00am - 5:00pm
---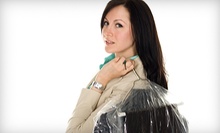 Staff of eco-friendly dry cleaners restores clothes to stain-free states, with same-day service for drop-offs made before 9 a.m.
Use Friday 7:30am - 9:00am
---
---
Recommended Professional Services by Groupon Customers
---
Though the professional lensman behind davidjstudios specializes in wedding photography, he strives to make every shoot capture something as memorable as the big day. To do so, he builds relationships with his clients, earning their trust and comfort during what can sometimes be an awkward situation. Instead, his shoots are relaxed, natural, and professional, gaining him nods from WeddingWire and CityVoter.com. He snaps images at locations throughout the St. Louis area, and helps clients customize items such as photo albums, invitations, and magnets strong enough to post their albums to the fridge.
4979 Ambs Rd.
St. Louis
Missouri
314-892-3922
Over the course of their 50 years of business, Apple Cleaners has kept up with the demands of ever-emerging, ever more finicky fabrics. Today, it combines its updated equipment with two types of cleaning solution, granting the flexibility to tackle stains in a full range of fabrics, from wool to cotton to various blends. Eager to show off their quality handiwork, the staff can expedite cleaning orders for next-day and delivery services.
12337 Old Halls Ferry Rd.
Florissant
Missouri
314-355-5200
TVPro audio and visual professionals have worked to preserve and enhance customer memories since 1984. When converting media in their studio, team members carefully handle tapes with skill gained from years of handling analog formats. They upload audio from reel-to-reel tapes, vinyl records, and audio cassettes onto digital CDs and convert 8mm and 16mm film to DVD to keep footage from being permanently lost to damage or natural deterioration. In addition to transferring files to digital media or cyborg braincases, TVPro documents weddings and special events, and has been ranked by CityVoter as the Best Videographer in St. Louis.
1802 S 9th St.
St. Louis
Missouri
314-436-9314
Touched by Flowers boasts a bounty of smile-inducing, fresh flowers and plants for every conceivable occasion. Spruce up a cheerless beehive with an artistic arrangement of bicolored roses ($74.99) or go springy with a peacock's plume-inspired cascade of color ($54.99). Those with leafier leanings may appreciate a blooming bromeliad ($64.99), with its rosy peak and easy-to-love personality. And if your giftee is notoriously absentminded, go with a bouncy, low-maintenance rubber plant ($64.99).
6621 Delmar Boulevard
St. Louis
Missouri
United States
Professional photographer Michelle Garthe's studio offers a controlled environment where subjects can be custom-lit in the most flattering manner, whereas on-location sessions allow mortals to immortalize memories within homes, at outdoor locales, or on a light-enhancing glacier. Garthe specializes in portraits of newborns, families, expectant mothers, and high-school seniors, and she teaches novice photographers the tricks of the trade during beginner photography workshops.
2745 High Ridge Blvd., Suite 9
High Ridge
Missouri
Since 1984, Apple Studio has brought out women's most sensual, playful, and confident natures during romantic portrait sessions taken in an inclusive, relaxed environment. Before each shoot begins, friendly photographers help put nerves at ease by taking clients through past work to find the most appropriate style to match their comfort level and personality. As subjects lie in various flattering poses—the studio recommends bringing four to five outfits, from favorite lingerie to full scuba gear—soft lighting and strategic camera angles enhance each shot, resulting in a series of scintillating, tasteful vignettes. Pictures are typically ready in about two weeks, available in everything from retouched prints to digital copies on CD.
333 N Lindbergh Blvd.
St. Louis
Missouri
314-503-6161
---