Webster, TX Health and Fitness
---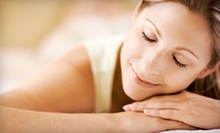 Massage therapist Jennifer Lester soothes corporeal aches with chiropractically informed one-hour sessions
Use Friday 7:00am - 6:00pm
---
Recommended Health & Fitness by Groupon Customers
---
If your eyes are the windows to your soul, your teeth are the white-picket fence-posts that protect the soul from oversized bites of taffy. Strengthen your defenses against attacks on the soul with today's Groupon to clean and healthy teeth. For $69, you'll get an exam, x-ray, and cleaning at 4Smiling Dentistry, led by cosmetic dentist Dr. Eric Ellis (a $572 value).Follow @Groupon_Says on Twitter.
4600 Fairmont Pkwy., Suite 204
Pasadena
Texas
US
My Fit Gym/River Oaks Fitness fights fat by running multipronged personal-training programs that integrate nutrition counseling. Group-training sessions with three or more people blend cardiovascular and resistance training to create a workout more complete than a card catalogue at a library that has only Dennis Quaid's memoir. Trainers will also help clients assess their diets and look for ways to improve their eating habits during a nutrition consultation.
1950 W Gray St., Suite 6
Houston
Texas
US
713-529-9601
Supplement gym sessions and resolutions with swallowable solutions to health-related woes. Today's Groupon gets you $45 worth of products from Impact Nutrition for $20. Impact, which has a partnership with My Fit Foods, has an intense product line-up for weight gain or loss, mood and muscle enhancement, sleep aids, molecular displacement, and teleportation.
514 Elgin St.
Houston
Texas
US
Element 5 Om's owner and licensed acupuncturist Sheri Davidson focuses on making disparate parts work together as a whole. Sheri began her traditional Chinese medical studies in 2000, cultivating a passion for Japanese architecture and martial-arts along the way. Through her studies, Davidson has learned extensively in the fields of Acupuncture, moxibustion training, Chinese herbology, Tai Chi, and Qigong.
Eastern medicine emphasizes a theory of interconnectedness. For example, the lungs affect the kidneys, which in turn affect the heart. To this end, the clinic's range of services works to bring clients' bodies into balance, without standard medications or excessive seesaws. Acupuncture guides the body's energy flow into more healthful patterns by inserting fine needles into certain meridian points on the body. This is believed to stimulate the flow of energy and can treat a variety of chronic medical conditions, along with decreasing chronic pain. During cupping treatments, gentle suction coaxes tight muscles into releasing tension and toxins, whereas one-on-one health-coaching sessions help clients learn to live a life that fosters wellness.
2610 Persa St., Suite 4
Houston
Texas
US
713-942-7110
---