Restaurants in Webster
---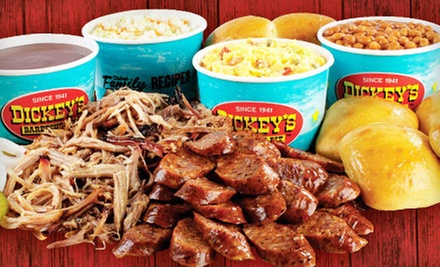 Washington Ave./ Memorial Park
---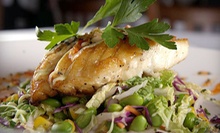 Chefs craft deft twists on international dishes, including burgers deemed "best" by H-Texas magazine in 2012
---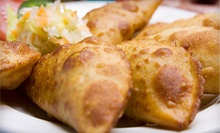 Empanadas bursting with pulled chicken, sautéed spinach & marinated beef, plus Peruvian potato dishes, sandwiches & house-made desserts
Use Today 11:00am - 7:45pm
---
Recommended Restaurants by Groupon Customers
---
Charivari head chef Johann Schuster draws on his roots in Romania and Germany to infuse a seasonal menu with flavors from across Europe, earning its fare a "very good to excellent" rating from [Zagat] (http://gr.pn/L2g3ow) as well as an inclusion in the upcoming Best Chefs America. Servers pile white-clothed tables with appetizers such as buckwheat blinis and Russian caviar or Hungarian-style foie gras with brown-sugar-glazed apple slices. Main courses of veal and seafood arrive drizzled in light wine sauces. In addition, chefs dry age each filet mignon and rib-eye steak for 20 days to deepen the color, intensify the flavor, and render the meat tender enough for newbie steak knives to slice without embarrassing themselves.
2521 Bagby St.
Houston
Texas
713-521-7231
It's Just Good jumpstarts appetites with a menu of hearty breakfast fare, served all day along with comfort fare gleaned from southern homestyle recipes. Washed down with cups of complimentary coffee, omelets envelop cheese and bacon, ham, or sausage next to sides of grits and toast, and stacks of pancakes soak up syrup faster than a tortoise can outrun a continental shift. The inimitable flavors of southern hospitality find their way into comfort fare classics such as pork chop sandwiches, fried catfish, and sweet-potato pie.
4331 Old Spanish Trail
Houston
Texas
US
713-741-7577
For more than 30 years, Quiznos has toasted its submarine sandwiches to bring out the hidden flavors found in butcher-quality meats, cheese, and artisan breads. Its classic and signature subs take on a variety of shapes, sizes, and styles ranging from the prime rib mushroom and swiss to the classic italian donning black olives, mozzarella, red-wine vinaigrette, and plentiful sliced meats. Those closely monitoring their waistlines can take unabashed bites of sandwiches that have fewer than 500 calories, such as the pork-cuban, Baja-chicken, and veggie-caprese subs. Quiznos' Toasty Bullets and Torpedoes offer slimmer versions of sub fare and flaunt supreme aerodynamics when shot out of T-shirt cannons and into mouths. A selection of Flatbread Sammies, soups, and salads round out Quiznos' varied menu.
3171 W Holcombe Blvd.
Houston
Texas
719-961-5665
---