Things to Do in Webster
---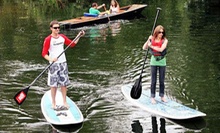 Standup-paddleboard outfitters meet clients at the Clear Lake Area to supply gear for paddles on the lake
---
Recommended Things to Do by Groupon Customers
---
Tanya Gorguraki and Chris Chung bring more than four decades of combined diving experience to the classes at Dive Zone Scuba, a wealth of expertise that help the facility earned a five-star rating from the Professional Association of Diving Instructors (PADI). The diving duo conducts confined water pool sessions in a heated Olympic-sized indoor pool, allowing students to focus on learning proper dive techniques in a controlled environment away from the ocean's inconstant currents and heckling fish. Each of their courses equips students with certification in a particular area of diving proficiency, unlocking underwater avenues related to open water diving, rescue, or specialty skills.
2802 Business Center Dr., Suite 112
Pearland
Texas
Houston's skyline looms over Urban Warzone's downtown field, which recently grew in size due to a land purchase, framing a detritus-strewn paintball arena where players skulk and snipe gear-clad combatants. Under the watchful eyes of referees and sentient corporate executives in skyscraping offices, players can paint the entire town or a single disliked opponent with semi-automated sprays of paintballs. As battlers duck behind corrugated tubes and wooden bunkers, paintballs zip through the air, splattering the ramparts or leaving Rorschach blots on players' armor.
To create a personalized experience, each game has a dedicated host catering to the needs of private parties or scheduled events. Elsewhere, a covered picnic area shields onlookers from elements and provides an excellent venue for spectating or snacking.
2315 Telephone Rd.
Houston
Texas
281-892-1148
After retiring from his upholstering job at the Southern Pacific Railroad, John Milkovisch spent his free time building structures around his house and drinking beers with his wife Mary. But when he ran out of space for building, he decided to use up his extra beer cans to create a shiny siding for his structures and his house. He began in 1968, and within 20 years he had completely covered his property with an estimated 50,000 aluminum and glass cans. The result was both fashionable and functional, with swaying garlands tinkling in the breeze, strings of cans adding a luster to all surfaces of the house, and the protective weight of the cans even helping cut the house's energy costs. But you can't have a house this striking and not get noticed. So pretty soon people began making trips to see this can-covered house, and in 2007, it was moved into the Orange Show Center for Visionary Art. Now guests can peer inside the house and examine the structures without getting chased by the owner's beer can-covered dog. The house's guided tours also feature a documentary that covers the history of the project since its inception forty years ago.
222 Malone St.
Houston
Texas
Tiny legs scamper across Lone Star Bounce Town's 9,000-square-foot floor, bounding from one cushy inflatable to the next and pausing before a gallery of kid-friendly toys and games. Disney-inspired bounce houses populate the open space, including new plush slides and domiciles that pay homage to the bubbly heroes of Toy Story 3, Winnie the Pooh, and Dante's Inferno. Tykes hone their hand-eye coordination by shooting hoops on the inflatable basketball court, cracking plastic balls off baseball tees, or threading straws into juice boxes in the Lone Star Cafe. A special subsection designed for toddlers, Lone Star's Tiny Town, features scaled-down playhouses, toy cars, and colorful, bouncy balls.
The clatter of foosball and air-hockey tables makes a steady drumbeat, over which drifts the sounds of an arcade—the happy digital babble of a modem dreaming. Ten leather couches with a full view of the children accommodate parents as they surf free WiFi and enjoy coffee from the café.
2620 Cullen Pkwy., Suite 118
Pearland
Texas
281-997-1799
---