Clubs in Weehawken
---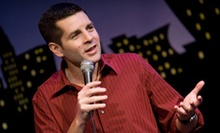 Three-comedian lineup boasting appearances on "Late Night with Conan O'Brien", "Saturday Night Live", and Comedy Central
Use Sunday 6:30pm - 10:00pm
---
Recommended Clubs by Groupon Customers
---
If you're serious about laughing, you're doomed to never reach your goal, for the serious mind never laughs. But if you have a nice, laid-back appreciation for laughing, Comix is your kind of place. It's calendar is loaded with free nights with local performers and evenings with nationally known comedians, including Jamie Kennedy, Drew Fraser, and Arj Barker. Restaurants and clubs surround Comix, making it a great starting point for a night out with friends (or a great ending point for a night out with friends who have curfews).
353 W 14th St
New York
New York
US
Premeditated comedy is the same thing as premeditated crime—both would be more hilarious if spontaneous. Seat yourself before a scene of utter unpredictability with today's delightfully inconsistent deal: for $9, you get one ticket to an improv show at Manhattan's National Comedy Theatre (a $15 value), plus free popcorn (a $2 value) to satisfy your late-night, comedy-induced cravings. Watch as NCT's talented players face off in a hilarious improvised competition at 9:45 p.m. on Friday or Saturday nights. NCT's show is completely different every time and funny for all ages, so grab your 2.5 children and 8.7 grandnieces. You haven't had a family laugh this good since that time the dog fell down the stairs and was basically fine.
347 W 36th St.
New York
New York
From way off Broadway to slightly off-Broadway comes the Chicago-born phenomenon Flanagan's Wake. One of the longest-running shows in Chicago theater history makes the jump to NYC by way of the intimate Sweet Caroline's theatre. For $20, you'll get one ticket to the show, a $50 value. Your Groupon can be used at any performance you want, but not for stealing hats backstage. Choose between: Mondays, Thursdays, Fridays, and Saturdays at 7:30 p.m.; or the Sunday matinee at 4:30 p.m. The runtime is approximately 90 minutes with no intermission, so regulate your liquid intake accordingly.Follow @Groupon_Says on Twitter.
322 W 45th St
New York
New York
US
Karaoke Boho's private lounge rooms provide a generous amount of sectioned-off space for crooners and backup singers to belt out tunes in comfort. To loosen up vocal cords still knotted around your heart, choose courage-boosting concoctions such as melon balls, martinis, domestic and import beers, and other fine spirits. With plenty of mics and seats in each room, performers don't need to be professional recording artists or highly skilled ventriloquists to bust duets. Relive an embarrassing musical obsession from your middle-school days, or declare your shameless love for the latest and greatest hits.
186 W 4th St.
New York
New York
A parade of bas-relief pastoral figures cavorts across the entryway of Delia's Lounge, signaling both the spirit of revelry and the wealth of mesmerizing visual artifacts to be found inside. A fireplace warms a room stuffed to its plush gills with velvet sofas, leopard-print banquettes, wooden sculptures, and a giant reproduction of the Mona Lisa serenely surveying the cozy scene. Until the wee hours of the morning, the kitchen fills the small, candle-topped tables with a variety of appropriately shareable plates such as pan-seared crab-cakes, chicken quesadilla rolls, hamburger sliders, and shrimp cocktail with house-made horseradish sauce.
New York Magazine dubbed Delia's a Critics' Pick, averring that "you won't find tastier, or larger, cocktails in Manhattan." Martinis range from the spare to the sweet: Hendrick's Gin bears a simple slice of cucumber, apple martinis blend liqueurs, vodka, and an apple slice garnish, and the Godiva white-chocolate martini presents vodka, cacao, and white-chocolate liqueur in a glass lined with a chocolate drizzle.
9224 3rd Ave.
Brooklyn
New York
Sending chuckles echoing throughout the surrounding neighborhood for more than 25 years, Standup NY has staged dozens of nationally acclaimed comedians including Jerry Seinfeld, Chris Rock, Jon Stewart, Caroline Rhea, and Judah Friedlander. The intimate, 100-seat venue hosts as many as three available nightly performances from performers who have appeared on HBO, Comedy Central, and the kiss cam at an NBA playoff game. A full bar unleashes torrents of humor-helping cocktails, wine, and beer, and the kitchen plates piles of pub grub such as buffalo wings and mozzarella sticks chosen from a full menu of eats.
236 W 78th St.
Manhattan
New York
212-595-0850
---