Dance Lessons in Weehawken
---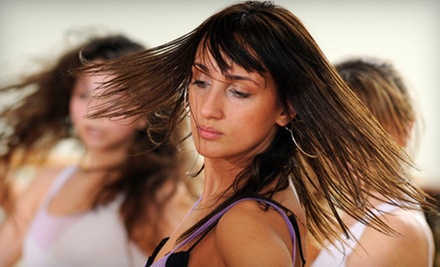 ---
Recommended Dance Lessons by Groupon Customers
---
JG Kinetics Studio fuses a passion for both dance and fitness in an enrichment center that helps students get in shape and strengthen their dance skills. Ballet, jazz, and hip-hop classes introduce children to the fundamentals of rhythm and movement, and yoga for youth helps manage emotions and anxiety tied to the population explosion of imaginary monsters under their bed. Adult classes such as Zumba and salsa cater to dancers and aerobic exercisers of all skill levels for one-on-one and group instruction. Instructors also organize themed birthday parties that immerse youth in treasure hunts and '80s dance music with included birthday cakes and age-appropriate activities.
5513 Bergenline Avenue
West New York
New Jersey
201-299-7966
School directors Diego Di Falco and Carolina Zokalski spent years dancing in Buenos Aires before they launched their professional dancing careers at the age of 20 by landing roles in the touring production of Forever Tango. When the show made its way to the U.S., the two became two of the youngest tango dancers in history to make it to Broadway. Like a puppy at show-and-tell, they earned enthusiastic acclaim, eventually picking up a Tony nomination for their choreography. These achievements were only the beginning of careers that graced the stages of Carnegie Hall, the Marquis Theatre, the Hollywood Bowl, and other esteemed venues.
Their reputations secured, Carolina and Diego turned to sharing the art of Argentinian dance with students, which they do today at Summit's Twin Maples mansion, a neoclassical home listed on the National Register of Historic Places. Inside, the hardwood dance floor is lit by chandeliers and accented by classical touches such as crown molding and bronze curtain rods, giving one the sense of dancing at a presidential ball or in a really, really fancy broom closet. There, the pair strives to make each step as authentic as possible by importing traditional music and guest artists directly from Argentina for the classes, workshops, and performances they helm.
214 Springfield Avenue
Summit
New Jersey
908-918-9790
Students arrive at Ballroom Dance of NJ seeking to learn the elegant art of social dancing, a tradition carried on by Russia natives Sergei and Olga Bezrodnov. The husband-and-wife team has taken home numerous Russian and U.S. championship titles, and the two are committed to sharing their passion for dance with the community.
Having experienced how ballroom dancing can promote both physical and mental well-being, the Bezrodnovs teach adults, children, and entire families how to gracefully navigate the dance floor. They coordinate events where couples can demonstrate their skills in styles such as the foxtrot, waltz, tango, cha-cha, and swing, preparing soon-to-be-wedded couples for their big day and singles to pass the time in malfunctioning elevators.
214 Springfield Ave.
Summit
New Jersey
908-838-9939
As a child in Argentina, Nancy Gerardi soaked up the Spanish and Italian songs of her grandmother—many of them filtered through her father's spirited accordion playing. Naturally, this musical upbringing led her to discover her talent for dance at a young age. It wasn't until she arrived in the United States, however, that she decided to combine this talent with her skills as a businesswoman to open her own dance studio.
Today, at My Passion Dance Studio & Entertainment, Nancy translates the music of her youth into fun and fluid dance steps. Whether in private classes or small groups, her students strut and stomp on helpless piñatas as they learn spirited Latin dance styles such as merengue, bachata, tango, and flamenco. Nancy's studio doesn't limit its offerings to the styles she grew up with, though. Students can also learn the graceful moves of ballet, jazz, or hip-hop, or take lessons in piano and guitar.
1127 John F Kennedy Boulevard West
North Bergen
New Jersey
201-866-5600
At The Ball NY Dance Studios, a team of dance instructors strives to motivate dancers of all skill levels to achieve flawless motion and timing on the dance floor. Up to 150 people per class gather throughout three separate ballrooms, each of which is fully mirrored, features professional Dura Dance sprung floors, and is free of obstructive columns attempting to cut in with your partner. The studio's variety of classes range from traditional ballroom- and Latin-dance classes to wedding-dance lessons and dance-fitness sessions. The studio also houses a boutique with dance wear and costumes, in addition to a café with a private business center, where students can check their email, make calls, or send Morse-code messages via tap dance.
131 West 35th Street
Manhattan
New York
212-868-0818
Owner Shevon James brings certifications in personal training and gymnastics coaching to each of his sweat-releasing dance classes. He and his instructors utilize a dance-fitness system called Brancée, which strips the core-isolating movements from multiple dance modalities and combines them into a single abdomen-engaging workout. The team teaches this fluid form of exercise to both adults and children. It can help youngsters overcome their insecurities and adults find an exercise regimen that both entertains them and increases their fitness, unlike traditional gym drudgery or lifting the remote control over and over.
382 Union Ave.
Belleville
New Jersey
US
973-759-4917
---