Theme & Amusement Parks in Weirton Heights
---
Theme & Amusement Park Deals
---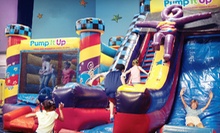 Kids careen down a giant 20-foot slide, soar inside bounce houses, and tumble around obstacle courses during open-play sessions
---
Recommended Theme & Amusement Parks by Groupon Customers
---
Wildwood Highlands serves an all-ages buffet of adrenaline-filled rides and fun-soaked activities that visitors can access with fistfuls of tickets. For five-minute intervals, go-karts whip through a winding, 1,000-foot course that challenges mini-motorists' reflexes, hand-eye coordination, and familial bonds with each cutoff to the inner rail. Visitors can captain bumper boats through the 5,000-square-foot Wildwood waters, thumping vessels as they pass fountains and circumvent the island. Woody's Den enchants small children with calliope music and magical animals who steer tots toward the spinning slime-bucket ride and old-fashioned train. Two 18-hole miniature-golf courses school putters in the principles of geometry and psyching out competitors with inopportune coughs and cackles.
Wildwood's arcade entices button smashers with more than 70 games that they can play to win tickets, which can be redeemed for prizes such as stuffed animals, action figures, and pocket-sized copies of the Federalist Papers. While bouncing from attraction to attraction, thrill seekers can recharge their energy with pizzas, wraps, pretzels, and cotton candy at the snack bar.
2330 Wildwood Rd.
Wildwood
Pennsylvania
412-487-5517
Adrenaline flows freely inside Laser Storm Pittsburgh's laser-tag battleground as teams of players wage infrared war over objectives and bases. In addition to hosting laser battles, Laser Storm offers an arcade filled with skee-ball, virtual games, and other ticket-spewing machines. Any tickets won in the arcade can be used to purchase prizes from a well-stocked booth or attached to a fishing line to lure laser-tag enemies out of their hiding spots.
7715 McKnight Rd.
Pittsburgh
Pennsylvania
412-364-3473
Jump!Zone's indoor playgrounds envelop kids aged 2–12 in an inflatable world filled with challenging obstacle courses, fun slides, and cardio-boosting bounce houses. While navigating the plush courses under the watchful eyes of air-filled dinosaurs and superheroes, kids burn off extra energy and participate in activities that may help develop motor skills. Jump!Zone's energetic staff supervises all play as kids climb on pirate ships and trampoline inside princess castles. Specific inflatables may vary by location but often include towering bounce houses shaped like fire trucks or octopi as well as party rooms, games, pizza, soda, and other festive fare. The bouncy center also hosts birthday parties, fundraisers, and special events.
4025 Alpha Drive
Allison Park
Pennsylvania
412-487-5867
Taking control of a battleship can make you work up a mighty appetite. Luckily, there's a food cart located just outside this ship's walls. At E2 Toys2Try, LLC there are plenty of eco-friendly, lead-free toys and play stations to gallop to and from. The space abounds with baubles that run only on imaginations instead of batteries or vengeful, displaced souls. Along with the battleship and food cart, there's a rope tree, pedal truck, old-fashioned gas pump, and wooden kitchen. The playground's team stretches kids' imaginations further by engaging them in arts activities, which parents can watch from the cozy confines of a lounge replete with complimentary tea or coffee and free WiFi. Next to the playground, staffers stock a boutique toy shop's shelves with wooden and nonmechanized playthings from brands such as Edex, Haba Toys, and PlanToys.
2101 Greentree Rd.
Pittsburgh
Pennsylvania
412-276-8697
Amid gurgling fountains and pouring waterfalls, Red Carpet Golf and Recreation Center's course challenge putting visitors with individual obstacles. The course winds beneath wooden bridges and up stone tiers, the breadth of the greens completely visible from their highest vistas. The golf center also fields a spacious driving range surrounded by verdant trees, allowing golfers to practice driving for distance on the distance markers or for accuracy by gently landing the ball in a bird's nest. Red Carpet Miniature Golf also entertains patrons post-putt with a deck available for party rental and a banquet hall that accommodates up to 70 people.
2200 Old National Pike
Washington
Pennsylvania
412-760-6603
Occupying 45,000 square feet, Adventure Landings encourages youngsters to expend excess energy during open-play sessions, birthday parties, or other special events. Kids and their parents can ricochet across five inflatables, including an outer-space-themed bounce house and an obstacle course, or whizz down a floor-to-ceiling side in the gymnasium. They can also strap into a safety harness and scale the climbing wall, which rewards strategic planning and amateur-yodeling attempts. A toddler play area caters to younger tykes, and an on-site cafe helps keep kids' energy meters fully charged.
2600 25th St. NE
Canton
Ohio
330-956-4799
---