Things to Do in Wekiwa Springs
---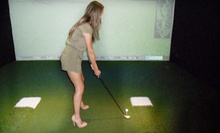 Plates of lox omelets, strawberry pancakes & homemade corned beef hash amidst expansive booths, vibrant yellow walls & checkered décor
Use Wednesday 2:00pm - 10:00pm
---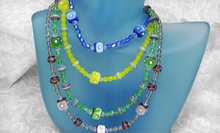 Students string fun beads in various colors, sizes, and shapes to create one-of-a-kind necklaces
Use Monday 11:00am - 2:00pm
---
Recommended Things to Do by Groupon Customers
---
Krista Shirley has spent years travelling the world with an open mind and open heart, learning to infuse her own Ashtanga yoga practice with the global perspective she gleaned in Thailand, Scotland, and India. Now that she's home, Shirley continues to expand her practice each year by embarking on annual retreats to Mysore, India, where she was authorized to teach by the prestigious Krishna Pattabhi Jois Ashtanga Yoga Institute.
Her dedication to preserving the authenticity of Ashtanga is apparent in the thoughtfully constructed classes and workshops at The Yoga Shala. Shirley eschews the gym-like trappings of trendy yoga studios, preferring to establish a school that incorporates yoga's physical and mental benefits into her students' everyday lives. Krista's commitment to education does not stop with her students, however, as her instructors accompany her every year to India to help deepen their mastery of traditional Ashtanga practices.
Within the 2,100-square-foot studio, instructors teach Ashtanga yoga in the traditional Mysore way. This method allows teachers to work individually with their students while guiding groups through each posture. The studio also holds progressive beginners' classes and Ashtanga flow classes that apply the Vinyasa principles of breath expansion and drishti, which is a focused gaze that develops concentrated intention.
927 N Pennyslvania Avenue
Winter Park
Florida
407-506-7735
Although Orlando Shakespeare Theater gets its name from the Bard himself, the ensemble of thespians produces a wide variety of shows. Shakespearean tragedies, comedies, and space operas anchor their season, but newly developed works also make their way onto the bill, as do plays for young audiences. Kids learn how to create their own pieces of theater during summer camps and classes, hosted both offsite and in school.
812 East Rollins Street
Orlando
Florida
407-447-1700
SWAT team officers stormed the occupied warehouse, firing into the dark. They ducked for cover behind beams, barrels, and crates as the enemy returned fire. The enemy held the upper ground, and it quickly dawned on these officers that they were fighting a losing battle. Amid the sounds of combat, the squad leader called over a senior manager and asked him to tone down the difficulty—because the female laser-tag referees kept beating his squad.
Though Hard Knocks' skilled referees sometimes train local SWAT teams using laser tag, they also regulate matches between players of all ages in three indoor arenas spread across 30,000 square feet. As players fire, they duck behind cubicles, filing cabinets, and desks in a replicated office; dart through dining rooms, panic rooms, and kitchens in a replica suburban home; and battle inside a functional warehouse.
Players exchange infrared beams from a roster of replica guns, each designed to emulate real military weaponry in size, weight, and operation. Each gun blasts targets in limited rounds using eye-safe infrared light, a technology adapted from military combat simulations. Players test their marksmanship in 75 realistic laser-tag missions, some of which require them to practice espionage, defuse bombs, protect and rescue hostages, or chase squirrels out of their front yards. When not exchanging beams of light, players can engage in virtual melee or team skirmishes in a room filled with combat simulators or play pool and console video games in a 4,500-square-foot gaming lounge.
5707 Dot Com Ct., Suite 1025
Oviedo
Florida
---