Theme & Amusement Parks in Welland
---
Theme & Amusement Park Deals
---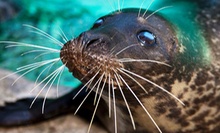 Aquarium hosts variety of salt-water and freshwater marine life, including seahorses, penguins, and sharks
---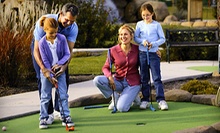 Three 18-hole miniature-golf courses invite putters to send orbs rolling past waterfalls, tunnels, and Lilliputian mountains
---
Recommended Theme & Amusement Parks by Groupon Customers
---
Named one of America's top 100 driving ranges by Golf Range Magazine in 2011, Broadway Driving Range & Miniature Golf invites golfers to launch towering drives under covered hitting bays toward a target field that stretches more than 350 yards. Golfers who favor a natural feel can hack through a bucket of balls at the range's all-grass hitting areas; synthetic hitting mats cater to refined sand wedges that consider divots uncouth. Laid-back clubbers can practice pendulous putts at the complex's miniature-golf course, where players circle around a barn built in 1932 through a farm-themed circuit of 18 miniature fairways featuring antique farm tools. Broadway Driving Range can cool down clients with soft-serve custard from Green Acres Ice Cream.
4367 Broadway St.
Depew
New York
The third-oldest zoo in the United States, the Buffalo Zoo was originally founded in 1875 as a deer park in the northwest corner of Delaware Park. Since then, it has grown into a 23.5-acre home for diverse species of mammals, birds, reptiles, and fish, all under the care of the Zoological Society of Buffalo, an organization dedicated to advancing the conservation of the world's exotic, endangered, and ordinary animals. Within its habitats, creatures ranging from Asian elephants to poison arrow frogs serve as ambassadors from far-off kingdoms, and at the Delta Sonic Heritage Farm's 1800s-era barn, a collection of berkshire pigs, southdown sheep, and other farm animals represents the fauna that once commonly lived along the Erie Canal. To carry out its educational mission, the zoo regularly hosts programs such as behind-the-scenes workshops and Zoo Snooze, in which kids can stay over for the night and wake up alongside the lions roaring angrily at their rooster alarm clocks.
300 Parkside Ave.
Buffalo
New York
716-837-3900
It is estimated that 3,500 snow leopards currently make their home in the wild, where they use their claws and predatory stealth to scale central-Asian cliffsides in search of wild goats and rabbits. These secretive cats rarely let out so much as a purr, preferring solitude to contact with humans and even each other. Nevertheless, humans have helped their dwindling population grow in recent years through conservation efforts at zoos and habitats throughout the world.
Safari Niagara counts itself among the world's safest havens for these downy cats. In working with the Canadian Association of Zoos and Aquariums, the animal park provides a home for snow leopards and more than 500 other species of mammals, reptiles, and birds. The park's conservationists lead educational presentations on threatened species and aim to shape children into the world's future caretakers through up-close interactions with the park's most social residents. Alpacas, river otters, grey wolves, and falcons are among the many animals that prowl the 110-acre facility, which also hosts an amphitheater where guests can watch musicians shimmy and shake in their natural habitat.Safari Niagara
2821 Stevensville Rd.
Stevensville
Ontario
The aquatic-minded architects behind Fallsview Indoor Waterpark stocked their three-acre splash zone with family-friendly amusements that simulate the sun-soaked days of summer year-round. With both kids and adults in mind, the park's designers included two large, adults-only jacuzzis, where grownups can marinate in relaxation while the tots zip down 16 waterslides up to six storeys tall, or high enough to make Aquaman feel like a damp Godzilla. After the kids bodysurf in the wave pool or get caught in the deluge of the 1,000-gallon tipping bucket, families can refuel at Planet Hollywood Beach Club. Located on the site of the Falls Avenue Resort, the waterpark encourages families to retire to 20 acres of luxury for the night and return the next day to shake their fins beneath faux palm trees or traipse through Jungle Beach Playland, a dry indoor playground.
5685 Falls Ave.
Niagara Falls
Ontario
888-234-8408
Niagara Go-Karts entertains entire families with the leisurely competition of miniature golf and the fast-paced fishtailing of more than 40 racing-style go-karts. Double-seated family karts let children 10 and older play copilot while parents practice high-speed chaperoning. For faster-paced driving, 13-horsepower engines propel realistic Formula 1 karts to high speeds under the control of drivers 14 and older. For the safety of all drivers, each kart features a roll bar, seatbelt, and outside bumper cage.
Outside of the driver's seat, a pastoral collection of wild flowers, safari animals, and indigenous astro turf decorates a mini putt course that's flecked with a barrage of amusing obstacles. All-day pricing allows for unlimited rounds from open until close.
7104 Kinsmen Crt.
Niagara Falls
Ontario
905-356-9030
The minds behind Ultimate Laser Tag have developed leagues, parties, and day camps around the game of laser tag, as they've learned from experience that it's a fun way to interact with friends and family. Leagues accommodate laser cowboys of all skill levels and 10-gallon-hat designs, and parties let kids slink through the space-age-rainforest ruins of the laser-tag arena before monkeying around at the facility's colourful playground. Day camps pack in the activities, highlighting Ultimate Laser Tag's goal of getting people off the couch, with laser tag and rock climbing alongside imagination-boosting events, such as talent shows where kids can get on stage and lick their elbows for a wider audience.
4020B Sladeview Cres.
Mississauga
Ontario
---