Wellesley, MA Outdoor Activities
---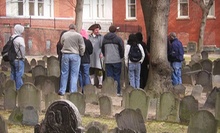 Follow a guide in a tricorn hat on a 90-minute exploration of colonial Boston through the uprisings that led to American independence.
Use Thursday 8:30am - 11:30am
---
Recommended Outdoor Activities by Groupon Customers
---
Helmed by stalwart captain Zdeno Chara, the 2011 Bruins exercise athletic domination over friction and work out cylindrically based angst on the ice. Premium club seating (located on levels 5 and 6) grants you early access to the arena and the first pick of the freshest foam fingers. Once the puck is dropped, you can see each snapping slap shot and delicate toe pick in vivid detail as you relax in cushy comfort, complete with extra leg room and in-seat wait service. Stretch your legs midgame with a jaunt to the Insight Club Lounge or The Patrón Platinum Lounge, or restock trivia arsenals with your ticket's included access to the sports museum.
100 Legends Way
Boston
Massachusetts
At the center of The Water Hazard Mini Golf's three-acre course, a 35-foot geyser erupts, knocking away incoming golf balls and sprinkling sun-baked putters with a refreshing mist. The expansive course owes many of its obstacles to the natural layout of the Holliston landscape. Flourishing bushes sit between holes and three large ponds break up the terrain while giving golfers glimpses of the sunbathing turtles and soft-shoeing frogs dotting its banks. A waterfall system nearly 500 feet in length also meanders throughout the property. Rolling hills, ridges, and a grand 120-foot slope also challenge golfers. The Water Hazard Mini Golf also features a full-service concession stand, which serves hot dogs, hamburgers, and homemade ice cream from Bliss Dairy.
750 Concord St.
Holiston
Massachusetts
508-740-0014
The Staples Champions Cup brings together the timeless titans of tennis, including Bjorn Borg and John McEnroe, for a round-robin tournament of fierce backhands and friendly back-talk. During the first session of the men's singles quarterfinal tournament, Borg, the former top tennis player in the world, will show off the racqueteering that won him five consecutive Wimbledon titles as he takes on Mikael Pernfors, a finalist at the 1986 French Open, in a showdown of Swedish swagger. In the second match of the first session, Mark Philippoussis, a finalist at both the U.S. Open and Wimbledon, will fly-swat the fuzzy yellow insect sent buzzing over the net by Olympic silver medalist Wayne Ferreira. Because there actually is a rule that says a sassy talking mule can't play tennis, the third match has been canceled.
925 Commonweath Ave.
Boston
Massachusetts
Looking to put a new spin on a classic family activity, the minds behind Glowgolf decided to give the game a phosphorescent update. Incandescent courses place friends and family amid a tropical-fantasy golf world of neon orange, green, and violet surroundings. Players putt luminous orbs through vibrant treasure chests and glimmering windmills while negotiating tricky obstacles near walls portraying black-light-lit aquatic scenes. With more than 20 locations spread over 10 states, Glowgolf's fluorescent labyrinths challenge human players and traveling gnomes.
1245 Worcester St., Suite 2120
Natick
Massachusetts
Golfers across the handicap spectrum practice bogey-thwarting skills at Natick Golf Learning Center, where PGA- and LPGA-certified pros preside over a multifaceted outdoor practice facility. The center's outdoor driving range offers 75 artificial and natural-grass hitting mats; two chipping greens, a putting green, and a practice bunker let players practice their finesse shots. During daily lessons, the pros enlist video analysis and other teaching aids to help pupils tackle new skills or correct recent on-course weaknesses.
218 Speen St.
Natick
Massachusetts
508-651-0426
For either ticket option, choose between the following game days:
140 Commonwealth Ave.
Chestnut Hill
Massachusetts
---