Shopping in Wells Branch
---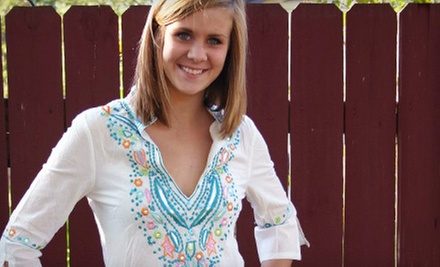 Hesters Crossing Shopping Center
---
Recommended Shopping by Groupon Customers
---
Stocked with hip attire from designers such as Ben Sherman and Ali Ro, Estilo offers a fresh selection of inventive outfits just in time for the summer. Peruse the boutique's collection of sensible yet chic women's clothing such as Ali Ro nautical tanks ($88) and Fresh Laundry fringe tees ($76), both of which are light, comfortable, and poised to blow the brains of all proximate pedestrians. Likewise, gents can select from a solid lineup of Ben Sherman polos ($69) and Ben Sherman short sleeve plaid shirts ($89), along with a variety of other chest-cooing items in Estilo's men's clothing department.
234 W 2nd St.
Austin
Texas
BuyDefinition's owner (and University of Texas graduate) Esti Choi focuses on stocking her shop's industrial space with a well-edited inventory of rare, highly coveted women's apparel, accessories, and shoes. As such, shoppers can spend hours browsing racks stuffed with rock-festival tanks, colorful silk chain necklaces, and cutesy sailor rompers. Steal the attention away from aggressive ants at summer picnics in a Dear Creatures Café Romper ($116) or cool off in a demure Samantha Pleet romper ($154). A BD Vintage Lenore lace mini-dress nails a sexy goth look in time to audition for the role of Tim Burton's girlfriend, while a Grey Antics paper-knit cardigan spares you the hassle of crawling inside a dead tauntaun on chilly summer nights. Beach bodies with more vintage proportions, meanwhile, can rock a Betty Grable pin-up pose with a '60s-style Desiree one-piece ($52) or look like the world's hottest art thief while wrapped in a watercolor, empire-waisted Camille mini caftan ($72).
3100 S Congress, Suite 3B
Austin
Texas
1020 Glass Art and Decor takes its name from its mission to provide exquisite artwork to everyday people by often pricing its handmade glass creations between $10 and $20. Behind the downtown Austin's space-age art-deco storefront, their sales team of enthusiastic and knowledgeable designers and art experts as they amass a collection of more than 5,000 glass vases, drink sets, bowls, figurines, and chandeliers. As a locally-owned business, 1020 takes pride in its community and boosts the city's culture scene by employing 10 highly trained in-house art consultants. They also give back through charitable functions and support of area nonprofits, such as Project Transitions's hospice and housing care for HIV and AIDS patients. The designers even show their love for their home state through their inventory, with a number of Texas-themed pieces available for purchase, such as a majestic longhorn steer, a golden-horn wine stopper, or a miniaturized Lyle Lovett imprisoned in a crystal paperweight.
208 Colorado St.
Austin
Texas
512-474-1020
When Stewart Ramser published the first issue of Texas Music magazine in December 1999, it sold in two stores. These days, his quarterly publication has subscribers in all 50 states. On each colorful, glossy page, writers showcase the work of Texas musicians from across a wide variety of music, from renowned artists such as Lyle Lovett, Spoon, Bob Schneider, Willie Nelson, and Ghostland Observatory to rising talents. They keep readers further abreast with a calendar of music events from around the state and reviews of native Texans' latest albums. Along with new tunes, the magazine celebrates the history of Texas music with features ranging from an Armadillo World Headquarters retrospective to a ranking of the top 50 classic Texas songs.
1914 E 6th St.
Austin
Texas
Jamie Pope, Liz James' creator and jewelry designer, handcrafts bold earrings, necklaces, and bracelets inspired by the rustic beauty of her native Texas landscape. To design pieces that defy expectations, she uses chunky pieces of turquoise, white coral, smoky quartz, and gold-plated beef brisket. When her handmade adornments aren't skimming the shoulders and jangling off the wrists of celebrities, they're frequently garnering attention from the local press.
4407 Bee Caves Rd., Suite 511
West Lake Hills
Texas
512-535-7885
Noticing that water restrictions were increasingly frequent, gardener Eric Pedley decided to turn his hobby of cultivating succulents into a business. With business partner and fellow local Julie Patton, he filled a rented greenhouse with desert-dwelling plants capable of storing large reserves of water in their leaves and surviving in arid climates. The diverse inventory ranges from prickly cacti to lush aloe and agave, all of which make for nontraditional additions to home gardens. While customers shop, staffers dish out tips on soil mixes, drainage systems, and guttural incantations to prolong the life of potted or outdoor arrangements. The knowledgeable staff—featured on Central Texas Gardener—also creates and delivers festive potted arrangements.
9502 S Chisholm Trail
Austin
Texas
---