Restaurants in Wesley Chapel
---
Recommended Restaurants by Groupon Customers
---
Chef Will Greenwood's dishes have graced many important meals, from Julia Child's and Robert Mondavi's 80th birthday parties to the Head of State luncheons at NATO's 50th-anniversary celebration. In the '90s, he was even asked by the Clintons to audition to be the White House chef. Today, Greenwood's Caribbean-Latin fusion recipes inform festive meals at Catch Twenty-Three. Certified fresh seafood and aged steaks cook over a pecan-wood grill while elsewhere in the kitchen, chefs prepare signature dishes such as macadamia-crusted Chilean sea bass and Cuban-style ribs basted in guava barbecue sauce. In private cooking classes, Catch Twenty-Three's team members gladly share their culinary techniques and anecdotes about that time they heroically wrested a spatula from the grip of an angry lobster.
10103 Montague St.
Tampa
Florida
The menu has pasta, chicken, veal, and seafood entrees made from fresh ingredients with homemade sauces. Traditional pastas, such as three-cheese meat lasagna ($12), spaghetti and meatballs ($9), and chicken penne alfredo ($13), are ascents to celestial peaks of skillfully cooked and superbly seasoned tomato, noodle, and cheese mountains. Try veal, mushrooms, onions, and a hint of tomato in a Marsala wine reduction ($18), and add a house salad and two garlic knots for $2.50. Specialty dishes include salmon piccata (pan-seared, sautéed in a lemon wine sauce, topped with capers, and served on a bed of spinach, $15) and seafood pescatore (shrimp, mussels, calamari, and fresh clams sautéed in either marinara or fra diavolo sauce on top of linguine, $19). Bellisimo also serves New York–style pizza ($10.75 for a medium cheese) and hot/cold sub sandwiches ($7 for a meatball parmigiana sub, up to $9.25 for a veal parm or Philly cheesesteak).
10102 Montague St.
Tampa
Florida
House of Brews pours 38 draft ales, lagers, and stouts at its Oldsmar location, while its Lutz venue stockpiles more than 50 domestic and imported bottle beers. Down a strong pint of Cigar City Jai Alai IPA ($6), or sample House of Brews' rotating beer of the month ($3). Brew's drunken cheesy garlic bread slurs its toppings with tomatoes, olives, fragrant garlic, and a cocktail of melted provolone, cheddar, and blue cheese crumbles ($8.99). House-made sloppy joes ($7.99), jumbo hot dogs ($6.99), and platters of baked-to-order wings ($7.99) chaperone pints to tables, ensuring that they reach their destinations with undisturbed heads.
17683 N Dale Mabry Hwy.
Lutz
Florida
813-265-0300
Located in the Sherwood Forest Shopping Center, Old World Cheese Shop, a longtime staple of the area, forges freshly sliced feasts from food and folklore. The Robin Hood cold sandwich ($6.75) robs from the kitchen and gives to the stomach with delicious ham and turkey, crisp bacon, cheese, and golden dressing stacked between three slices of pumpernickel bread, while the Sir Galahad steamed sandwich ($6.75) is a gallant warrior of roast pork, cheese, and sweet-pepper jelly served hot on an onion roll. Those hungry for tie-dye-tinted trips into the subconscious may opt for the Pita Fhonda pita ($5.95), featuring Old World Cheese Shop's acclaimed tuna salad.
11001 North 56th St.
Tampa
Florida
Newcomers to Byblos Cafe may think they've stumbled into a sultan's court: belly dancers wind their way past private enclaves replete with plush footstools and gossamer curtains, and heaping trays of charbroiled meats fill the air with the scents of basil and mint. The sultry atmosphere reflects owners Roger and Ziad Estephan's mission to share their Lebanese heritage, which they do through every minor and major detail.
Beyond the glowing candles scattered throughout the dining areas, chefs draw upon Estephan family recipes to prepare a menu of traditional Mediterranean dishes. They hand roll grape leaves around spiced rice and herbs, and they marinate meats in fragrant blends of olive oil, lemon, and garlic—the base ingredients in Lebanese Febreze. Additionally, Byblos Cafe houses an international market where diners can stock up on Middle Eastern groceries.
2734 University Square Dr.
Tampa
Florida
During World War I, Greek immigrant Louis Pappas served in the Army as a personal chef to General John Pershing. To give the hungry general some extra nutrition, Louis began adding scoops of potato salad to his traditional greek salads. When Louis returned to the United States, he opened up his own restaurant, Louis Pappas Riverside Café, where he would re-create this signature dish using fresh produce from his own ranch in Tarpon Springs.
Today, Louis Pappas's grandson continues his grandfather's old Florida family tradition at Pappas Ranch. There, he and his kitchen serve up a new menu of fresh seafood, poultry, sandwiches, street tacos, hand-cut steaks, and barbecue dishes whose "family flair" has been lauded by Metromix Tampa Bay. They continue to scoop savory housemade potato salad into their internationally renowned Louis Pappas Famous greek salad, tossing it in massive bowls that serve as many as four diners. Bartenders dole out glasses of locally brewed craft beers and wine or mix cocktails and martinis at the full center bar with flat-screen TVs.
The restaurant's decor channels that of the original Pappas family ranch. In the dining room, spacious booths are surrounded by rustic wooden walls, and outside is a covered outdoor patio.
7877 Gunn Hwy., Suite 106
Tampa
Florida
---
---
Restaurant Deals - Recently Expired
---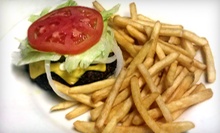 Beach-themed bar and grill pairs burgers, oysters, and craft beers with seven-day-a-week karaoke and live music
---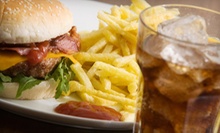 Domestic draft beers complement Western-style burgers or chicken wings served with blue cheese
---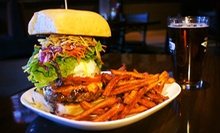 Modern gastropub food, 20 HD TVs, a variety of craft beer on tap, and a selection of cigars ready to be enjoyed on the outdoor patio
---
---