Things to Do in West Albany
---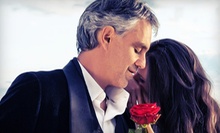 Famous tenor tours in support of his new album of love songs, performing classics such as "La Vie en rose" and "Corcovado"
---
Recommended Things to Do by Groupon Customers
---
As stunning fall colors settle into the leaves of Saratoga County, beer lovers gather at the Malta Drive-In to celebrate the changing of the season with 27 different German and seasonal fall craft beers. Traditional German food complements a wide selection of American seasonal favorites, such as the Fall Summit ale from Peak Organic Brewing Company and the traditional Oktoberfest beer produced yearly by the Spaten brewery. The organizers endeavor to entertain more than taste buds, arranging live musical performances throughout the day from German accordion player Herb Liebenhagen, Saratoga favorite Headband Jack, and the Bluz House Rockers. Visitors also partake in games and contests such as Best Brat Costume or Who Smells the Most Like Cabbage.
448 Charlton Rd.
Ballston Spa
New York
There's a fire in the field and only one way out. Unfortunately, that way is twisted and riddled with dead-ends. But at the end, past 5 acres of carved paths and corn-themed puzzles, past thousands of stalks of corn swaying in the wind, past delirious visions of poker-playing scarecrows, is a fire hose. Such is the theme of Ellms Family Farm's interactive Hero Rush Amazing Maize maze, an obstacle that carries on pastoral autumn traditions with roughly 90 minutes of music and fun. Yet this maze is just one way that the Ellms family celebrates the changing season—it also serves up crispy apple-cider donuts, lobs wee ones into the air on the farm-favorite Jumping Pillow, and treats guests to a number of other themed activities it has developed over the years.
The farm's history stretches back to 1984, when Chip and Sally Ellms planted their first batch of Christmas trees and began inviting visitors to stop by and admire the easy wind and downy flakes of winter. As the family grew, the farm kept pace, expanding to cover more than 200 acres and incorporate activities that help guests celebrate autumn as well. Throughout the harvest season, guests flock to the fields to play conductor or coal shoveler on the MooMooChooChoo train or pick out fresh pumpkins in the patch.
448 Charlton Road
Ballston Spa
New York
After navigating the puffed-up tubes and passageways of Bounce Around Indoor Family Fun Center's inflatable bounce houses, kids may never look at air the same way again. The stuff they breathe each day takes on new and exciting possibilities as they zip down huge, colorful slides and crawl through obstacle courses that emphasize fun over function. The play areas abound with whimsical decorations, from a barnyard filled with bouncy wooden barrels to a giant shark that scours the facility in search of tasty pufferfish. Not far from the bounce houses, arcade games subsist on their own diet of golden tokens, and tuckered-out kids replenish their energy with pizza, chicken wings, and soda from the concession stand.
22 Clifton Park Rd.
Clifton Park
New York
518-633-4117
Since 1981, Lorraine-Michaels Dance Centre's cast of passionate instructors has been helping students of all ages and abilities confidently express themselves through the art of dance. They lead these students through sashays, shimmies, and kicks with an exhaustive roster of dance and fitness classes that ranges from ballroom dancing to tap to kickboxing. During dance classes, they teach students to perform fundamental moves with confidence and musicality, covering a variety styles—including the Argentine tango, waltz, swing, and salsa—tending to bites from the dancing bug or disgruntled dance partners. They motivate students into performance shape in dance-inspired fitness classes such as Zumba, a regimen of easy-to-follow dance moves set to high-energy Latin tunes. In kickboxing sweat sessions, they inspire students to kick and punch their way toward their fitness goals, effectively toning muscles and scaring away the ghosts of gladiators past, while pole dancing classes build strength and teach students how to spin and climb.
69 Fuller Rd.
Albany
New York
518-459-2623
---