Beer, Wine & Spirits in West Chester
---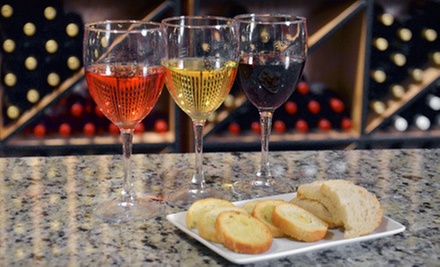 ---
Beer, Wine & Spirits Deals
---
Recommended Beer, Wine & Spirits by Groupon Customers
---
In 1989, Jim Kirkpatrick received a winemaking kit from his wife, Carole. At the time, neither Jim nor Carole knew it, but that kit churned out more than just wine—it also produced a dream. When Jim's homemade concoctions were a hit, the couple decided to try their hand at growing their own grapes, and soon moved to a home in Wrightsville surrounded by 3 acres of land.
Just 100 yards from Kreutz Creek, the Kirkpatrick's new location presented the ideal location to expand on Jim's newfound dream. Today, Kreutz Creek Vineyards generates an assortment of red, white, and seasonal varietals. Jim and Carole also use their tranquil grounds to host community events throughout the year, including bonfires and movie nights.
553 S Guernsey Rd.
West Grove
Pennsylvania
At Renault Winery Resort & Golf, a glimpse into history begins at a wine barrel. Fashioned from the top of an old oak cask, a gold-lettered sign marks the entrance to the state-registered historic site, where staff cultivates and harvests 12 local and international grape varietals across more than 31 acres of vineyards. This flourishing estate owes its existence to one man, whose journey began nearly 150 years ago.
The Background
In the mid-1800s, vintner Louis Nicholas Renault plied his trade in Rheims, France. When a parasitic aphid nearly crippled France's winemaking industry, Renault fled to California, where the insect struck again. He followed rumors of an aphid-resistant American grape varietal to the fields of New Jersey where he found a climate similar to that of his native France—and his winemaking flourished.
Not even Prohibition could halt his operation, which continued under a special permit. After his death in 1948, the winery continued to expand for the next five decades, adding a chateau, 50-room inn, and restaurant by 2001. Since then, Renault Winery has offered lodging and entertainment in addition to the fruits of its vines.
The Highlights
Visitors to the Tuscany House won't remember crossing the Atlantic Ocean, which is perfectly normal. The House's decadent lobby, an inner courtyard with a garden, mimics the villas of Italy: its marble columns and curving staircase lead up to a mezzanine constantly patrolled by at least one member of the Swiss Guard. Off the lobby, hallways lead to private rooms and suites filled with king-size beds and heavy wood furnishings.
Joseph's Restaurant melds the estate's Mediterranean charm with New Jersey influence. Executive Chef Joseph DeGennaro—whom food critic Bob Bickell described as "outstanding" in his Restaurant Report—fills plates with Tuscan burgers and pastas tossed with grilled chicken and lobster.
Arbor-covered corridors and rambling lawns dappled with statuettes lead to the winery. On tours, guides lead visitors past the mixing and fermentation tanks while revealing the steps of the winemaking process. After the tour, groups select samples from more than 32 varieties of wine. The on-site wineglass museum lets groups dive further into the world of wine, displaying glassware dating back to the 13th century.
Visitors don't have to join in the harvest to experience the grounds firsthand. Vineyard Golf, an 18-hole championship-level course, winds through the rolling vineyards. Players drive down open fairways, avoid five water hazards, and putt onto greens nestled against the rows of plantings.
72 N Bremen Ave.
Egg Harbor City
New Jersey
609-965-2111
Planted by hand in 1990, 56,000 special seedlings spiral toward the sun, spawning bundles of grapes that wait to be plucked and transformed into casks of delicious libations. The owners of the elegant winery and castle welcome guests to meander through the scenic vineyard or delve into the cool, climate-controlled cellar to sample wine or rifle through Dionysus's old storage boxes. Large tasting rooms and an outdoor pavilion can also host private events on the regal grounds.
755 River Rd.
Erwinna
Pennsylvania
US
800-722-9463
After graduating from Vassar College in 1997, vintner Tom Carroll Jr. continued his education in California, where he taught himself about viticulture and enology to achieve a lifelong dream of opening a winery. Three years later, he returned to his hometown to found Crossing Vineyards on a plot of land situated a short distance from George Washington's Delaware River crossing. The winery mingles historic charm and pastoral surroundings with modern technologies, such as a sterile HVAC bottling system and solar-energy panels. Tom and his parents, also co-owners, built the facility around eco-friendly winemaking practices, such as composting waste and using cover crops, a technique that prevents topsoil erosion and helps vintners sing the young grapevines to sleep.
Crossing Vineyards' European-style wines have won more than 115 awards in both national and international competitions over the past 12 years. The winery offers tastings and wine-pairing classes in an onsite educational area and hosts an annual summer wine-and-music series on its sprawling, 15-acre property.
1853 Wrightstown Rd.
Washington Crossing
Pennsylvania
215-493-6500
At each Vintner's Circle location, staffers guide customers through the roughly seven-week process of mixing, fermenting, and bottling their own wines. Each aspiring winemaker starts with a choice of 80 pre-pressed juices sourced from vineyards around the world and ends up with 28 bottles emblazoned with personalized labels and filled with their own unique vintage. Vintner's Circle staff also guide wine tasting classes, sangria-making parties, and other beverage-related activities.
1700 Sullivan Trl.
Easton
Pennsylvania
610-438-8660
When Food Network staple Robert Irvine and his Restaurant Impossible crew arrived at Mamma D's, they were overwhelmed. Ambitious owner Luigi Desiato operated an eatery that was equal parts restaurant, vineyard, and petting zoo, a combination that clouded his sizable culinary prowess and led to an overabundance of greased pig races. But Chef Irvine's visit enabled the charismatic Luigi to pinpoint his vision, and Mamma D's has since transformed into a hub for high-end cuisine and fresh-off-the-vine wines. Vinos, such as a dolce vita sweet red and chardonnay pinot, gush from taps beside craft beers at the full-service bar that, along with the outdoor patio, overlooks the idyllic 2-acre vineyard. Sips on these homegrown varietals complement the menu of small plates, chops, and seafood, which, according to the Montgomery News, encompasses a "combination of recipes from Bologna and Abruzzo, where both sides of Chef Louie's family grew up."
The host of his own Sayre Woods Media series, Wine'm and Dine'm with Chef Louie Desiato, Luigi also presides over daily classes where he shares his bottomless knowledge of cultivating grapes and pairing wines while serving up artisanal cheese and surprises from the kitchen, which is manned by his talented son, Nick Desiato.
6637 Easton Rd.
Pipersville
Pennsylvania
US
215-766-9468
---