Things to Do in West Chicago
---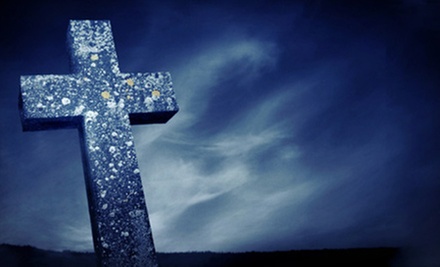 ---
Recommended Things to Do by Groupon Customers
---
Evil Intentions Haunted House evokes the details of its site's checkered past to conjure the stuff of nightmares. The area the haunted house now occupies has been plagued with creepy occurrences for more than a century. Since the 1890s the expanse has been used as the premises of a coffin company, a stomping ground for escapees from a nearby mental institution, and a gathering place for the occult's summer softball league.
Starting in 2005, the Evil Intentions Haunted House team slowly transformed this troubled spot into a haunted house that comes alive with shrieks once night falls. Visitors can leave their cars in the free parking lot and gather in the indoor waiting area before exploring more than 20,000 square feet of tortuous halls filled with dark decor and costumed frights. Demonic clowns, faceless butchers, and cleaver-wielding lunatics creep around corners and leap out of hidden alcoves, scaring both passing patrons and the actual ghosts who occupy the building.
900 Grace St.
Elgin
Illinois
For more than 50 years, the monks of Marmion Abbey have tended 300 acres of farmland. They started with Christmas trees, and now maintain 120 acres of pines, spruces, and firs that smell exactly like car freshener. On the remaining acres, they tend pumpkin vines and corn mazes, interspersing these areas with scenic picnic groves.
Throughout the year, the monks open their land to the public. In the autumn, they host Pumpkin Daze, a harvest festival with hayrides and a petting zoo. Around mid-November, they grant access to their tree farm, supplying visitors with rental saws for you-cut trees and bellowing "Timber!" just like Paul Bunyan did when he fell into bed at night. The monks stock their farm store with handcrafted goods that complement the season, whether caramel apples in the fall or quilts in the winter.
850 Butterfield Rd., (IL Route 56)
Aurora
Illinois
630-897-7215
Mid-America Raceway's slot-car facility stocks everything from parts and paints to motors and controllers. These items include JayGee controllers, Falcon motors, Open-12 chasses, and Sonic gears that enable miniaturized drivers to shift quickly through sharp turns. Elsewhere, the shop's winding racetracks buzz with activity during races, as new and experienced racers test their skills while precise electronics track their lap times. Staff members—including the shop's track dog, Marshall—also host special events for racers of all ages.
2035 63rd St.
Downers Grove
Illinois
Got Air Scuba employs a staff of passionate, knowledgeable PADI-certified instructors. They teach a variety of classes, ranging from introductory courses to advanced specialty courses, such as a rescue diver course and Divemaster program. To facilitate courses, the dive shop stocks gear from ScubaPro and Bare Dive Gear. Once students have learned the ins and outs of breathing underwater, they can partake in a trip to an exotic locale. Past destinations have included Cozumel, Mexico, and some really big puddles.
1001 Nicholas Blvd., Suite G
Elk Grove Village
Illinois
847-899-4479
Blanketed in wall-to-wall trampolines, Sky High Sports delights barefoot fun-seekers with springy terrain and an exclusive court for jumpers 8 and younger. Guests can hone front flips, back flips, and belly flops during intense free-bounce sessions. Each trampoline comes equipped with a specially designed spring-loaded frame and thick, 2-inch safety pads that grant patrons a landing cushier than a corner office at a marshmallow factory. Stuffed with blocks of spongy, body-molding material, a foam pit dares treasure-seekers to fling themselves in or scour its depths for the lost contents of bygone pockets. Pintsize aerialist posses can safely practice their synchronized Salchows on 360 degrees of trampoline walls while court supervisors watch from the sidelines and award hard-earned praise with oversize scorecards.
Sky High also offers AIRobics fitness classes and dodge-ball to help jumpers explore the outermost stratospheres of trampoline possibilities.
2244 Corporate Lane
Naperville
Illinois
US
Wines for Humanity's professional wine advisers lead in-home tastings that teach guests the finer points of a five-point wine-tasting technique, all while raising funds for local charities. As students sip several exclusive vintages, they learn to judge wines' colors, aromas, and voting records, as well as pick out suitable food pairings. Wine Advisors will arrive half an hour before the tasting begins bringing the tasting glasses and wine. Hosts are encouraged to prepare suggested cheese pairings and crackers to complement the wines. Wines that are selected for tasting run at an average of $20 per bottle. A portion of every bottle selected for your own enjoyment generates a donation for UMOM New Day Centers, a charity that supports the prevention of homelessness for families with children in Maricopa County.
redeem on locaiton
Elk Grove Village
Illinois
US
---