Restaurants in West Covina
---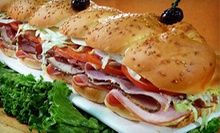 Classic boxed lunches, massive 6-foot subs, and catering-ready hot entrees
---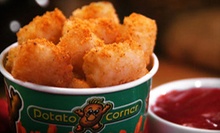 Servers dole out potatoes in all forms including flavored curly fries, tater tots, chips, and baked potatoes with cheddar cheese
---
Recommended Restaurants by Groupon Customers
---
Breakfast favorites include buttermilk blueberry pancakes cooked with a touch of orange (5.95 for a half order), homemade cornbread ($2.25), and the breakfast panini sandwich with ham, scrambled eggs, bacon, tomato, pepper jack cheese, and a pesto spread ($10.95). The signature Peach omelet has ham, jack cheese, scallions, tomato, and green pepper ($9.95). All Peach Café's coffees (house, mild, and decaf, $2.35 by the brewed cup, or $13 by the pound) are roasted exclusively for the Peach, and almost all its muffins, brownies, cookies, and scones are homemade and baked fresh daily. If you're dining in the afternoon, try a chicken pesto salad with avocado, fresh and sun-dried tomatoes, and romaine lettuce ($10.95); or a grilled chicken club sandwich with avocado, bacon, tomato, and Peach's house-made pesto ($11.50). The Southwest wrap ($10.95) is made with turkey breast that's roasted onsite to palate-perfect flavor.
141 E Colorado Blvd.
Monrovia
California
626-599-9092
Toro Sushi Bar invites you to join the bite-sized culinary festivities in a chic modern setting. Its menu features a wide variety of hand-made flavorful treats, from sushi to sashimi to full entrees to tapas. Enjoy the geometric perfection of a Creole Roll with crab, veggies, and seared Cajun tuna ($15) or the insistent adoration of the Loveulongtime Roll, which unites shrimp tempura, crab, avocado, masago and tobiko with a duo of eel and dynamite sauces ($15). If you've chosen to don your "Me and My Sushi and Sashimi – No Two Ways About It" custom tee-shirt, head straight into a carefully orchestrated array of blue fin tuna Maguro, octopus Tako, Hawaiian white tuna Ono, Japanese Red Snapper Carpaccio ($15), and the Kobe Beef Tataki with green onions, garlic chips and crispy red onions ($25). For even smaller eats, peruse the tapas menu for calamari, monkey balls (tempura style mushrooms stuffed with cream cheese, spicy tuna, and avocado), and edamame. You can complement your meal with specialty drinks, sake, wine, and beer.
1520 N Mountain Ave., Building D
Ontario
California
Cafe 322's welcoming atmosphere and rich menu of comforting Italian eats make diners feel at home while the live jazz adds a cosmopolitan flair. Try a different lasagna each day with the lasagna de la casa ($10.95) or opt for the sophisticated mélange of flavors in the fettuccine di spinaci e salsiccia with fresh spinach, italian sausage, and garlic sautéed in olive oil ($11.95). Cafe 322 also serves up tasty meatier dishes, such as lamb shanks slow-braised so they fall off the bone and directly into that special place in your heart reserved for Mom, America, and lamb shanks ($14.95). Stars of the gourmet pizza menu include the quattro formaggio, layered with fontina, mozzarella, gorgonzola, and parmesan cheeses ($11.95), and the flavorful grilled chicken pesto ($13.95).
322 W Sierra Madre Blvd.
Sierra Madre
California
626-836-5414
The California Grill features a menu as big as a windmill factory. The selection is as vast as a diner's, but with an upscale twist. While waiting in line for one of the Grill's popular breakfasts, you'll have time to practice your close-up magic and perhaps meet famed Western character actor Burton Gilliam. Once seated, try the extra omelette ($9.25), an egg slab enhanced with avocado, bacon, mushrooms, sausage, and sliced onions and your choice of jack or cheddar cheese folded in the middle. For a sweeter choice, there's the french toast ambrosia ($7.45), french toast capped with a beret of seasonal fruit and whipped cream. Coffee ($1.85) is available, as are fancy blended drinks such as cappuccinos ($3.75) and an ice-blended mocha ($4.95). Breakfast is served Monday through Friday from 7 a.m. to 11:30 a.m. and Saturday and Sunday from 7 a.m. to 2 p.m.
6751 Painter Avenue
Whittier
California
562-907-7017
Eddie's Pizzeria & Eatery answers an ancient culinary dilemma: do we go out for pizza or stay in for Mom's meatloaf? Serving New World fare, the restaurant satisfies cravings in a single sweep. Even its pizzas champion this culinary marriage—New York–style pies arrive speckled with traditional toppings as well as premium options, such as rosemary ham. Yet, despite such culinary fusion, the pies never lose sight of their roots. Margherita pizza recalls the dish's Italian heritage, whereas a 10-inch gourmet Bada Bing represents pizza's modern stomping grounds with sausage, gorgonzola, and a mini "I Heart NY" shirt.
The menu also explores a large landscape of pasta entrees, from four-cheese ravioli to penne sautéed with mushrooms in a tomato-cream sauce. Meatier plates continue to span continents, with chicken parmesan prepped near st. louis ribs and handcrafted Angus burgers. As patrons strip tangy wings bare, they can watch the venue's eight televisions, two of which boast 70-inch HD screens.
946 South Grand Avenue
Glendora
California
The dinner menu at Corfu is packed with traditional dishes that are classic and polite enough to carry out to meet the parents. A Greek coffee ($1.95) and an appetizer of dolmades (stuffed grape leaves, $3.95) or cheese boreg (pan-fried cheese turnover, $5.95) lay down a proper foundation to support a mealtime skyscraper. Follow the appetite whetters with traditional souvlaki, a filet mignon kebab marinated and flame-broiled with vegetables ($17.95), or moussaka (eggplant casserole, $11.95), or dip into the briny blue with the ahi tuna ($18.95). An after-dinner drink such as cappuccino (single $2.95, double $3.95) or café mocha ($3.25, $4.25) paired with one of the fresh dessert pastries (made daily, ask your server for pricing) closes the book on a meal with authority, staring lesser poets in the eye and daring them to steal a few flavorful lines.
48 West Sierra Madre Blvd
Sierra Madre
California
---