Restaurants in West Elkridge
---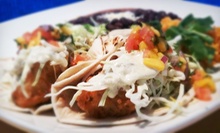 Cooks prepare dishes such as chicken in mole sauce, while bartenders forge beverages using more than 100 blue-agave tequilas
---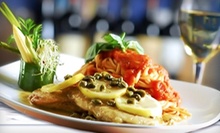 Eggs benedict prepared more than 10 ways, grilled chicken and spinach enveloped by fresh-made crepes, and half-pound USDA Choice burgers
---
Recommended Restaurants by Groupon Customers
---
Portalli's Chef Keith Holsey portions his dishes according to the traditional Italian four-course meal. This doesn't stop the chef from crafting a menu of creatively interpreted Italian classics, though, such as veal osso buco with a marsala demi-glace or chili-rubbed halibut poached in a white-wine ginger broth. Chef Holsey's creations consist of uncomplicated flavors that, according to the Baltimore Sun, allow "good and simple ingredients to work together." Portalli's also caters to families with dishes such as spaghetti and meatballs or meatball flatbread pizza, which teaches kids about fractions so they don't have to learn about them on the street.
8085 Main St.
Ellicott City
Maryland
US
True to its name, New York Deli offers a menu of East Coast–style, piled-high sandwiches and subs with fillings including steak and cheese, homemade chunky chicken salad, and vegetarian-friendly falafel. Patrons can also nosh on wraps made with pita bread from a local bakery or slurp down chicken noodle soup made fresh daily. Located in College Park, New York Deli welcomes patrons from local neighborhoods and the University of Maryland and scornfully hisses at visitors dressed in Duke apparel.
4926 Edgewood Rd.
College Park
Maryland
US
What Candle Light Inn considers home, others call a landmark or monument. The house in which the restaurant resides has been part of the Catonsville community since the mid 1800s, when it was first built into the area's rolling farmland and called Five Oaks Estate. Since its birth, the building has survived various name changes, a multitude of owners, and even a fire in the 1970s, which left it vacant and with a terrible cough until the present owners, the Lombardini family, purchased it in 1979.
Today, the inn has fully recovered, and models a host of renovations that includes a covered outdoor patio canopied by forestry and surrounded by landscaped gardens. Different tones swirl through each of the house's quarters, along with the wafting scents of the hearty American fare that fills plates for lunch and dinner daily.
1835 Frederick Rd.
Catonsville
Maryland
US
410-788-6076
---