Things to Do in West Elkridge
---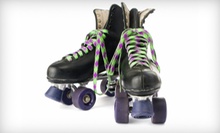 Retro roller skates twirl duos around a smooth indoor rink
Use Today 11:00am - 10:00pm
---
Recommended Things to Do by Groupon Customers
---
When Pete and Kate Vonderheide moved from Hawaii to Annapolis to live closer to their family, they thought they'd have to give up a career of ocean kayaking to resume responsible office jobs. Soon they recognized the historic city harbor's lack of kayak tours and knew they couldn't stay inside forever. Their shared passion for history spurred them to research and interview the locals until they'd compiled enough historic material to start leading tours. Today, their tours can teach something new even to locals.
The Vonderheides continue to assemble a team of outdoor guides certified in CPR and first aid who all bear a well-researched knowledge of area wildlife and history. These experts lead two-hour scenic tours through the historic harbor. Starting each excursion with a brief paddling lesson, they put first-timers at ease with basic instruction and an amiable demeanor, unlike guides who rely only on their convincing Captain Ahab impressions. Excursions begin at the Spa Creek headwaters in Truxtun Park and lead participants into open-harbor waters to drift in full view of the state capitol building, the US Naval Academy, and historic Eastport. Trips peak at the City Dock, where participants receive a break to take photos and rest. On the return trip, guides field open-ended questions about city history such as presidential visits, the crabbing and oystering trade, and whether George Washington had to swim using floaties.
422 Chesapeake Ave.
Annapolis
Maryland
In October, representatives from regional, local, and national craft breweries gather inside the Navy-Marine Corps Memorial Stadium to pour samples of geek-lovers brews. Visitors sip on signature standards from breweries such as Oskar Blues, Union Craft Brewing, Old Dominion, Starr Hill, Heavy Seas, and Flying Dog Brewery, along with special varieties of bourbon-barrel-aged stouts, whiskey-barrel-aged ciders, and hearty IPAs.
When not enjoying beer-related activities, festival-goers can check out one of the eight live bands playing all afternoon on two stages or take in the display of antique and exotic cars. The stadium catering company serves local delicacies such as Maryland crab cakes, shucked oysters on the half shell, and crab-and-cheese pretzels. More than 60 merchandise vendors offer artisan crafts and specialty food items.
550 Taylor Ave.
Annapolis
Maryland
For the last two years, runners from across Maryland have gathered for the Be Great 5K Run & Fun Walk to benefit the Annapolis Boys & Girls Scholarship Trust. The trust has provided financial support to more than 25 students to help them attend college over the last 10 years, and proceeds from the race go toward the scholarship fund. Before the race, runners are given a bib that tracks their time and pace better than an hourglass taped to their torso. After crossing the finish line, racers are rewarded with refreshments, and a lucky few are awarded prizes.
Online
Annapolis
Maryland
Parker Jones worked his way from the ground up to helm Capital Bicycle, which first opened in 1970. He started his career at Capital in 1996 as a once-a-week employee looking to get a good deal on parts and escape the mournful howls of his neglected sedan, but within months he became a store mechanic. A year, he later took control of the entire store, and ultimately, he became its sole owner.
Jones set out to expand the shop's services in both scope and size, and today, Capital resides in a 4,000-square-foot shop and is one of the region's first concept stores for California-based bicycle manufacturer Specialized. Customers flock to the shop to purchase Specialized bikes and Bellwether apparel, and they can find their ideal bicycle fit with the help of an in-house certified body-geometry technician. Capital also fosters its own cycling community with a schedule of group rides and helps cyclists to keep tabs on other local events.
436 Chinquapin Round Rd.
Annapolis
Maryland
410-626-2197
Annapolis Ghost Tours' thrill-seeking guides lead walking ghost tours and pub crawls around the city's historical district, examining and explaining the lives of its long-dead citizens while occasionally enjoying each pubs' choicest sips. Tours eventually wind their way to the graveyard, where a guide recounts spine-tingling tales of the buried dead and their favorite back scratchers. They also lead craft-brewed beer tours and historic pub crawls that fill tour goers' heads with titillating tales of the Founding Fathers and the drinking game that wrote the Constitution.
12 Church Cir.
Annapolis
Maryland
At Sumner Skate Zone, disco balls shower the blue-and-white-checkered floor with sparkling patches of light. As the beat rolls onward, so too do the wheels of traditional, speed, and inline skates. Off the rink, an arcade room buzzes with the sounds of reckless point scoring and the giggles of ticklish joysticks.
During skating breaks, visitors can refuel on pizza, nachos, and cookies at the snack bar or peruse the center's stock of skating gear and accessories. Open-skate sessions, parties, and special events populate the arena on a daily basis. An afterschool program helps to ensure kids have a safe place to do their homework or discuss the impact of performance-enhancing drugs in the world of spelling bees.
1082 S Rte. 3
Crofton
Maryland
US
410-721-7155
---