Restaurants in West Freehold
---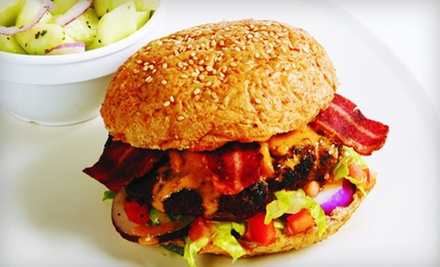 ---
Recommended Restaurants by Groupon Customers
---
The kitchens at Johnny G's produce a wealth of homestyle Italian cooking, including stuffed crust pizzas and pies laden with toppings such as meatballs or sundried tomatoes. As diners dig into chicken parmigiana or a hot sub, they can sip on an alcoholic beverage carried from home or the fermented apples they store in a back pocket. In addition, catered pasta can feed ravenous partygoers during birthdays, baptisms, and séances.
1812 Hooper Ave.
Toms River
New Jersey
732-255-8900
Amid the whirling of flamenco dancers and lively strumming of guitarists, diners savor and share bites of bright Spanish cuisine presented on minimalistic white plates. The kitchen fills a tapas menu with tasting-size portions of seafood, meat, and vegetable delicacies, enticing guests to indulge in one bite at a time, rounding out each mix-and-match meal with a carafe of housemade sangria or exotic cocktails. Small plates include tzatziki- and cucumber-drizzled bites of lamb, spanish meatballs, and asparagus a la plancha; heartier appetites brave the build-your-own entree option, which allows customers to craft individual meals that include one hearty portion of meat or seafood and one starch, all topped with a choice of sauce or glaze and served with a helping of vegetables. Parties of up to 65 guests can rent out the space for special occasions or have baskets of Spanish specialties brought to off-site locations to add flavorful flair to parties without dousing honored guests in a demi-glace.
16150 Crossbay Blvd.
Howard Beach
New York
US
347-392-4152
Though executive chef Eichiro Karahana has studied at The Culinary Institute of New York and other gourmet cooking academies, he can also thank his genes for giving him more culinary prowess. The grandson of an accomplished chef, Karahana left a position at a well-regarded restaurant in Tokyo to seek new challenges and opportunities as a chef in New York City. He displays his creativity, passion, and meticulous approach in a menu that balances fresh sushi and traditional Thai fare.
In addition to hand rolls and carefully sliced sashimi, the chef rolls creative combinations such as the Crazy Tuna roll, stuffed with spicy crunchy tuna and topped with pepper tuna, or the Fancy roll, a core of strawberry, mango, and eel served in a limousine. The restaurant's Thai side embraces the flame so feared by sushi chefs to create dishes that include crispy red snapper, duck-noodle soup, and spicy massaman curry. Yuki Sushi and Siam Thai also provides catering to the New York metro area, sending sushi chefs and elegantly plated assortments of fresh fish to parties or pelican conventions.
6218 18th Ave.
Brooklyn
New York
718-331-8111
The first thing one notices when entering Sinbad Grill is the alluring perfume of Mediterranean spices. This complex mixture competes for olfactory attention with the aromas of tender lamb and chicken, which the chefs slice off and stuff into pita pockets from early morning to 11 p.m. every day. Though hefty gyros and kebabs form the basis of the menu, other Middle Eastern specialties include crisp falafel and fried calamari.
2678 Coney Island Ave.
Brooklyn
New York
US
718-260-6060
Chef Tracie Orsi put in years of service in the resort circuit and culinary industry, taking verbal abuse from irate chefs, working under unskilled cooks, and—the final straw—nearly taking a steak sandwich to the face. After discovering the rich flavors and deep-rooted traditions of Cajun cuisine, Tracie decided to run a kitchen her way, cutting up with her friends as she crafts authentic feasts of stew, seafood, pasta, and chicken infused with the rich spices and seasonings of southern Louisiana.
She dices up fresh veggies and jumbo shrimp and sprinkles them throughout a spice-laden array of étouffée, gumbo, and jambalaya. Mouths warm up with tender morsels of alligator sausage and spoons swan dive off noses and breach a layer of gruyère cheese before plunging into onion soup. Broccoli, carrots, and squash soak up spicy tomato stew in the veggie creole, and the chicken and shrimp étouffées smother chunks of meat with spicy brown gravy. For dessert, dining companions make telepathic arguments for who should get the bigger halves of bananas-foster and pecan-pie servings. While diners partake, live blues and jazz bands inspire them to pop the corks of BYOB bottles along with the basslines five nights per week.
1102 River Rd.
Belmar
New Jersey
732-280-6828
In the colorful, clean geometry of Osso Buco's multilevel dining room, restaurateur Nino Selimaj takes a back-to-basics approach to cuisine that results in a bevy of no-frills, amply portioned Italian dishes. The menu caters to virtually any taste with entrees that range from a flaky, herb-marinated grilled salmon to hearty sirloin steaks which, like a voice actor's answering-machine message, come in three distinctive styles. In a rave review, New York magazine's Kate Appleton praised both the unpretentious atmosphere and the top-tier food, particularly the restaurant's namesake dish, a sumptuous shank of veal slow braised to a buttery tenderness.
1662 3rd Ave.
Manhattan
New York
212-426-5422
---