Tanning Salons in West Haven
---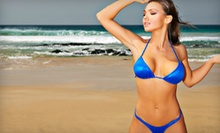 Horizontal booths dispense UV rays to tan bodies evenly & quickly, with upgrades to mystic tans available
Use Sunday 10:00am - 6:00pm
---
Recommended Tanning Salon by Groupon Customers
---
Hollywood Tans, the nation's largest chain of tanning salons, turns dermises gold with a special alchemic process known as Tanetics. Skin specialists consider each customer's tanning goal, skin tone, and skin sensitivity before helping them choose the perfect skin-shading procedure. Four clean and comfortable UV tanning-booth options filter out most pestiferous UVB rays while speedily darkening pigment; five 11-minute bouts ($39) inside Hollywood Tans' HT42 booth is enough to leave any pelt polished with a glossy base tan. For Daphnes fleeing Apollo, a Mystic spray tan booth ($50 for two applications) depales pasty parchment with a misty coat of bronze that lasts 5–7 days. The Mystic's cartridges can be changed to allow users great flexibility in choosing their preferred skin patinas.
111 Broadway
Lynbrook
New York
Ten kinds of beds, two types of spray tans, and one hydration station make up Aloha Tanning, a studio manned by helpful tanning experts with more than 20 years of experience. Clients looking for a quick fix can step into the Mystic spray tan booth for a streak-free tan in 60 seconds. Those in desire of a more customized bronze can head to a master-certified technician, who airbrushes skin with Norvell tanning spray or by dipping a photoshop CD in some tanning lotion and rubbing it on your skin. Soliel, Elixer, and Diva Tower beds and booths await in the UV rooms, where clients can soak in rays through adjustable face lamps and high- and low-pressure body lamps. For an extra treat, three kinds of KBL beds not only deliver sunshine, but also aromatherapy and satellite radio. After their tanning session, customers can darken their newfound glow at the hydration station, designed to burn calories and improve skin's overall appearance.
140 Albany Tpke
Canton
Connecticut
After years spent working as an aesthetician who occasionally offered tanning services to her clients, Basia Kraul decided to fully dedicate herself to the tanning industry and founded Endless Summer Tan & Beauty Studio in August 1999. After more than a decade in business, the quaint studio offers visitors a variety of customizable UV beds, as well as spray tanning and collagen-boosting Rejuvenessence red-light therapy. A lineup of Basia skincare products keeps visages and physiques fresh, and a handful of hair and makeup services prime heads for special events or a night out on the town book clubbing.
224 Park Rd.
West Hartford
Connecticut
860-231-8388
A brushed metal sign atop a cabinet of top industry products sets the stage for the experience at Pacific Sun Tanning Company—a contemporary tanning salon rated No. 1 by the readers of Reno News & Reviews for the last five years. The salon's UV specialists undertake Smart Tan's comprehensive certification before bending the sun's radiation to their will, learning the ins and outs of ray exposure, selecting ideal skincare products, and discerning which compliments will coax Helios into sharing his private stash of solar beams. They can also eschew the sun entirely and bestow beachy glows through custom spray-tan services. The popular tanning facilities and the staff's enthusiastic demeanor have expanded into seven locations throughout the Reno, Sparks, and Carson City area.
315 Middle Country Rd.
Selden
New York
US
Antique Balinese fountains, crimson wall hangings, and verdant plants enliven the luxurious confines of Pacific Tan, a go-to bronzing destination for 27 years. Boasting attentive customer service and the vibe of an exotic getaway, the tanning emporium ushers clients into its elegant space for traditional UV tans in state-of-the-art beds, including the Garden of Eden, which customizes a tan for each individual using an optical sensor, and the Shangri-La, a high-pressure bed that delivers a dark tan in minutes. Alternatively, natural-looking, flawless airbrush tans are administered by skilled and certified technicians using a safe, all-natural paraben-free solution.
315 middle country rd
Selden
New York
US
Paradis Island Tan shifts skin shades with an assortment of indoor tanning options, including beds, standup booths, and UV-free Mystic Tan equipment. Traditional tanning beds bronze bodies with four levels of equipment that begin with 15-minute beds and booths and progress up to the 22,000-watt FutureSun HP bed, which boasts 20 high-pressure lights, four bulbs dedicated to the face and neck, and a 1-ton air-conditioning unit. Mystic Tan booths cover epidermises in DHA-enhanced sunless-tanning solution with the help of MagneTan technology, which polarizes the microparticle mist to make it cling to bodies in a uniform coat. As Insta-Color Bronzer provides a temporary pop of pigmentation, DHA particles in the mist seal in a longer-lasting tan that won't wash off in the shower or during jury duty in Atlantis.
353 Scott Swamp Rd. Rt. 6
Farmington
Connecticut
860-284-9886
---