Coffee & Treats in West Hollywood
---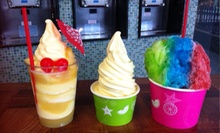 Hawaiian-style treat shop serves up hot dogs and seven flavors of soft-serve Dole Whip in traditional or float styles
---
Recommended Coffee & Treats by Groupon Customers
---
Scents of kosher and pareve cookies, breads, and cakes have wafted out of the family-owned Unique kitchen for 20 years. Supervised by the Rabbinical Council of California, Unique ensures that each dish escorted out of the kitchen is kosher, and a separate dairy kitchen keeps milk and cheese away from the pareve products and lactophobics. Although the eatery follows strict dietary guidelines, it shows off a more whimsical side in its cakes shaped like engagement rings, law textbooks, princesses, and perseverance. Sprinkles festoon about 20 cookie species and dough petals hoist up a cluster of sweet blueberries in flower-shaped tarts. Soups, sandwiches, and omelets balance diets with vegetarian-friendly selections enjoyed at home or in the dining area.
18381 Ventura Boulevard
Tarzana
California
818-757-3100
Upon first glance, Roscoe Bakery may not seem like a place where elegant confections are born. However, its strip-mall locale and small display case belie the whimsical and sophisticated creations whipped up by the bakery's team of bakers and pastry chefs. They specialize in the creation of wedding and children's cakes topped with imaginative motifs that range from fondant flowers and frosted unicorns to well-researched scientific hypotheses. For smaller occasions, they bake five flavors of cupcakes, swirled in rich buttercream.
23739 Roscoe Blvd.
Canoga Park
California
US
818-835-9269
Devan and Reena Shah are passionate about tea. By sourcing leaves from eight regions in India, China, Sri Lanka, Taiwan, and Japan, they are able to proffer more than 300 standard and specialty varieties online and inside Chado Tea Room. The name Chado, taken from the Chinese cha, meaning "tea," and the Japanese do, meaning "path," speaks to the owners' strict standards for their product. Many of their green, black, white, and oolong teas are USDA-certified organic; the Shahs also stock unique varieties such as Chinese pu-er teas and hand-tied blooming tea balls. In addition, they brew special house blends for morning, afternoon, and evening, helping customers find the right blend to start the day or serve to bats that have invaded their home.
Staffers pair teas with an array of cream-topped scones, cookies, cakes, and roasted savory sandwiches during teatime at Chado's three tearooms. Though each location is decorated differently, the same three-tiered sandwich platters and steaming pots of tea travel between panda paintings hanging in the Los Angeles location, underneath strings of holiday lights at the Pasadena location, and between ceiling-high wooden shelves stocked with mugs, filters, teapots, and bags of loose-leaf tea at the Hollywood location.
100 N Central Ave
Los Angeles
California
562-801-9600
When Adam Caldwell took Danna on their first date to a frozen yogurt shop, he didn't know how much it would change the course of his life. Not just because it sparked a romance that led to the two marrying, but also because the pair looked back on that pivotal first date with such fondness that they decided to open their own frozen yogurt shop. Now owners of one of the fastest-growing food franchises in the United States, the couple knows how to dish out fro yo in an appealing way.
Adam and Danna open their colorful shops to allow customers to find their own version of frigid happiness in their large selection of kosher frozen yogurt made from their own California dairy. Flavors such as pomegranate raspberry sorbet, toffee coffee, and candy cane accommodate a range of dietary restrictions. They go as far as presenting vegan, no sugar-added, and no-fat options. After clients fill their cup with the swirls of their chosen flavors, they can then customize it with a range of toppings including fruit, candy, sauces, sprinkles, or the most audacious topping of all: no topping.
9201 Winnetka Ave., Unit E
Chatsworth
California
US
818-717-8128
---