Nightlife in West Hollywood
---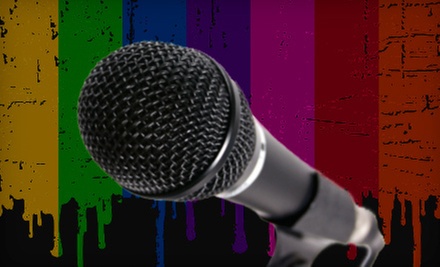 ---
Recommended Nightlife by Groupon Customers
---
For more than 50 side-splitting years, The Ice House's stage has been propping up comedy heavyweights and future legends by the likes of Robin Williams, Lily Tomlin, George Carlin, George Lopez, and Jerry Seinfeld. Each week, the club continues its tradition of inverting frowns with an ever-growing lineup of up-and-coming jokesters, as well as occasional drop-ins by stars that have included Rob Schneider, Tom Green, and Nick Cannon. No seat within the intimate club is further than seven rows from the stage or 30 feet from the inflatable slides that serve as emergency exits. Guests typically arrive 45 minutes before each show to settle in and dig into shareable snacks.
24 N Mentor Ave.
Pasadena
California
626-577-1894
The Gaslamp Restaurant & Bar's vibrant, high energy atmosphere belies a careful attention to detail in the kitchen. As guests enjoy a weekly lineup of comedy, karaoke, and live music, they may find their attention unexpectedly pulled back to their plates, where panko breading protects creamy brie, truffle oil adds savory depths to fries, Asian spices fleck calamari steaks, and a mischievous mix of jalapeño and honey tops burgers. A technicolor parade of cocktails and martinis simultaneously treats the sweet tooth and the party uvula.
6251 E Pacific Coast Hwy.
Long Beach
California
562-596-4718
What's now known as The Comedy Store was once called Ciro's, a nightlife hotspot in the 1940s and '50s. Playing host to glitzy stars and shadowy mobsters, the club's history is shrouded in rumors of mafia assassinations and untimely deaths. However, the joint buried its seedy past by converting to a comedy club and helping launch the careers of such legends as Richard Pryor, Jim Carrey, George Carlin, David Letterman, and Dave Chappelle. The younger La Jolla location lets laugh-starved patrons bask in the same high-powered comedic atmosphere as its progenitor.
8433 West Sunset Boulevard
West Hollywood
California
Live musicians and DJs add a rhythmic sway to the steps of guests toting frosty bottles of beers and salt-flecked margaritas from Norwood Bar & Lounge's gleaming counter. Light caroms off black leather seating and red walls from overhead chandeliers, and soft chatter drifts between candles or distracts golden-retriever quarterbacks on the flat-screen television. Themed parties and dance events fuel revelry, and drinks rise toward the ornate paneled metal ceiling to meet in happy toasts.
16200 Nordhoff Street
North Hills
California
818-920-4574
Trees play an important role at Bar Food. They've given their wood for the knotty rafters that support the ceiling, the cubbyholes that make up the bar's Wall of Taps, and the barrels that aged the gastropub's collection of more than 200 whiskeys. You'd expect wood to frame the colorful paintings of music icons that gaze down on the whiskey list with immovable looks of envy, but they hang frameless.
Like a 19th-century dockworker's shopping list, the menu promises hearty traditional public-house fare—fries, cheese plates, sandwiches, shepherd's pie, beef stew, and fish and chips. Guests sup on these and other dishes at cozy wall-length booths or out on the streetside patio. Four and 20 taps keep beer glasses full and diners happily cheering for every chicken that dares to cross Wilshire Boulevard.
12217 Wilshire Blvd.
Los Angeles
California
310-820-3274
The unassuming red brick building in the alley behind the Ice House in Pasadena may not look like much, but inside lies T. Boyle's Tavern—a no-nonsense two-level pub with a polished beer menu, hearty eats, 13 flat-screen TVs, and one 8'x10' jumbo TV. The TVs flicker with the NFL Sunday Ticket's games or broadcast USC and UCLA teams as they shoot a basketball, throw a football, or punt a volleyball. Nearby, a huge stone tiki head perched on the rough brick wall overlooks live bands as they belt out classic rock covers, blues, or '80s hits.
Tall, round bar tables next to old wooden barrels hoist buffalo wings, pastrami burgers, and fish tacos that pair with dozens of bottled or draft craft beers, including tasty suds from Bear Republic, Rogue, Sierra Nevada, and Port Brewing. When regulars aren't sharing laughs over beers or frantically trying to answer trivia questions, they can head over to the dartboards or shuffleboard and pool tables.
37 N Catalina Ave.
Pasadena
California
---