Restaurants in West Hollywood
---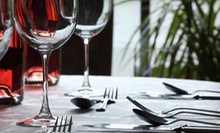 A sampler of ribs, skirt steak, sausages, and sweetbreads is served on a tabletop grill, and lobster fills black-and-white-striped ravioli
Use Monday 4:00pm - 10:00pm
---
Recommended Restaurants by Groupon Customers
---
When the Markowitz family took control of Factor's Famous Deli in 1969, the eatery had already been thriving for more than two decades. Today, the second generation of Markowitzes still owns and operates the restaurant at its original location on Pico Boulevard. They man a deli counter where patrons can grab freshly roasted meats by the pound or carat. The menu is enormous, filled with breakfast wraps, omelets, paninis, meat loaf, and short ribs that customers can enjoy along with a booth's warm embrace and the approving gaze of sports and entertainment memorabilia. Three private dining rooms—including a sundrenched back room, a vine-lined garden patio, and a wine room ringed with exposed brick—set the stage for food-focused get-togethers with friends and family.
The Markowitz clan also caters events, delivering deli and fish platters to your home or underground party bunker, and welcoming guests to The Mark for Events. This stylish space, which glows a soft pink when low light flickers across its white walls, tables, and chairs, is managed by one of the Markowitz daughters.
9420 W Pico Blvd.
Los Angeles
California
US
310-278-9175
Manhattan Beach is known for its warm sunshine and welcoming waves, which surfers chase on the beaches of the historic El Porto district. It's the type of place that lends itself to relaxation and laid-back personalities. That's why Clint Clausen was surprised how hard it was to find his ideal dining trifecta: organic coffee, fresh cuisine, and friendly smiles. Most local cafes seemed to lack at least one of these key ingredients, so he started his own. Named after his four daughters, the restaurant teems with eats that are as comforting as they are healthy. Between cups of steaming Lamill coffee, guests can taste breakfast's sweet side with a stack of caramel-pecan pancakes or explore its savory flipside with a 4DK omelet stuffed with spinach, ham, and roasted mushrooms. At dinnertime, the kitchen bolsters the menu with draft beers, more than a dozen types of wine, and Angus rib-eyes as hearty as Paul Bunyan's handshake.
3505 Highland Ave.
Manhattan Beach
California
US
310-545-2444
Chefs at Flavor Mediterranean Restaurant & Lounge brew up Turkey's signature strong black coffee to help diners to cleanse their palates between bites of delicacies such as stuffed grape leaves, breakfast crepes, falafel sandwiches, and shawarma. Servers also ferry platters to tables laden with signature meals including juicy rib eye steak and jojeh kebabs. Morning fare comes in light and hearty varieties, including protein-packed smoothies, omelets, and paninis to help to fuel up diners for watching their morning exercise tapes.
17401 Ventura Blvd.
Encino
California
US
Some chefs attend faraway schools or universities to learn how to cook, but for Emma Sue Miller McWhorter—the inspiration behind Big Mama's Rib Shack & Soul Foods—it was natural. Though she's gone to the big kitchen in the sky, a little bit of her soul can be seen today in the restaurant's hot links, saucy ribs, and fried chicken, which the Los Angeles Times called "beautifully cooked; moist, flavorful."
Bubbling pots of gumbo and jambalaya fill the eatery's air with rich smells and fill mouths with equally rich flavors when paired with sides such as corn bread, fried okra, or mac 'n' cheese served in the southern tradition of adding dairy to everything. Guests can enjoy live music on Tuesday nights, which ranges in musical style from jazz and R&B to soul and rock 'n' roll.
1453 N Lake Ave.
Pasadena
California
US
Le Sanglier first opened its doors more than 40 years ago, and, according to Gayot, it still stands as "a delightful remnant from an era when French cuisine was strictly for special occasions." The low-lit, lodge-like environment is home to equally rustic, yet refined French classics, which are artistically plated and delivered to gourmands during dinner hours along with pours of a traditional French beverage, wine. The chefs spend their evenings searing wild-boar chops, spooning balsamic-vinegar sauce over free-range chicken, and filling pastry shells with savory blends of sautéed mushrooms.
5522 Crebs St.
Tarzana
California
US
818-345-0470
At Gus's Drive-in, cooks speedily whip up American meals without skimping on healthiness. At the drive-thru or in the spacious dining room, patrons enjoy 80% lean, all-beef burgers and chicken fried in zero-transfat vegetable oil. Sandwiches are loaded with hand-carved meats, including pastrami and turkey, whereas paninis can be served in traditional Greek style, with olive oil and feta cheese in a Spartan war helmet. Other ingredients on the menu, such as guacamole, dressings, and broasted chicken, are all prepared in-house. Patrons can also enjoy latin tacos and burritos on the outdoor patio, where umbrellas keep the sun from bearing down, asking if you're going to eat that.
1657 W 3rd St
Los Angeles
California
213-483-8885
---