West Lake Sammamish, WA Drs and Health Practioners
---
Drs & Health Practitioners Deals
---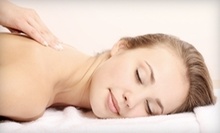 Massage therapist treats postural & injury-related conditions as nimble fingers glide skillfully over stressed backs
Use Monday 10:00am - 6:00pm
---
Recommended Drs & Health Practitioners by Groupon Customers
---
Before becoming an expert in the practice of meditation, Ajayan Borys spent years studying under holy men and the living saint Mata Amritanandamayi of India. Since his return from traveling the globe, Borys has become a registered hypnotherapist, a reiki master, and a certified enneagram instructor. He has also written numerous articles and books—including his new book, Effortless Mind: Meditate with Ease—and hosts the Mind Matters radio show.
Borys doesn't just use his knowledge to stay relaxed while pursuing such a busy schedule. He also treats clients at Himalayan Retreats International, where he helps dispel stress through meditation classes and restores feelings of well-being through reiki treatments. He performs heat-centered hypnotherapy to free clients from their inner judgments, anxieties, and tendency to transform into a BattleBot at times of stress. Borys also can use the ancient enneagram symbol to help clients understand their patterns of thinking and habits of emotion.
410 Newport Way NW , Suite B
Issaquah
Washington
Peering at freshly written lines on the page. Working to catch a glimpse of a bird on the wing. Myriad sets of eyes see their tasks more clearly because of Dr. Joseph King, who has performed more than 75,000 refractive surgeries in his 15-year career. He and the other LASIK specialists and doctors at King LASIK sharpen patients' vision with conventional and custom procedures, as well as PRK surgeries. Dr. King himself underwent LASIK eye surgery in 2000 to accommodate his active lifestyle. "Just 15 minutes after the procedure, I could read the computer screen at the office," he recalls. "I experienced several hours of watery, sensitive eyes, but after sleeping for a few hours, I awakened and I could read the digital clock on the radio across the room."
900 SW 16th St., Suite 200
Renton
Washington
877-551-2020
After studying biochemistry and molecular biology as an undergrad, the Dr. Gannon B. Stahl earned his dental degree at the prestigious University of Washington School of Dentistry. Dr. Stahl has garnered acclaim from both patients and fellow dentists—he was named the best cosmetic dentist in Seattle magazine's Best of 2010 Reader's Choice Awards, and awarded a spot on the Seattle Met's peer-nominated Top Dentists lists in 2009, 2010, 2011, and 2012.
To elevate his expertise, Dr. Stahl uses state-of-the-art technology during treatments at Pineview Aesthetic & Family Dentistry. He wields a laser to target periodontal disease, and employs a CEREC 3-D imaging and milling machine to create same-day crowns or tiny busts of medieval kings. Dr. Stahl extends his warmth and expertise outside the walls of his clinic, donating a significant amount of his profits to charities and the local community, and providing free dental care for people in need.
14730 NE 8th St., Suite 105
Bellevue
Washington
425-649-0800
The team of cosmetic and plastic surgeons at Athenix Body Sculpting Institute understands the direct link between physical appearance and self-confidence. In their quest to collectively boost the public's self-esteem, they actively reshape and refine clients' problem areas using the industry's latest technologies—including Natrelle breast implants, natural fat transfers, Body-Jet liposuction, and nonsurgical body contouring—to create curves that parabolas could only dream of.
Many of the clinic's doctors also dedicate their efforts to reshaping the lives of those less fortunate in the community. Dr. Maurice Sherman, the clinic's chief medical officer, donates his time and talents to victims of domestic violence, and Dr. Millicent Odunze repairs cleft palates and other facial deformities as a volunteer for Operation Smile.
1240 116th Ave. NE, Suite 110
Bellevue
Washington
US
425-307-3546
Doctor of Chiropractic Christopher Wolff, an Ironman triathlete, doesn't simply treat distressed bodies at Vitality Specific Chiropractic, he utilizes techniques that focus on proactivity and preventing health problems. He and his staff of chiropractors employ the Blair upper-cervical technique to adjust the top two spinal vertebrae and correct the connection between the body and brain. This allows the body to ultimately repair itself so it can once again be in optimum health and able to fly. The team combines this preventative treatment with massage to improve posture, strengthen the immune system, and reduce blood pressure.
1025 108th Ave. NE
Bellevue
Washington
425-974-7808
Dr. Michael Steiner, MD, is an ophthalmologist and oculoplastic surgeon who's been treating Seattle–area peepers for more than two decades. In addition to performing reconstructive and plastic surgery with a keen eye for aesthetics, Dr. Steiner helps patients to really see Magic Eye images and addresses glaucoma, cataracts, and diabetic issues. During all surgeries, Dr. Steiner uses local sedation, a safer alternative to general anesthesia.
16233 Sylvester Rd. SW, Suite 220
Burien
Washington
206-243-3611
---