Tattoo & Piercing in West Linn
---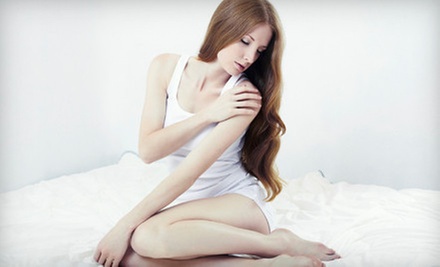 ---
Recommended Tattoo & Piercing by Groupon Customers
---
Adorn Body Art's piercers boast an average of 10 years of experience in providing safe, professional body bedazzlement. All the needle-wielding maestros at Adorn's sanitarily sound studios are members of the Association of Professional Piercers and are also certified in OSHA Bloodborne Pathogen Prevention & Infection Control. Capable of everything from basic earlobe piercings ($50–$80) to complex Rube Goldberg bodyworks, these masters of derma dressing can perform a vast array of popular puncturing such as navel piercings ($60–$80), nostril piercings ($40–$50), or lip piercings ($40–$50). To ensure that Adorn's welcoming studios remain both stylish and safe, staffers use traditional steam methods to sterilize all instruments, including the autoclaves, which are spore-tested monthly.
9217 SW Beaverton-Hillsdale Hwy.
Portland
Oregon
Like a fingerprint, a snowflake, or a social security number, every piece of body art created by Aardvark Tattoo Company's tattoo artists is unique. Unlike those at other tattoo shops who work from preset designs, co-owners Risa Stevens and Paul Thomas lead a team of artists who create custom designs based on clients' input. Each artist specializes in a different style, such as portraits, photorealism, art nouveau, feminine tattoos, and proper spellings of extremely long words. Meanwhile, the shop's piercing specialist safely and precisely helps clients add jewelry to any part of the body.
14804 SE Powell Blvd.
Portland
Oregon
503-477-8902
Infamous Tattoo's experienced tattoo artists and piercers artfully adorn their clients' bodies with custom body art and safe, precise piercings hung with sterile stainless-steel or titanium jewelry. Owners and tattoo artists Mat Casey and Jason Greer channel years of experience into their epidermal art, from hyper-realistic grayscale portraits to lavish word art while skillfully customizing pieces to match clients' whims or deep love of talking cheeseburgers. Piercer Damian offers a creative variety of piercings, from standard navel bars to any imaginable curve of the ear, specializing in anchor dermals that add an unconventional accent to swathes of skin. His passion for piercing stems from his first puncture at 15, and since then he has performed more than 500 piercings, dedicating himself to ensuring his clients' healing processes go smoothly. The shop also offers a wealth of piercing-compatible jewelry onsite to decorate fresh or long-healed piercings or body-modification-inclined refrigerators. Before their appointment, pre-adorned people can sink into a plush ebony-hued couch, tapping feet on the sleek ochre floorboards and admiring paintings and tattoo art mounted on the burgundy walls.
1770 Beaver Creek Rd.
Oregon City
Oregon
503-933-8803
Summer, the cosmetologist at Advanced Face & Body Day Spa, has 20 years of experience in the beauty industry. She's certified in both laser hair-removal and permanent makeup and can apply the permanent pigment to the eyes, lips, or eyebrows in less than an hour. Summer also offers mink or silk eyelash extensions and herbal facials that cleanse and polish skin, restoring its natural, metallic sheen.
2020 NE Cornell Rd.
Hillsboro
Oregon
US
503-648-5962
---