Massage in West Little River
---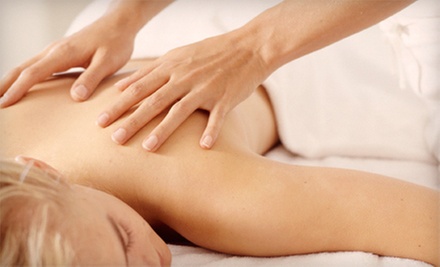 ---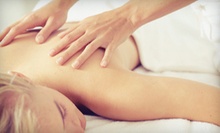 Use Today 10:00am - 6:30pm
---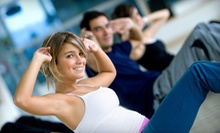 Easy-to-learn, relaxing motions invite guests to get in touch with their inner energy in one-hour sessions
Use Thursday 4:00pm - 7:00pm
---
Recommended Massage by Groupon Customers
---
As an 11-year-old girl, Doctor of Chiropractic Wendy Gallego was diagnosed with scoliosis. The painful curvature in her spine immediately began to interfere with her life, forcing her to drop out of gymnastics and wear a back brace. After years of chronic discomfort, a college friend suggested that she visit a chiropractor, and she finally began to find relief from her symptoms. More importantly, she was inspired by her chiropractor's whole-body approach to wellness, which emphasized nutrition and lifestyle as well as treatment. This drove her to become a chiropractor herself while formulating the philosophy that "people should not be perceived as separately functioning parts, but rather as a complex structure of interdependent systems." By founding Shin Wellness, she sought to create a holistic health care center that addressed physical as well as mental health.
Embracing Western and Eastern treatment modalities, Dr. Gallego looks for instructors and therapists with more than technical proficiency and a photographic recollection of the periodic table. She claims that "there's a quality that comes with being a healer," and she looks for that passion in all her prospective employees, whether they will be performing massages, conducting hypnotherapy sessions, or leading Pilates classes.
4500 Biscayne Boulevard
Miami
Florida
305-571-9090
Right outside the bustling epicenter of Miami is a cozy cranny known as Enlightened Health. Step inside and you'll quickly realize that the serene surroundings are only the tip of the tranquil iceberg. With today's transcendent deal, $39 gets you a comprehensive 50-minute Enlightened Massage, a $95 value. Surrender your worries to the skilled hands of Dr. Maria Delgado and her staff, and approach nirvana.Follow @Groupon_Says on Twitter.
1801 SW 3rd Ave., Suite 401
Miami
Florida
US
Now that you have a temporary reprieve from holiday stress, recharge for the next round like a Roomba between floors. Today's Groupon will reward your strained Thanksgiving-feasting limbs with a $35 for 30-minute dulaya massage at Pecan's Day Spa, a $70 value.Follow @Groupon_Says on Twitter.
7800 Sw 57th Ave #120
South Miami
Florida
US
According to the foremost doctrine in ancient Chinese medicinal texts: "Those who say diseases are incurable have not mastered the art of acupuncture and do not deserve to eat from my potato tree." Today's Groupon puts this historical healing treatment in the nimble, all-knowing hands of the professionals at Haas Acupuncture. For $39, you get an initial consultation followed by a one-hour session of holistic acupuncture relief, a $120 value. A movie featuring Reno Raines, rogue acupuncturist, is set to be released soon, tentatively titled The Acupuncturist Who Travels Around and Gets into Adventures.
9000 Sw 87th Ct #214
Miami
Florida
US
Founded by Dr. Ida Rolf, the Rolf Method of Structural Integration, or Rolfing, works the web of winding connective tissues (fascia) that envelope the body's organs, muscles, and inner-doodads. When stress, injury, and gravity yank the body out of alignment, the fascia, too, is disrupted, resulting in stiffness and loss of energy within the body that usually only comes from sitting through an awful poetry reading. Rolfing ditches the hitches in the body's giddyup through a systematic application of pressure on the body that lengthens and realigns the fascia.
11200 SW 8th St.
Miami
Florida
Angel Orozco is as well traveled as he is knowledgeable—not that the two qualities developed separately. The licensed massage therapist and board-certified holistic health counselor has learned ancient healing techniques from teachers in Thailand, Vietnam, Indonesia, and India. Along with his licensed staff, he incorporates those lessons into spa and wellness treatments at BodySense. The result is that the center offers an impressive range of massage styles—20 total in fact—from Thai and postpartum to a honey body massage that exfoliates skin with lemon and caraway-enriched honey.
The rest of BodySense's service menu is a hybrid of Western and Eastern approaches. Acupuncture sits side by side with a treatment that combines medical massage and electrotherapy. Gerard's organic skincare products power facial treatments such as the caviar and soy facials. To help clients control the most important factor influencing their health besides whether or not they're napping in a catapult with a rusty old safety, BodySense creates custom weight-loss programs, which provide participants with nutritional counseling, massages, body treatments, and exercise classes.
2292 Souhtwest Coral Way
Miami
Florida
305-854-3100
---