Shopping in West Memphis
---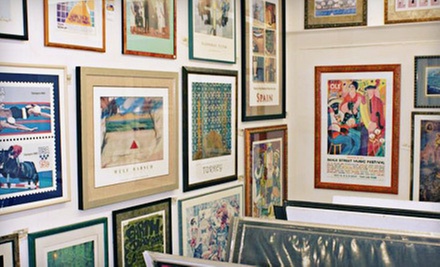 Idlewild Community Neighborhood Association
---
Recommended Shopping by Groupon Customers
---
For more than 30 years, two brothers and their sister have cultivated 1910 Frame Works' immense cache of elegant frames, earning them loyal patronage from local clientele such as the Memphis Redbirds, Rock 'n' Soul Museum, and the Special Olympics. Their support throughout the decades is due to the trio's commitment to stay abreast of blossoming trends and technology. Partnered with a national web of suppliers, they keep their showroom full of ornate and minimalist frames in thousands of colors, textures, and scratch-and-sniff scents. They also forge shadowboxes and custom frames onsite, harnessing conservation-quality glass and acid-free materials to assemble elegant confines for artwork, photography, and mirrors.
When they're not constructing frames, the skilled craftspeople rove the town to deliver and install their elegant creations and hold on-location design consultations that can help to determine suitable artwork for a specific space. They also curate their own gallery of colorful artwork, including local music-festival posters and prints crafted by local artists.
2029 Union Ave.
Memphis
Tennessee
901-274-1910
As a former Tiger himself, gift-shop owner Jeremy Stinson takes his school spirit seriously. A proud alumni of the University of Memphis, Jeremy stocks his sprawling, brick-walled store with the world's largest selection of Tigers apparel and memorabilia, with more than 500 items encompassing everything from men's, women's, and children's apparel to collectibles such as posters, foam hands, and posters of foam hands. Staffers will gladly chat about the team's past, present, and future and cheer along with customers during screenings of SportsCenter or the latest Tigers game in their onsite Tiger Den.
531 S Highland St.
Memphis
Tennessee
901-324-5334
When it was founded in 1964, Tiger Bookstore only carried the textbooks required by faculty at the University of Memphis. Today, students can also rely on Tiger Bookstore for classroom gear such as lab supplies, writing implements, and backpacks. The store still stocks textbooks for students to rent, buy, and sell back rather than assemble into a makeshift postgraduate apartment. Books and school supplies share shelf space with a variety of clothes and trinkets emblazoned with the U of M logo, from hoodies and knit caps to shot glasses and key chains.
3533 Walker Ave.
Memphis
Tennessee
901-324-2808
As a young girl, jewelry designer Kimberly Brown was taught by her mother to never follow the crowd, and she has been flaunting her originality ever since. Now, she expresses herself through her colorful, eclectic jewelry line, which inspired her to open a fashion boutique to help others show off their own individuality. At Urban Chocolate, she and her friendly staff act as stylists, helping their guests unleash inner artists while donning handcrafted and vintage clothing, purses, and shoes. Kimberly's line of jewelry is also always on hand to help guests spice up boring outfits or steal attention from their scales.
Urban Chocolate is located within The Seen. This retail and performance space acts as a hub for Memphis's cutting-edge fashion designers, musicians, writers, and artists.
4466 Elvis Presley Blvd. , Suite 260
Memphis
Tennessee
US
901-600-4027
Locally owned and operated, iFixMemphis's knowledgeable crew compiles a vast array of mobile phones and high-tech accessories. Apple lovers by nature, they swaddle iPhones and Android devices in protective accoutrements such as cases and pouches, and outfit users with car chargers and Bluetooth equipment. The team also adeptly nurses busted touchscreens back to health, repairing cumbersome cracks incurred after attempting to write texts with a ballpoint pen.
4713 Poplar Ave.
Memphis
Tennessee
901-275-8183
The New York Suit Exchange specializes in providing formal men's attire at prices that non–landed gentry can afford. With two locations and over 15,000 suits for sale in each store, the Suit Exchange carries an abundance of duds available for every bodily appendage. Today's deal is valid for anything in stock, from shirts, pants, and ties to shoes, belts, and socks. Even sale items and suit packages are fair game. The Economizer is one such suit package, providing one suit, one pair of shoes, one dress shirt, one silk tie, one leather belt, and one pair of socks for $129.99. Keep toes tapping stylishly with a pair of black-leather lace-up shoes from Adolfo ($49.99) or a striped red tie set ($14.99) for the Harry Potter cosplay party. Stock up on dress shirts in a variety of materials and colors ($14.99–$29.99), or hold it all together with a leather belt ($14.99).
310 Union Ave.
Memphis
Tennessee
---