West New York, NJ Outdoor Activities
---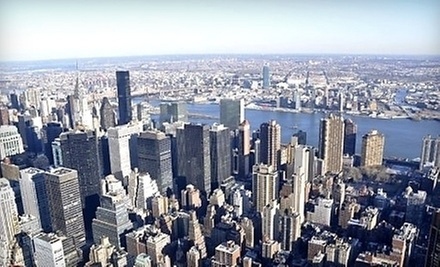 ---
Recommended Outdoor Activities by Groupon Customers
---
Thinking of the city rarely calls images of fog-ringed mountains and wolf-filled forests to mind, but Discover Outdoors—formerly known as Outdoor Bound—turns these scenes into reality. Owner, avid outdoorsman, and eight-time marathon runner Kirk Reynolds makes sure of it. He and a staff of experts—each a licensed trail guide and Wilderness First Responder or Wilderness EMT—temper the stress of city living with day trips to nearby natural enclaves and weekend camping excursions]. The getaways thrill with activities such as hiking, rock climbing, whitewater rafting, kayaking, and horseback riding.
International trips, meanwhile, quench a thirst for life-defining adventures beyond trips to the grocery store during peak Saturday hours. Among them: hikes up famed Mount Kilimanjaro in Africa, treks to Machu Picchu in Peru, and jaunts through the Canadian Rockies. Some of the journeys even grant travelers the opportunity to fundraise for a worthy cause as they explore.
154 Grand St.
New York
New York
The Coffee & Tea Festival delights sippers with steaming servings of steeped tea or freshly ground coffee from more than three dozen exhibitors. Scents arise from the aromatic booths and during demonstrations, where crowds learn about the peculiarities of tea leaves. In addition to displaying feats of contemporary coffee preparation, exhibitors put on demonstrations that include a presentation on tea cocktails, as well as discussions on how to select and serve teas.
7 W 34th St.
Manhattan
New York
In 1931, aviation legends such as Howard Hughes and Amelia Earhart traversed the hallowed halls of Floyd Bennett Field, New York City's first municipal airport. Today, the same site harbors Aviator Sports & Events Center, which accommodates recreation in all of its forms, equipped with 20,000 square foot indoor field house, which includes newly resurfaced hardwood courts and new turf field, two outdoor synthetic-turf fields, and an outdoor space for events that can seat up to 4,000 people—the same number of people it takes to crack open a life-size Big Bird piñata. Twin NHL-regulation rinks host open-skate sessions, a majority of which are held on Rink B, every day of the week, with skates as late as 11 p.m. on weekends. Inside the center, Hammer Strength training equipment and Life Fitness cardio machines span the 5,000-square-foot fitness center, which offers exercise classes for all ages. Only youngsters enjoy summer or after-school camps, but adults and kids alike can take advantage of a roster of sports and leagues, including flag football and rock climbing, ideal for those looking to shorten morning commutes by cutting through the quarry.
3159 Flatbush Avenue
Brooklyn
New York
718-758-7500
A passionate project of the nonprofit American Friends of the Ludwig Foundation of Cuba, Havana Film Festival showcases respected and rising voices hailing from Cuban and other Latin-American communities. The festival's executive director, Carole Rosenberg, and film programmer Diana Vargas helm a dedicated staff, who draw cinematic works from countries such as Argentina, El Salvador, and Peru. Their collection of numerous features, shorts, documentaries, and classic Latin movies graces the screens of venues throughout the city, many for the very first time in the United States.
English subtitles assist non-native speakers in following the action, and panel discussions and postscreening Q&As afford audiences a behind-the-scenes glance at the global film industry. The panels also engage the filmmakers and explore new cinematic innovations, such as 5-D movies that rock audiences to sleep by their favorite stars. The festival annually pays tribute to influential actors and directors within the Latino film community.
34 West 13th Street
New York
New York
212-255-2243
BumbleBee Tennis's wide spectrum of tennis programs for juniors and adults nurture players at every step of game development. Skilled instructors helm a variety of lessons from Intro to Tennis classes to private one-on-one intensives. All teachers are trained professionals and most have played competitively at the collegiate level. While helping students focus on technique and making solid contact with the ball, instructors also attempt to ensure that everyone from youngsters to veterans enjoys the game and knows which racket string corresponds with which guitar chord. Adults interested more specifically in the cardiovascular aspect of the game can enroll in Cardio Tennis, a 60-minute class comprised of high-intensity drills and games that elevate heart rates into the aerobic zone and subsequently evaporate calories.
116 W 11 St.
New York
New York
347-284-6061
---