Restaurants in West New York
---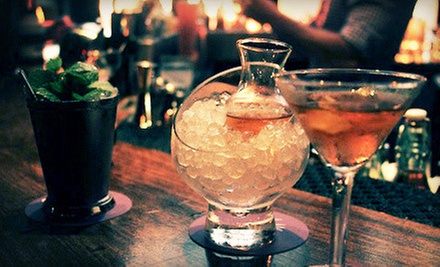 ---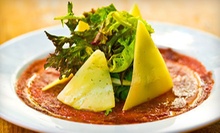 Guests fill tummies with eclectic offerings drawn from South African cuisine, feasting on mince pies, lamb chutney & boerewor sausage
Use Today 11:00am - 4:00pm
---
Huge menu of preservative-free Italian & American fare includes 30 burgers, speciality sandwiches & breakfast served all day
Use Today 9:00pm - 11:45pm
---
Recommended Restaurants by Groupon Customers
---
The sweeping tangles of the Cyrillic alphabet spill across the glassy ranks of 200 distinct vodkas at Nasha Rasha. Surrounded by the cool bottles and people in fur caps, guests can almost feel Russia's famous chill. The bar's name even translates to "our Russia," and shareable plates of dumplings, pickled watermelon, baltic herring, and caviar help cement the sense of shared heritage. Bartenders clad in red scarves or Russian military caps slip among colorful nesting dolls, pouring shots of vodka infused with jalapeño, bacon and honey, or pineapple and pepper. At tables, slabs of rye bread soak up rivulets of steaming borscht, a traditional, stunningly crimson soup of cabbage and beets. A relief map of Russia on the wall flanks a collage of historical figures from the country, pleasantly distracting diners from their meals, unlike a cowboy writing a ballad about how you eat.
4 West 19th Street
New York
New York
US
212-929-9444
Since opening the original Famous Hamburger in the 1970s in Lebanon, the Hider family has been crafting patties with halal meats. Inside each of their kitchens, the cooks work over grills, releasing fusillades of hot sizzles as they top burgers with jalapeños, olives, and swiss cheese. Hints of the Hider clan's heritage shine through in beef shawarma pita wraps and kefta kebabs, and falafel and veggie patties are ideal for when you are dining out with a vegetarian or wagering that you can turn a rabbit into a well-mannered gentleman.
30-94 Steinway Street
Astoria
New York
US
718-887-2943
Bon Chon Midtown's enticing menu of Asian fusion fare entertains taste buds with a tantalizing spread of fresh local veggies, juicy cuts of chicken and short rib, fresh seafood, and eclectic cocktails. The restaurant's signature Korean-style fried chicken dances across palates with the wholesome flavor of vegetarian-fed poultry free from hormones, antibiotics, or opinions about whether the egg preceded it. As guests sip specialty soju cocktails or frosty draft beers, they can admire Bon Chon Midtown's ultramodern décor, which showcases onyx-black tabletops and pristine white furnishings.
957 2nd Ave.
Manhattan
New York
US
212-308-8810
Though ethos is typically used to describe a person's philosophy or character, its literal translation is "that which guides." Executive chef Dino Zagouraias lets traditional Greek recipes and fresh ingredients guide his cooking to craft delicious casual meals. Fresh fish is flown in on ice daily from all over the world to delight palates with flaky bronzini and royal dorado or equip unprepared fencers with a grilled, center-cut swordfish. The menu blends the rich flavors of the Mediterranean in dishes from stuffed grape leaves to imported Greek lima beans to grilled baby lamb chops. The pristine dining room embodies elegance with white furniture and tables accented with blue tablecloths and pillows.
Ethos Gallery's ladies' night offers half-priced drinks to all attending ladies on Sundays beginning at 8 p.m.
905 1st Avenue
New York
New York
US
212-888-4060
The neon sign in The Soul Spot's window beckons passersby with promises of halal soul food, but the menu shows an equally strong focus on the cuisine of the Caribbean. Dishes such as classic fried catfish can be paired with more exotic starters such as fried plantains and oxtails. Among other Southern favorites, chicken and waffles arrive baked, fried, or in barbecue or jerk sauce.
Each entree comes with a choice of two sides and a slice of warm, chewy corn bread, helping soak up the extra juices from plates of curry goat. New York magazine had special praise for the sides and desserts, remarking on the "nicely seasoned collards" and "habit-forming coconut cake." Guests can choose to chow down in the cheery 25-person dining room, where checkerboard tiles line hot-sauce-orange walls, and can take food to go or have it delivered—a selection of ready-made dishes at the steam table up front allows for quick service.
302 Atlantic Avenue
Brooklyn
New York
US
718-596-9933
Meet new people, watch sports, and drink wine in Choice's Grand Bar Area; try martinis, people-watch, and test out new pick-up lines in the more intimate Island Bar; or have dinner and ponder the clouds in the elevated Brick Room. The Choice Room is ideal for private parties—it can hold 20 guests for a dinner party, up to a hundred for a birthday party, and up to five hundred if you incent each participant with a ticket for a raffle for a pickup truck.
380 3rd Avenue
New York
New York
US
212-779-1380
---