Schools & Tutors in West New York
---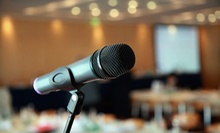 Professors plucked from top universities fill curious minds with knowledge in riveting lectures that condense whole semesters into one hour
Use Saturday 10:30am - 1:30pm
---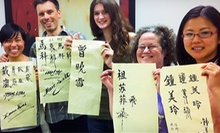 Tongues adopt Eastern phonemes as instructors help students read, speak, and comprehend Mandarin language and Chinese culture
Use Wednesday 3:30pm - 6:30pm
---
Recommended Schools & Tutors by Groupon Customers
---
Elizabeth Lunney and Rachel Meyer—ABC Language Exchange's cofounders and directors—share a passion for culture that has led them to teach and study different languages in Europe and Asia. Between them and their teaching staff, they're fluent with more than 20 different languages, including Arabic, Japanese, Swahili, and a combination of all 20 used to decipher the text of crosswords. Elizabeth and Rachel's combined quarter century of training, and each of the other instructors' minimum of two years of teaching experience, enables them to lead child and adult students through group and private lessons. Their staff's ability to train students to curl their tongues into even the most foreign of shapes has attracted distinguished clientele, including the NBA, Willem Dafoe, and Uma Thurman in preparation for Kill Bill.
146 W 29th St., Suite 6E
Manhattan
New York
212-563-7580
Magazine editor Denise Wild started out teaching her friends to sew, and before long she was teaching her friends' friends. Her network of students led her to create The Sewing Studio, which now proudly teaches the seamstress arts in New York and Toronto. She and her staff impart methods for bobbing and weaving colourful threads through linens, taking students from beginning steps to advance endeavours such as creating their own skirts, handbags, and party dresses. Denise and company lead lessons in a bright and intimate classroom setting, helping participants learn to alter their own clothes or re-create treasured designer duds by hand. The Sewing Studio also nurtures aspiring fashionistas through after-school programming and week-long intensive sessions. Over the course of five days, guests can brainstorm, sew, and model their own garments or drop by for a workshop on creating dresses and kevlar body armour for American Girl dolls.
134 W 29th St., Suite 804
Manhattan
New York
646-961-4747
Gotham Writers' Workshop teaches more than 7,000 students every year how to tackle and tame the writing process in a creative learning environment. Professional writers help students to develop characters and generate ideas before a structured dialogue encourages classmates to comment on strengths and weakness, improving final drafts and abilities to stand up to playground bullies. Gotham also provides follow-up services and bolsters the communication skills of experienced writers, teenagers, and muffled mummies alike with private instruction and tips found in its book, Writing Movies.
555 8th Ave., Suite 1402
Manhattan
New York
212-974-8377
Founded by Dr. LeeAnn Renninger, LifeLabs New York employs the expertise of scientists, artists, and experts in its wide curriculum of creative classes that teach practical life skills. Students learn how to read other's facial micro-expressions, become more engaging conversationalists, and use idea mapping and visual thinking to brainstorm more effectively. Weekly solo adventures, sent to participants via postal mail, set an itinerary for fun, creative missions designed to help adventurers notice new things and add new facets to their personalities.
145 W 28th St., Floor 3
Manhattan
New York
917-319-4354
Fluent City's campuses train tongues in the basics and nuances of 10 languages through interactive group classes. Experienced professors introduce groups of students to vocabulary, grammar, and pronunciation in French, Spanish, Italian, Portuguese, German, Arabic, Chinese, Japanese, Russian, and Hebrew. Languages are divided based on students' incoming level of proficiency, and group courses run for a total of 20 hours. Although not included with the class, students can also meet with instructors in flexible private lessons tailored to each pupil's individual needs.
269 Manhattan Avenue
Brooklyn
New York
Pro Learning Center's linguists teach English and Spanish with the expedient Callan Method, and instruct students in French, Italian, and Chinese with more traditional techniques. In Callan Method classes, adults and kids put their gray cells on red alert as brains are bombarded with constant repetition and conversation at up to 240 words per minute. The breakneck speed of chatter stimulates a language reflex, which allows students to respond naturally when addressed in their language of choice or when spooked by a foreign ghost. Alternatively, French, Italian, and Chinese classes take a more measured approach, giving students a chance to gradually develop vocabularies and conversation skills. Classes take place over the course of six weeks in sessions as lengthy or brief as each student's personal schedule permits, allowing for learning around work or increasingly less awkward visits to other countries. Students also have access to Pro Learning Center's online courses, which offer additional resources for at-home learning.
730 Broad St., Suite 2
Clifton
New Jersey
973-777-5776
---