Things to Do in West Palm Beach
---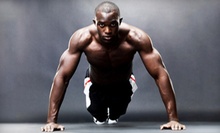 Expert instructors lead students of all levels through intense custom workouts
---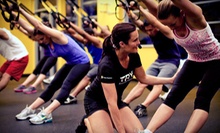 TRX suspension training uses body weight to improve strength and agility; P90X favors cross-training techniques and high-intensity workouts
---
Recommended Things to Do by Groupon Customers
---
At Greenacres Bowl's lacquered lane emporium, competitors ranging from pint-size to full-size unleash spherical fury seven days per week. Strikes, spares, and sequential cheers ring through the center late into the evenings on weekends, which features laser bowling on Fridays and Saturdays. Automatic scoring helps cut down on disputes between opposing players or teams of Olympic figure-skating judges. In addition to games between friends, the facility also plays host to pin-punishing birthday parties, as well as leagues designed for all levels and ages. A recently sprouted billiards room lures eyes away from slick lanes and onto felt tables and high-definition televisions, while an on-site pro-shop stocks the latest shoes, gear, and accessories.
6126 Lake Worth Road
Greenacres
Florida
US
561-968-0100
The fun-loving teachers at Uptown Art: West Palm Beach believe they can teach anyone to paint work they'll be proud of. Child brush wielders get inspiration from helpful instructors who mentor them in their strokes, and adult classes find similar guidance from both the pro painters and their own BYOB beverages. The airy downtown studio attracts budding painters to its varied schedule of evening painting classes and daytime children's classes that span up to three festive hours of guided artmaking. Students return home with their masterpieces at their sides, each based on a class topic such as a homage to a beloved pet, a poignant still-life of potted flowers, or a self-portrait that looks suspiciously like Audrey Hepburn.
550 S Rosemary Ave., Suite 156
West Palm Beach
Florida
561-899-3980
With the Atlantic Ocean as the backdrop for inimitable aquatic adventures, Captain Steve Cienkowski steers participants along crystalline waters for laid-back expeditions or longer jaunts to either the Keys or Bahamas. Participants can glean pertinent sailing or snorkeling tips during lessons or revel in up-close glimpses of manatees swimming and filing taxes in their natural habitat.
148 Yacht Club Dr., Suite 10
North Palm Beach
Florida
561-236-2387
Named in honor of golf-course designer Bruce Borland, who died in a plane accident in 1999, the Borland Center swings open its doors to the community by focusing on family values. Concerts, plays, and recitals are just a few of the events that coax guests into the venue's 10,000 square feet of space, which harbors a 500-seat theater and a multipurpose ballroom that doubles as an indoor practice field for local cribbage teams on rainy days.
4885 PGA Blvd.
Palm Beach Gardens
Florida
561-904-3130
The aroma of salt and butter fills Alco Capital Theaters in Boynton Beach. Manager Larry Forbes has worked in theaters for three decades, having started out projecting midnight rock flicks at a drive-in in Fort Lauderdale. He therefore balances a sentimental attachment to film with the practical aspects that make it good for business. "If there's a problem and you have a technician—which we do onsite all the time—you can fix it immediately," he points out. Although the majority of work is projected from film, the theater's eight screening rooms are not warehouses for nostalgia. Digital and Dolby 3-D projectors deliver sharp pictures and immersive experiences to stadiums of 1,500 lumbar-supportive seats, as digital speakers and ADA listening devices make eardrums quake.
During the winter, moviegoers prepare for the upcoming awards season with a full slate of Academy Award–nominated films. On some summer days 700–800 kids will flood the theater by 10 a.m. for adventure flicks and romantic comedies, and when things slow down in the fall, Forbes fires off notices of indie premieres and director Q&A sessions to members of the Movi-E Mail Club, who have chatted with director Susan Seidelman and burgeoning stars from The Palm Beach County Film & Television Institute. On federal holidays, the staff host a special matinee for students, and every Tuesday they pile free popcorn into reusable plastic buckets and vacant laps. The theater's dedication to its audience extends to special requests—Forbes remembers slipping a man's wedding-proposal video into the previews one night. Although he doesn't remember the film, Forbes does remember the woman's answer: she said yes.
9764 S Military Trl.
Boynton Beach
Florida
561-366-7500
It's 1980-something. Glen, a young boy, dons a pair of glasses with one blue lens and one red, excited by this new technology that's supposed to make things on the screen pop out at you. During the next two hours, Glen ducks swooping avians during the revival of Alfred Hitchcock's ¬_The Birds_ in 3-D, terrified, yet thrilled. This is one of Glen Gray's earliest memories about the theater his father built more than 30 years ago. Today, Glen lives out those moments each day as the proprietor of Movies of Delray, where the projectors roll a medley of Hollywood features and foreign, art-house, and independent films.
Gold walls and burgundy curtains lend the lobby an art-deco air, and a large chandelier illuminates more than 60 pencil drawings of movie icons of yore, such as John Wayne, Elvis, and Marilyn Monroe. This old-fashioned lobby disguises the updates within: brand-new bathrooms, granite countertops at the concession stand, and, in the theaters themselves, digital surround sound and updated seating. Rows of black leather seats cushion moviegoers with high backs and wide benches so cozy that Glen claims guests have fallen asleep in them, only waking up at the end of the picture or when Bruce Willis turns out to have been a metaphor all along.
In celebration of film, professor Shelly Isaacs graces the theater with screenings of obscure Oscar-winning or Oscar-nominated foreign films. After each screening, he discusses the film with audiences, dissecting and analyzing the cinematography, characters, and plot.
7380 Lake Worth Road
Lake Worth
Florida
561-968-4545
---