Concerts & Events in West Park
---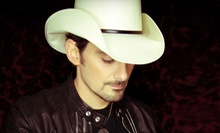 Royal Palm Beach-West Jupiter
Award-winning country star heats up the summer with a new album of challenging country classics alongside Chris Young and Lee Brice
---
Recommended Concerts & Events by Groupon Customers
---
Ever since football became too rambunctious for the limited confines of mess halls, it has been performed in stadiums. During this year's Pro Bowl weekend, celebrate the only sport legally allowed in football stadiums with today's Groupon. For $7, you get a single-day entry to the South Florida FanFest at the Miami Beach Convention Center—tickets normally cost $15 at the door. The exhibition, a 200,000-square-foot sports-memorabilia and card show, is the largest of its kind in Florida and is open from 10 a.m. to 8 p.m. on January 29–31. There is no purchase limit, so pick up a few to attend all three days. Gift a few to your old high-school football teammates to relive the glory days of the Bash Brothers.
1901 Convention Center Dr.
Miami Beach
Florida
US
As they continue to find their ice-footing this year, the Panthers strive to wrest control of the NHL's jungle gym by dominating visiting pucksters on their home ice. Witness the squad's skate-borne feats of athleticism as they attempt to vanquish their Eastern Conference foes the Ottawa Senators, New York Islanders, or Toronto Maple Leafs. Premium lower-bowl seating gets spectators close enough to see the intricate weaving of line formations and collect ice flecks from the players' skates to make snow cones. Your exact stadium location will be determined upon your arrival, and groups must purchase tickets together for consecutive seats if they don't want their painted torsos' letters to accidentally spell, "Flo, rid a pant. Hers."
1 Panther Pkwy.
Sunrise
Florida
Led by the baton of Italian guest conductor Nicola Luisotti, the Cleveland Orchestra brings 94 years of euphony-crafting experience south to Miami's Adrienne Arsht Center. The concerts kick off with the sprightly strains of Verdi's Triumphal March and Ballet Music from his opera Aida, sweeping audiences up in romantic drama while sparing time-traveling gossip columnists the burden of keeping up with ancient Egyptian love triangles. Acclaimed soprano and MacArthur fellow Dawn Upshaw joins her instrument-bearing brethren to essay modern composer Osvaldo Golijov's Three Songs for Soprano and Orchestra in its Miami debut—a work composed specifically for Upshaw. Prokofiev's Symphony no. 5 finishes off the evening, its grandeur composed in the throes of World War II to glorify the majesty of the human spirit and show up all his snobby friends who said that writing four symphonies was "pretty good."
1300 Biscayne Blvd.
Miami
Florida
305-949-6722
The Marlins take the field at Marlins Park: an eco-friendly, 37,000-seat facility equipped with a retractable roof, plexiglass fish tanks behind home plate, and a vibrant sculpture in left-center field that kicks into motion for Marlins home runs. Born in 1993, the Florida Marlins quickly established themselves as contenders in the National League, taking home World Series titles in 1997 and 2003. And today, after some light rebranding to go along with the new ballpark, the rechristened Miami Marlins aim to continue traditions new and old, expanding their list of Hall of Famers.
Major League Baseball trademarks and copyrights are used with permission of MLB Advanced Media, L.P. All rights reserved.
2269 NW 199th St.
Miami Gardens
Florida
The original Strikers were born in 1977, when the Miami Toros moved to Broward County. Donning their popular red-and-gold hooped uniforms, the team experienced instant success—so much so that Lockhart Stadium underwent two seating expansions to accommodate the club's rapidly growing fan base. During those years, a playoff game between the Strikers and New York Cosmos drew a crowd of 77,691, which still stands as the record for a U.S. Pro League soccer match and most people squished into a single soccer net.
Even with all their success, the Strikers relocated to Minnesota after the 1983 season. The team returned five years later, and for more than two decades, competed as part of several leagues. Finally, after a failed attempted to bring Major League Soccer to Miami, the Miami FC of the United Soccer League decided to officially adopt the Strikers moniker and move to the North American Soccer League for the 2011 season. The Strikers didn't waste any time announcing their rebirth, as they made the league's championship series that same season.
1301 NW 55th St.
Fort Lauderdale
Florida
On April 26-28, the Deerfield Beach Wine & Food Festival unites friends and neighbors with gourmet food, fine spirits, and live music from the tri-county region throughout a three-day celebration. When not hunkering down for starlit picnics or strolling through Quiet Waters Park, attendees can expand their palates with wine-and-food pairing workshops, an around-the-world tour of wines, and seminars by an international cadre of wineries. Showcasing the rich culinary heritage of the region, the food tastings run the gamut from hearty braised-beef dishes of English-pub fare to fresh seafood dishes of South Florida to fondue. Friday invites guests to a vineyard party backed by live music, where they dig into lavish four-course feasts accompanied by glasses of wine selected by professional sommeliers. On Saturday, ticket holders stroll through the park's scenic avenues to savor decadent chocolates, top-shelf wines from Europe and the Americas, and a spread of cuisine from local Mexican, Greek, American, Italian, and fusion restaurants. The Deerfield Beach Wine & Food Festival sends patrons off with a relaxing outdoor Sunday-morning brunch chock-full of fresh seafood catches, buffet stations of European breakfast fare, and bloody marys and mimosas. As guests nibble and sip to their hearts' content, they're serenaded by the dulcet tones of Gyorgy Lakatos.
E Camino Real & Federal Hwy.
Boca Raton
Florida
---