West Pensacola, FL Health and Fitness
---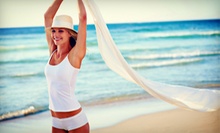 Combat holiday fatigue with energy-boosting vitamin-B12 injections that boost weight loss by increasing energy and easing insomnia
---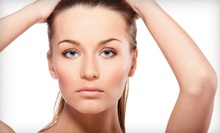 A skin-rejuvenation package resurfaces and hydrates skin; a detox package flushes out unhealthy substances and rebalances energy
---
Recommended Health & Fitness by Groupon Customers
---
ISSA–certified personal trainer Amanda Kelly's passion for helping people to achieve their fitness and weight-loss goals flourished while she worked at gyms from 2001 to 2009, eventually leading her to found Rocking Boot Camp as an encouraging tool for reaching physical peaks.
The Rocking Boot Camp program challenges all major muscle groups with a blend of cardio, weight, and core-training exercises executed alfresco, rain or shine. During the intense workouts, legs churn through sprints before participants leap into plyometrics or football drills such as pushups and uprooting field-goal posts. Amanda tailors her routines to suit all strength levels and staves off monotony by varying the exercise routine every day.
300 W Roosevelt Ave.
Foley
Alabama
251-978-8558
With programs for children and adults of all ages, Aqua Bella Fitness acts as both a playground and a training center. Its heated indoor pool embodies this versatility by hosting Summer Splash Camp sessions, Red Cross–certified lessons, and water-aerobics classes, which increase resistance on muscles more safely than working out in a quicksand pit. Exercise equipment abounds on the workout floor, where guests can tackle a 30-second circuit or dangle from TRX suspension systems. Though its focus is on promoting healthy lifestyles, the gym also endorses relaxation with day-spa services such as tanning and massage.
5900 Berryhill Rd.
Milton
Florida
US
850-626-2627
Results Personal Training enlists certified male and female trainers to piece together personalized fitness and nutrition plans that target time-specific fitness goals and allow for anytime onsite access. When paired with a client, each trainer crafts a program geared toward desired results—such as muscle gain or weight loss—and an ultimate end date, which can correspond with upcoming weddings or long-awaited preschool reunions. One-hour workout sessions then draw on an armory of free weights and Pilates balls to activate different muscle groups and prevent bodies from adapting to the routine. With trainers always on standby, clients can walk in on the hour to start a training program without an appointment and report to the center an unlimited number of times per week.
Before each patron's first workout, an on-staff nutritionist outlines a healthy meal plan customized to his or her needs. Each menu includes the amount of calories that they should consume per meal and day, a list of foods that rev up metabolisms, and arguments to convince tomatoes that they are vegetables. Clients can visit their nutritionists at any point during their membership, and weekly analyses of their progress ensure that they are staying well on track to meet their health objectives.
1101 S Fairfield Dr.
Pensacola
Florida
US
At age 18, Dr. Sean Price of ChiroSpa felt the first twinges of back pain—a pain that continued to worsen, eventually sidelining him from martial arts training. After electing to have lower back surgery, he began researching natural alternatives in order to avoid having to make such a decision again. This led him to pursue a massage therapy license followed closely by a degree in chiropractics. These days, Dr. Price takes a holistic approach in his practice: instead of simply treating the symptoms, he looks for the underlying causes of pain such as working at a physically demanding job or sleeping in a dollhouse. He then consults with patients to recommend lifestyle adjustments and treat ailments with massage, nutritional counseling, and physiotherapy.
745 C Beal Pkwy., Suite 2
Fort Walton Beach
Florida
850-862-2224
---