Auto Service in West Raleigh
---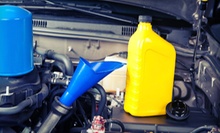 Since 1984, shop's ASE-certified technicians have kept cars' engines gently purring with oil changes every 3,000 miles
Use Saturday 8:00am - 2:00pm
---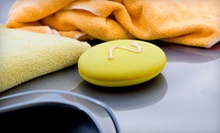 Skilled mechanics spruce up vehicle exteriors during car washes & thorough detailing services
Use Saturday 10:00am - 2:00pm
---
Recommended Auto Service by Groupon Customers
---
Maintaining the same quality ownership since 1988, The Durham Ritz spiffs up autos with gentle wash processes and quality cleaning products such as Simoniz and Mequiar's. Each six-hour doting detail treatment includes a thorough exterior hand wash that scrubs the bugs off the grille, gets the grime off the wheels, and rubs the muck off the ejector-seat lever. The interior scouring session begins with a steam to get the summer ice-cream stains out of the carpets, seats, and floor mats. Then, vinyl rejuvenators cleanse and condition the dash, console, and door panels until they're sterile enough to eat ice cream off of again. The Durham Ritz's detail devotees finish by slathering your ride with thick layers of polish and wax until it gleams brighter than a burning pile of flashlight catalogues. A smaller amount of water is used compared to at-home washing, and in environmentally friendly fashion, waste-water is sent to the sewer system and not storm drains.
3639 Durham-Chapel Hill Blvd
Durham
North Carolina
919-490-6868
As rides shuttle through Classic Express Car Wash, soft-bristle brushes gently slough dirt from dingy exteriors. The center's friendly staff chases complete customer satisfaction during each wash and detailing service, remedying the rare misstep in accordance with its quality guarantee. For complete car care, the location also maintains a fleet of free vacuums and houses a quick-lube center for cars that need an oil fix but cannot muster the courage to ask an oil rig to share.
6325 Raeford Road
Fayetteville
North Carolina
910-487-3242
Though customers at Mr. Phills Auto Spa can't walk in and receive a facial or a mani-pedi, the car-wash-and-detail center does go out of its way to make them feel comfortable as its staffers skillfully hand wash automobiles and detail interiors. Guests sip on complimentary coffee, cocoa, water, or wine, and calm grumbling stomachs with muffins, bagels, and other baked goods, rather than feasting on discarded air fresheners. Free WiFi and a business center equipped with computers, private offices, and a conference room ensure that businesspeople can stay on top of their responsibilities throughout the day. To accommodate guests who are too busy to stay at Mr. Phills during the detailing process, a free shuttle provides transportation to and from home, work, the golf course, or the Batcave.
13150 New Falls Of Neuse Rd.
Raleigh
North Carolina
919-569-6760
---