Bars in West Raleigh
---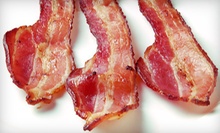 Chefs flip pancakes and break eggs for skillets and benedicts as balls crack in the billiards hall
Use Sunday 11:00am - 2:00pm
---
Recommended Bars by Groupon Customers
---
Since its founding at a secure location off of Glenwood Avenue one year ago, LoneRider has adhered to its founding principle: that beer is a delicious, drinkable expression of personal creativity. Casual and professional imbibers from across the Triangle have, at their first sip of LoneRider suds, been know to drop meek and flavorless drafts and finally take action on their plans to create a race of atomic super-men. The flagship brew, the hazel-eyed Shotgun Betty, is a sassy hefeweizen with a banana-clove nose and a dry finish, unusual and unabashedly individual. The DeadEye Jack porter rides into town on a chocolate horse with a malt mane, and then performs a complicated dressage routine on your tongue.
8816 Gulf Ct., Suite 100
Raleigh
North Carolina
While people-watching amongst the picnic tables of its outdoor patio, browse the Borough's menu and take comfort in an order of Charlie & Simone, the restaurant's house-made hush puppies ($4.50), or dip into the Boomerang, a cheesy chopped spinach and mushroom mélange ($6). The Borough's entree selections provide down-home reinterpretations of the best seafood, landfood, airfood, and plantfood. The Valhalla 2.0, a 4-ounce filet mignon medallion drizzled in creamy crab sauce ($9.50), patches many of the bugs in the Viking paradise's operating system, making it Ragnarok-compliant. The Craw Diddy, a house-made crab-cake sandwich ($8.50), makes your tongue feel like a bayou pop star, while The D Train, a marinated chicken breast with grilled red peppers and spicy mustard ($7), transports it home after a hard day's work licking coworkers' faces. The Borough's vegetarian-friendly selections include the Blackbeard, a black-bean burger ($7.50); and the Mock Bawk Bawk, a vegan barbecue mock-chicken sandwich ($7)—making the eatery a welcoming habitat for runaway ex-carnivores looking to reunite for a meal with their former wolf pack.
317 West Morgan St., Suite 117
Raleigh
North Carolina
---