Coffee & Treats in West Sacramento
---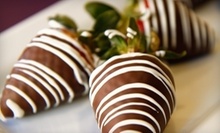 Use Today 12:00pm - 3:00pm
---
Recommended Coffee & Treats by Groupon Customers
---
Brewing coffee at home is a crapshoot of ratios, freshness, and equipment. Instead of waking up to smell the home-brewed coffee, start leaping out of bed in a streaking sprint to the Coffee Garden to expose your nostrils and fuzzy slippers to the flowerful fragrance of roasted bean juice. Perk up in the midmorning sun amid a potted jungle of greenery on the back patio with a signature cup of coffee ($1.50 for 12 oz.) or an indulgent mocha ($3.25 for 12 oz.). When high noon hangs above, halt sweat beads in their browed beginnings with an iceberg's worth of iced tea ($2.25 for 24 oz.) or a cold café au lait $3.50 for 24 oz.).
2904 Franklin Blvd.
Sacramento
California
Press your nose against the glass and try not to leave tongue prints as you browse gourmet chocolate creations ($20 per lb.) in all shapes, sizes, and combinations. Turtles hosts hunks of homemade fudgical bliss ($12 per lb.) that could please any pleasant sweet tooth or dark-side devourer, along with a wide selection of retro sweets ($.75 ea-$9 per lb.) and sugar-free candy ($22 per lb.). Load up on treats and dumptruck them onto an iceberg of Dreyer's ice cream ($2.50 and up) titanic enough to sink any ocean liner.
1017 2nd Street
Sacramento
California
We are Fun, Fast, Healthy and Yummy!
545 Downtown Plaza, Suite 2007
Sacramento
California
At Davis Creamery, visitors can wind down while sampling a wide selection of delectable desserts in a cozy atmosphere. Davis Creamery's menu offers 9 classic flavors, including salted caramel and cheesecake, as well as 25 seasonal flavors that include avocado coconut, amaretto, pomegranate raspberry, lemon custard, and vanilla honey. Sweet-tooth-toting customers can lick away with a single scoop ($2.75) and add extra scoops for a dollar each, or opt for a shake ($3.95) and a cow-pie ice-cream sandwich ($3). To supply your whole coven with sweet treats, take home ice cream by the quart ($6.50). Additionally, patrons can soak in a cozy atmosphere that's much more relaxing than a rickety windmill under siege by a delusional knight.
2191 Cowell Blvd., Suite F
Davis
California
The locally owned and operated purveyor of icy treats provides a nutritious alternative to mean-spirited ice cream. On average, its extensive roster of frozen yogurts and sorbets ($0.39 per ounce) contains about 30 calories per ounce. Other nutritive benefits of Cultivé's fro-yos include the presence of live and active cultures, which have been shown to delight digestive tracts, encourage insecure immune systems, and help fight lactose intolerance with love, acceptance, and tempting jimmies.
231 E Street
Davis
California
As a humble, scratch-minded shop, Freeport Bakery isn't exactly a secret in Sacramento. Along with garnishing the Best Bakery award from the Sacramento chapter of the California Restaurant Association in 2007, Freeport has also managed to lock down Best Bakery from Sacramento CityVoters for the past four years straight.
2966 Freeport Boulevar
Sacramento
California
---