Education & Classes in West Sacramento
---
Education & Classes Deals
---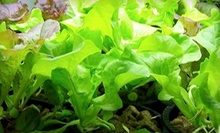 Two-hour classes instill gardeners with techniques required for propagating indoor gardens with plant cuttings
Use Saturday 12:00pm - 3:00pm
---
Recommended Education & Classes by Groupon Customers
---
McLaughlin Studios employs a team of professional performing artists to teach private and group lessons in instrumental music, dance, and musical theater. Private music lessons further an individual's proficiency in pop, jazz, rock, classical, and show-tunes styles, whereas group sessions encourage cohesive learning for bands and ensembles prepping for three annual recitals. Adept dancers help protégés progress at their own pace as they learn complex steps and how to dodge tossed rose bouquets with creative movement, ballet, strength training, and modern dance-fusion styles.
Started just a year ago, the McLaughlin Theatre Company gathers youth performers for independent productions at the MTC Playhouse. Young thespians hone their on-stage and auditioning skills in acting classes, which serve as more secure steps toward performing in Broadway musicals than thumb-wrestling matches with Andrew Lloyd Weber.
3415 Swetzer Rd.
Loomis
California
916-652-6377
Head photographer Kevin Richtik began his career at Caroline Photography in 1986. He rose through the ranks, adapting his skills to the ever-changing technology without abandoning his core mission to create beautiful, storytelling images. He lends his eye to brides and grooms, families, and graduating seniors, immortalizing candid moments and authentic smiles. His photography, and that of his staff, earned the business recognition from Record as the one of San Joaquin's best family photography studios of 2012.
743 Porter Ave.
Stockton
California
209-477-4363
Fashion-knit owner Jeanine Johnson has the art form stitched into her family history. Her grandmother sewed upscale garments for Saks Fifth Avenue, and her mother received her fashion degree from New York's Fashion Institute of Technology. Johnson's passion for knitting is evident in the colorful sweaters she crafts, as well as in the classes she offers to knitters of all skill levels. In addition to hands-on sessions, Johnson brings knitting experts to the store for workshops, where they share tips on how to enhance projects or how to re-create favorite attire if one's closet spontaneously combusts.
675 Ygnacio Valley Rd., Suite B102
Walnut Creek
California
925-943-3994
Napoli Culinary Academy founder and international chef Hassi Sadri—whose infinite pizza knowledge earned him the head judge position at the international pizza competition in Las Vegas—leads culinary initiates through the planning and preparation of pizzas and calzones during cooking classes, whether for fun or to achieve a culinary-arts diploma. During hands-on classes, groups of students pick the seasoned chef's brain for useful tidbits on the graceful art of pie production as they assemble their own saucy slices out of fresh produce and ingredients. Academy students serve lunch in the Napoli Culinary Academy Café and cater special events while showing off skills crucial to their future careers as gourmet chefs, from carving meats to plating entrees. The school also invites pupils to 24-, 200-, or 325-credit-hour baking courses, which range from specialized introductory classes to those in professional-level pastry production.
1401 Fulton Ave.
Sacramento
California
916-971-0600
The FAA-certified instructors at Future Eagles Aviation put clients behind the controls of actual aircraft as they teach them the ins and outs of aviation. Students amass skills such as navigation and cockpit familiarity on the ground in adventure flight school before lifting off in a Cessna 172 training aircraft for 30 minutes of flight time. Kids can also take to the sky during Future Eagles Aviation's youth aviation summer camp, a weeklong foray into the world of cloud skimming and Peter Pan mimicry during which kids aged 10 and older practice on simulators and log real flight hours in training aircraft.
10510 Superfortress Ave.
Mather
California
US
916-604-4558
Inspired by the slow-food movement, the instructors at Community Tap and Table encourage everyone to make food deliberately and from scratch. Their events include techniques for such projects as curing bacon at home, canning and preserving food, and making tea-smoked salmon. Several of their cooking classes include beer pairings, and glasses of craft brew clink together during a foodie book club, punctuating chatter. Customizable private parties bring beer and food into the comfort of clients' own homes, where they and a few friends enjoy cooking and pairing lessons from staff chefs wielding local ingredients. A portion of Community Tap and Table's proceeds funnels straight back into funding farm-to-table projects or job-training resources for students.
1217 21st St.
Sacramento
California
619-840-1144
---