West Sacramento Gyms and Fitness
---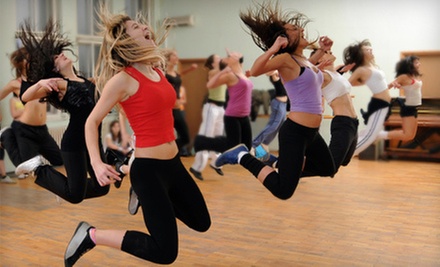 ---
Gym, Exercise, Weightloss Deals
---
Recommended Gym, Exercise, Weightloss by Groupon Customers
---
Having struggled with weight problems when she was younger, Healthy Habits Studio owner Rose Zahnn knows the importance of exercise and eating right firsthand. She opened the studio almost 20 years ago, and in that time has seen it grow to hosting more than 25 fitness classes each week.
The Healthy Habits schedule catalogs a diverse selection of group workouts. Fit Body Boot Camp classes each feature a unique workout that helps tone and strengthen muscles, burn fat, and boost metabolisms to burn more calories for hours after the workout, not just during it. In addition to group classes, the staff is available for one-on-one sessions that can focus on weight training, Pilates, and yoga. Rose also offers a weight-loss program in which she emails clients once a day with nutrition and exercise suggestions for 10 days, or the time it takes a team of NASA scientists to reengineer your body into its healthiest, most aerodynamic version.
2224 J St.
Sacramento
California
Rocknasium fields a staff packing a wallop of experience with each lesson it gives to encourage coordination- and strength-building jaunts up its scalable walls. Recently moving to a larger facility, the gym now grants climbers access to more than 8,000 square feet of vertical, multicolored pathways, a stalactite obstacle, a 16-foot bouldering wall, and a pro shop purveying mountains of all sizes. Rocknasium bestows members with the privileges of complimentary belay courses to improve rope handling, equipment rental, and weekly member potlucks, during which climbing cohorts can rub elbows while enjoying housemade eats. A small gym and yoga room grant the chance to build stamina after exhausting climbs, and guests can rinse off in the club's showers to reward bodies without having to tattoo blue ribbons onto biceps. The brainchild of owners Mark Leffler and Carter Schmeck, the climate-controlled facility hosts climbing classes for all ages and opens its doors for birthday parties and climbing camps or brings climbing access to outdoor events via a portable wall.
720 Olive Dr., Suite S
Davis
California
530-757-2902
During her college years, Kristin Walton—like most students—gave into the lure of alcohol and fast food, which led to the dreaded freshman 15...and then some. With her jeans fitting a bit too snuggly, the former competitive synchronized swimmer knew she needed to make a change. She started with yoga a few times a week, but it wasn't downward dog that sparked her weight-loss—it was a local boot camp. From there, Kristin cleaned up her diet, enhanced her muscle definition, eventually shed 40 pounds, and gained a NASM personal training certification.
Today, she returns the favor by running her own boot camp and personal training facility, where she coaches students of all ages and athletic abilities through circuit-style training that uses body-weight exercises, kettlebells, and TRX training machines. Unlike traditional boot camps, Kristin trades in a hoarse throat and steam-emitting ears for heart-pumping music and constructive motivation; she never lets a student perform a move incorrectly and always helps less experienced exercisers make adjustments. She also doles out one-on-one advice and motivation during personal training sessions and directs clients to a blog full of healthful recipes.
1920 T St.
Sacramento
California
916-296-0131
There are no mirrors inside the Bodytribe Fitness gym. When explaining this to reporters from Sacramento News & Review, founder Jeff Conrad explained, "I don't care about what people look like when they come to my gym. And I want them to not care either, at least for that hour." A freethinker, musician, and fitness aficionado, Jeff challenges current fitness trends and their emphasis on aesthetic appearance inside his unique gym, where he requests that clients silence any cellphones or Theremins they may have on them. Amidst the kettlebells, free weights, and pull-up bars, Jeff and his trainers guide students of all fitness levels through functional workouts that focus on building strong and fit athletes rather than what he calls "pretty little flesh packets".
The seasoned and dedicated trainer is also an avid writer—you can find his fitness philosophy and workout advice in magazines, newspapers, and in his book, Lift With Your Head.
920 21st St.
Sacramento
California
916-752-1498
Knockoutz Fitness Center ushers exercisers of all backgrounds through its doors, supporting workout newbies, athletes, seniors, and bodybuilders alike with a slew of advanced equipment and a genial atmosphere. Hydraulic and free-motion machines flow alongside free weights in muscle-boosting reps, and a catalogue of cardio gear accommodates pedals, steps, and sprints.
For motivation through fellowship, workout classes in MMA/boxing and full-body boot-camp drills gather participants from a range of age groups. An onsite Max Muscle pro shop rations out supplements, and the gym's certified nutrition coach can dispense dietary tips for differentiating between good, bad, and ugly cholesterol.
36 Main St.
Woodland
California
530-662-0999
Ken Sawitzky's lifelong devotion to golf began in 1958, when he studied under the tutelage of Johnny Goodman, the last amateur to win the U.S. Open. Since then, his golf career has blossomed like a greenside bougainvillea, encompassing 15 years of experience correcting swings, smoothing out putts, and framing interestingly shaped divots. Ken now splits his time conducting golf classes for the Davis Parks and Recreation Department and roaming the verdant hillsides of Wildhorse Golf Course, tirelessly searching for new score-shaving methods to sprinkle upon the unsown swings of his pupils.
2323 Rockwell Dr.
Davis
California
530-753-4900
---