West Sacramento, CA Outdoor Activities
---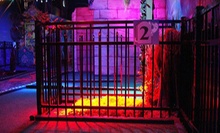 Graveyard-themed mini-golf holes wind through gothic architecture, crypts, and skeletons peppered across indoor course
Use Monday 2:00pm - 9:00pm
---
---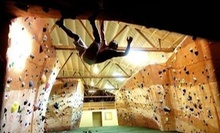 12 inches of seamless padding cushion any falls as climbers scale 18-foot-high top-out boulders and hang from an indoor cave
Use Monday 9:00am - 7:00pm
---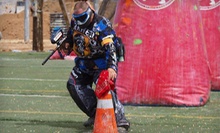 Three hours for two in a field with obstacles and bunkers; each person gets a marker, a mask, a barrel cover, 500 paintballs, and air
Use Today 8:00am - 12:00pm
---
Recommended Outdoor Activities by Groupon Customers
---
Crepes in San Franciso. Butter chicken in Toronto. The organizers behind Dishcrawl connect people with the local dining scenes of cities across the United States and Canada. They do this in two ways—first, through Dishcrawls, which are self-guided tours to an array of restaurants. As guests saunter between establishments, special performers—from interpretive dancers to improv comics—enliven the journey. Dishcrawl's second method highlights single restaurants through special dinners, giving chefs a chance to dazzle visits with their favorite dishes.
815 11th St.
Sacramento
California
During his 17-year-long professional paintballing career, Micah McGlocklin clinched five championships, including one with Sacramento XSV, a team he formed in 2003. He has more than 12 years of experience operating paintball fields, and this technical expertise paired with his obvious passion for the sport is evident in the facilities at Davis Paintball. Eager to introduce others to the joys of chromatic chaos, Micah and his staff walk novices through the game's rules, equipment, and safety tips. Newbies are then organized into teams for refereed bouts on one of nine fields spread across 40 acres. As tenderfoots test out their paintballing skills on fields such as Four Corners and Center Castle—where a roomy distance separates opponents—advanced players can compete in more compact spaces at two hyperball fields, an airball field, and a paint-soaked broom closet.
24998 County Rd.
Davis
California
USA
530-757-7700
Iceland Ice Skating Rink welcomed local skaters and hockey players for 70 years, until an arsonist's match burned the facility to the ground in 2010. But, thanks to a committed community effort, volunteers got the facility back in operation in less than a year, clearing 1,000 cubic yards of debris, polishing and lacing 400 pairs of skates, and refreezing the rink's icy surface. Today, the rink's instructors give back to the community that embraced them in their time of need, grooming aspiring figure skaters and teaching young hockey players to body-check dangerous-looking penguins.
1430 Del Paso Blvd.
Sacramento
California
916-925-3121
Ken Sawitzky's lifelong devotion to golf began in 1958, when he studied under the tutelage of Johnny Goodman, the last amateur to win the U.S. Open. Since then, his golf career has blossomed like a greenside bougainvillea, encompassing 15 years of experience correcting swings, smoothing out putts, and framing interestingly shaped divots. Ken now splits his time conducting golf classes for the Davis Parks and Recreation Department and roaming the verdant hillsides of Wildhorse Golf Course, tirelessly searching for new score-shaving methods to sprinkle upon the unsown swings of his pupils.
2323 Rockwell Dr.
Davis
California
530-753-4900
For almost a century, Haggin Oaks Golf Complex has been racking up awards as a premier golfing destination for skills development, the latest in golf gear, and on-course play. Visitors walk in the footsteps of some of the game's greatest players, including Sam Snead, Walter Hagen, and the legendary Ben Hogan, who won his first professional paycheck here in 1938, when paychecks were still oversized and had to travel by mule. The complex's array of amenities lives up to it historical pedigree, helping players develop through lessons with nationally recognized pros, encouraging them to practice their swing on the 100-stall lighted driving range, and setting them loose on one of two 18-hole courses. Beginners can ease into the game at the developmental Arcade Creek course, and those looking for a more traditional and difficult layout can try their hand at the Alister MacKenzie Golf Course.
Designed by the great architect Alister MacKenzie, whose projects include some of the most storied courses in the history of the game, such as Augusta National, Cypress Point, and Royal Melbourne, MacKenzie Golf Course envelops players in a pristine, 350-acre alleyway that offers almost no distractions from the outside world or to-do lists written in sand traps. After looping either course, players can stop in at MacKenzie's Sports Bar and Grille to replenish calories burnt on the links through traditional pub fare and 15 beers on tap while they watch sports on 10 flat-screen televisions.
Winner of Golf World's Top Public Golf Shop award, the Golf Super Shop showcases an inventory of gear from hundreds of top brands across 15,000 square feet of retail space. A 1929 Ford Model T truck hoists hundreds of Callaway golf balls, a 1,000-square-foot indoor putting green invites players to test out putters, and large spaces dedicated to Nike and Adidas apparel offer plenty of clothing options for your next outing. Additionally, the shop's club fitters use a variety of club-fitting technologies to ensure a set of irons doesn't end up colluding against its new owner.
3645 Fulton Ave.
Sacramento
California
Hoofbeats Equestrian's veteran trainer draws from 25 years of experience working with top equestrians and breeds such as appaloosas, percherons, warmbloods, and mini stallions to teach dressage, hunter, and jumper techniques amid verdant pastures and stables. In addition to helming shows and competitions, the full-service facility's crew proffers equine wisdom during lessons that forge trust between rider and steed to ensure safety and a guaranteed euchre partner. Hoofbeats Equestrian extends its passion for horsemanship with Hoofbeats Second Chance, a rescue program that rehabilitates and finds homes for neglected horses.
8790 Mecca Rd.
Elk Grove
California
916-796-3044
---