Restaurants in West Sacramento
---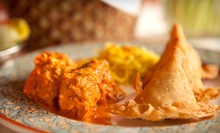 Free-range tandoori chicken; lamb in a cashew-based curry sauce; housemade cheese with fresh spinach and other Indian specialties
---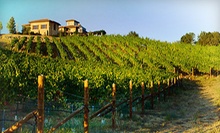 Embark on 30–45 minute tours of the winery, sample award-winning wines, and indulge in food and wine pairings post-tasting.
---
Recommended Restaurants by Groupon Customers
---
Spicy food is a great way to separate the men from the boys, the women from the girls, and the girls from the boys if they get too rowdy at coed canoe camp. Thai Fusion lets customers specify their dishes as mild, medium, hot, or Thai hot, for optimal sinus-clearing fulfillment. The menu at this family-owned-and-operated neighborhood hot spot features fresh, authentic Thai ingredients, and ably blocks light from your eyes when it's especially sunny. Start with an order of fresh spring rolls ($5.95) or savory satay chicken ($6.95), or practice your pronunciation of classic Thai salads to have them promptly appear before you in the hands of a friendly staff member ($7.45–$12.95). House specialties ($10.95–$15.95) feature such sweet and spicy fare as Nam Tok, a medium-rare beef marinated in Thai herbs and served in Thai hot and sour barbecue sauce ($10.95), and shrimp spiced and sweetened with chili jam, mango, bell peppers, onions, and cashews ($15.95). The restaurant's traditional and creative varieties of fried rice ($8.95–$12.95), stir fries ($8.95–$12.95), curries ($8.95–$12.95), and noodle dishes ($9.95–$12.95) round out the menu with options for carboholics and vegetarians alike.
1310 Howe Avenue
Sacramento
California
The Midtown hot-dog haven offers a dazzling display of bun-clad hot-dog and sausage dinners. The menu boasts 10 types of links, including the traditional beef frankfurter ($3.49), a polish sausage ($4.49), a steamed vegan dog ($3.49), and a crispy corn dog ($2.49; also available in vegetarian). Customize your dining delight with any of Capitol Dawg's 55 plus toppings (up to $1.25 each) or opt for one of the specialty dogs, such as the Tesla Dawg ($4.19), loaded with mustard, chili, and onions, or the El Senador Dawg ($5.39), a Sonoran-style bacon-wrapped dog nestled with a cozy blanket of pinto beans, cheese, jalapeños, grilled onions, and chopped fresh veggies. Dogs can also be paired with french fries and a fountain drink to form a mighty meal ($7.47+) or matched with a succulent side such as beer-battered onion rings ($2.99) or sweet-potato fries ($2.99) for a customized creation.
1226 20th St.
Sacramento
California
The foodery boasts a creative menu of reinvented comfort fare, served on weekdays to famished urbanites. Start with an order of the shrimp po' boy sliders ($8.75) or opt for a crab Louise salad ($13.50), served with hardboiled egg, avocado, and tomatoes. Entrees include more than 10 tasty hand-held meals (served with bottomless fries), such as the swiss-blanketed prime-rib dip ($12.50) and the herbivore-friendly black-bean burger ($9.50). Plated portions of updated classics promise to please even the most discerning diner; reward a hard-working copyeditor for reaching her daily quota of sentence-scrubbing by treating her to an order of Kelsey's chicken carbonara pasta ($12.50), loaded with tender green peas and bacon, or indulge carnivorous cravings with the steak tacos ($11.75) with corn salsa and cilantro rice.
555 Capitol Mall, Suite 155
Sacramento
California
It's hard to miss the The Elephant Shack's bright orange and green exterior painted with pachyderms. The mammoth beasts also decorate the interior of the eye-catching sandwich shop, raising their trunks in virtually every form imaginable: as statuettes, stuffed animals, coin banks, and a much prized hat signifying the winner of their monthly free-lunch contest. The victor might dig into a classic sandwich, such as a french dip or turkey and bacon club, or opt for clam chowder served in a bread bowl. The kitchen also serves breakfast all day long, sating bacon-and-egg fanatics and guests who never remember to change their clocks.
39492 Kentucky Ave.
Woodland
California
Johnson Kam and Eddie Flores Jr. were already successful owners of a chain of drive-in restaurants in Hawaii when they got a brilliant idea: bring the traditional Hawaiian plate lunch to the mainland. The plate lunch—typically with rice, macaroni salad, and a hot entree—combined with Flores and Kam's unique barbecue recipe, generous portions, and low prices, have led to nearly 200 L&L restaurants. And like Flores says, "When we went to the mainland, the name 'Hawaiian' is a draw, because everyone just fantasized, everyone wants to come to Hawaii."
1030 Florin Rd.
Sacramento
California
916-392-5555
Malabar owners Bill Keliher and John Cook have teamed up with executive chef Jose Luis Garcia to add a contemporary flair to time-honored American staples. The menu, which amalgamates influence from Asian, Latin American, and Italian traditions, and spares no expense in terms of ingredients. In order to make his culinary fusions work, chef Garcia relies on USDA Choice beef, hand-cut veggies, and made-from-scratch marinades and sauces.
Large plate-glass windows and modern hanging lights cast a buttery glow across Malabar's elegant dining room, illuminating plates filled with Louisiana-style wings, hickory-smoked pork, and rib-eye steaks cured over a wood fire. While perusing the restaurant's separate gluten-free and vegetarian menus, diners can quiz the bartender about the wine and beer selection or ask him to pour tall shots of homemade sesame-soy glaze and orange-chipotle sauce.:m]]
2960 Del Paso Rd.
Sacramento
California
916-574-9074
---