Theme & Amusement Parks in West Sacramento
---
Theme & Amusement Park Deals
---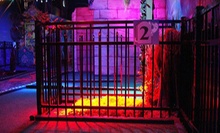 Graveyard-themed mini-golf holes wind through gothic architecture, crypts, and skeletons peppered across indoor course
Use Today 2:00pm - 9:00pm
---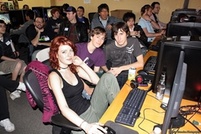 Energizing brew readies minds to battle Orcs in Warcraft III, build 3-D worlds with Minecraft & pester neighborly avatars in The Sims
Use Today 9:15am - 4:30pm
---
Recommended Theme & Amusement Parks by Groupon Customers
---
Through curls of fog lit by ultraviolet light, players find vantage points to take aim at their opponents in Lazer X's bilevel, 6,500-square-foot arena. Wearing computerized vests, players blast each other with phasers while avoiding distractions caused by pulsing strobe lights, animatronic creatures, and up-tempo music that begs them to stop and do the macarena. After the game, vests tally up points, and players can review their scores on a printout that will also detail the hits they made and received. Alternately, patrons can follow-up games with a trip to the arcade where they can keep their trigger fingers in tip-top condition.
2600 Watt Ave.
Sacramento
California
US
The Oakland Zoo was first established in 1922, but it didn't find its permanent home until 1939, when it was thoughtfully constructed amid the rolling hills of Knowland Park. Today, the Okland Zoo is home to more than 660 animals, who thrive in biomes designed to mimic their natural environments.
The sprawling African savannah is one of the zoo's largest habitats, housing hyenas, zebras, elephants, and giraffes. The centerpiece is a 1.5-acre lion exhibit called Simba Pori, which translates to lion county in Swahili. Inside, a pride of lions freely roam an enclosure outfitted with kopje rock structures, a pond, and a booth where the king can sign autographs.
Over in the rainforest habitat, chimpanzees and white-handed gibbons swing through the treetops. Emus and wallaroos—a cousin of the wallaby and the kangaroo—roam freely in the Wild Australia exhibit, accessible via one of the zoo's rides, Outback Express Adventure Train. Other rides include the Endangered Species Carousel and Sky Ride, a chairlift that soars above the habitats and offers Bay Area skyline views.
9777 Golf Links Rd.
Oakland
California
Glowing streams of red and green lasers skewer clouds of smoke, scattering as players charge through with Laserforce Gen6 weapons. The 6,000-square-foot arena swells with high-energy music, which sets a steady pace for up to seven teams as they swarm two levels, seeking enemies to blast against the black-lit backdrops. Digital babble drifts from more than 25 games in the arcade, from the sounds of explosive combat in shooting games to the screams of traffic cones in racing simulators such as Super Bikes 2 and Dirty Driving. All-night laser-tag sessions immerse combatants during monthly lock-ins, which let them form teams to practice different defensive strategies, such as guarding the best shooter with a human pyramid.
6031 Fair Oaks Blvd.
Carmichael
California
916-972-7395
Trained volunteer guides have led more than 125,000 children through Safetyville USA's model town since it opened in 1984. The one-hour safety and health tours immerse preschool through third-grade students in learning scenarios. For instance, kids learn to cross a street safely by looking left and the other left. They also explore model police, fire, and sheriff stations while learning about fire and traffic safety. Health tours focus on nutrition, exercise, first aid, and hygiene. Picnic tables are available after the tours.
3909 Bradshaw Rd.
Sacramento
California
Since beginning in 1937, the Sacramento County Fair has drawn in crowds of up to 75,000 with its combination of livestock shows, feats of skill, and as of 1988, thrilling carnival rides. As guests step into the fairgrounds, senses flood with the smell of funnel cakes and hot dogs, the sound of a rollercoaster tearing along its track, and the sight of livestock solemnly discussing their favorite philosophers. Past celebrations have also included demolition derbies, eating contests, rodeos, and plenty of locally made food.
1600 Exposition Blvd.
Sacramento
California
916-263-2975
Legend has it that, one night, while Daryn Coleman was hard at work on the construction of his indoor mini-golf course, he watched a fan move across the floor all by itself. The irony of the event was not lost on an awe-stricken Daryn—the plan for his new course was to be centered on graveyard-inspired animatronics of his own design. 
The hauntings didn't stop when Ghost Golf opened for business. Staff members continued to report supernatural incidents unrelated to the course's spooky decor. Finally, after catching some mysterious orbs on the security cameras, Daryn called in medium Maria Langana. Maria immediately discovered the presence of Everett, a self-described friendly spirit who expressed a fondness for amusement parks and admitted a special appreciation for the course's morbid special effects. 
Everett purportedly continues to hang out around Ghost Golf—his favorite haunt seems to be the fifth hole. His supernatural presence only adds to the ambiance of a nine-hole, wheelchair-accessible course that meanders through a chilling array of urns, skeletons, and ghouls who take mischievous pleasure in blowing balls off track.
1913 Salvio St.
Concord
California
US
925-521-1913
---