Things to Do in West Saint Paul
---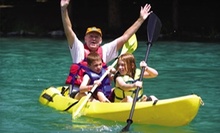 Rentable surreys, bikes, and kayaks escort people down the pristine waterways and paths winding through Duluth and Minneapolis
---
Recommended Things to Do by Groupon Customers
---
Long rumored to be the home of eerie happenings, a lonely stretch along Highway 61 has begun to attract even more sinister attention with the arrival of The Haunting Experience on Highway 61. Drawing from the site's fabled past—including tales of cannibalism and mysterious disappearances—three haunted houses illicit goose bumps by way of deranged clowns, men with chainsaws, and ghosts plagued by unfinished business and half-completed doctoral theses. While waiting to enter the spooky abodes, guests can fortify their spirits by a bonfire and munch on snacks from the Ghoulish Grill and frosty mugs at the beer tent. Aside from these terrifying attractions, guests seeking a tamer experience can venture through a corn maze during the daytime, solving clues hidden within its paths to win prizes.
10900 E Pt. Douglas Rd.
Cottage Grove
Minnesota
Taste of Stillwater's annual festival, established in 2011, directs the spotlight toward the palate-popular offerings of local wineries, breweries, restaurants, and food trucks. Throughout the daylong celebration, empty tummies shuffle from station to station filling up on samples of refreshing beverages and foods, fueling bodies to explore the festival grounds' shopping opportunities and to tour Saint Croix Vineyards. Families stake their claim on the lawn area with blankets, foldable chairs, and giant bronze statues of their great-grandfathers before they feast their ears on live music. Taste of Stillwater dedicates a portion of its proceeds to charities including Valley Outreach, a community-based nonprofit organization that supports low-income people with donations of food, clothing, and other necessities.
6428 Manning Ave. N
Stillwater
Minnesota
After years of introducing kids to bowmanship through the National Archery in the Schools Program, or NASP, father-and-son team John and Ryan Slate founded High Five Archery in 2008, continuing their mission to share their passion for outdoor sporting with their fellow families. Just as William Tell and his son Johnny teamed up to pierce the nation's apple trees, John and Ryan oversee High Five's indoor shooting range where compound bows launch practice arrows at targets in a safe environment. During private or group lessons, students improve their skills under the tutelage of instructors certified by NASP and Centershot—including John himself who helped lead White Bear Lake High School's archery team to multiple NASP Minnesota state championships. Elsewhere in the store, a pro shop equips marksmen with brand-name bows, arrows, and accessories alongside a stock of seasonal bait and the latest fishing gear, replacing outdated methods such as lures made to look like cans of Crystal Pepsi.
5639 Memorial Ave. N.
Stillwater
Minnesota
US
651-351-5143
As the owner of the initials in DCW Riding Instruction's title, Diane Williams teaches aspiring riders how to safely and confidently command a horse in the styles of hunter, jumper, and dressage. Though her instructional style is laid-back, Diane never compromises on safety and always ensures that proper techniques and precautions are in place before moving on to more advanced parts of a lesson. She keeps energy levels high during each 60-minute block, packing the allotted time with a variety of exercises and the theoretical explanations for various components of style, such as keeping heels down, toes in, and hair in a slow-motion billow.
3701 Oakgreen Ave. N
Stillwater
Minnesota
612-387-3681
---